Step Change is growing in Adelaide, and we're looking for a Change Agent who understands the importance of great client relationships and business development and is ambitious to grow their skills.
A doer and a thinker.
Know anyone?
Here's the thing.
We actually really like Adelaide.
And we think Adelaide is starting to like us too.
In the last few years, we relaunched Beerenberg's brand of condiments, earning them their highest monthly sales in six generations. We helped Qattro build Adelaide to life as they grew from $30mil to $100mil. We've worked with Adelaide City Council, the Adelaide Botanic Gardens, Minelab, and start-ups growing.
And after all this growing, we think it's time for our Adelaide team to grow too.
So here's what we're looking for.
A part producer, part marketing manager, part creative collaborator: working across 8–10 clients at any one time, helping deliver a number of marketing initiatives and disciplines, including identity, print, packaging, video, digital, and marketing and communication campaigns.
You will be confident in project scoping, creating timelines and budgets, liaising with clients and also external suppliers.
Here's everything you need to know about the role.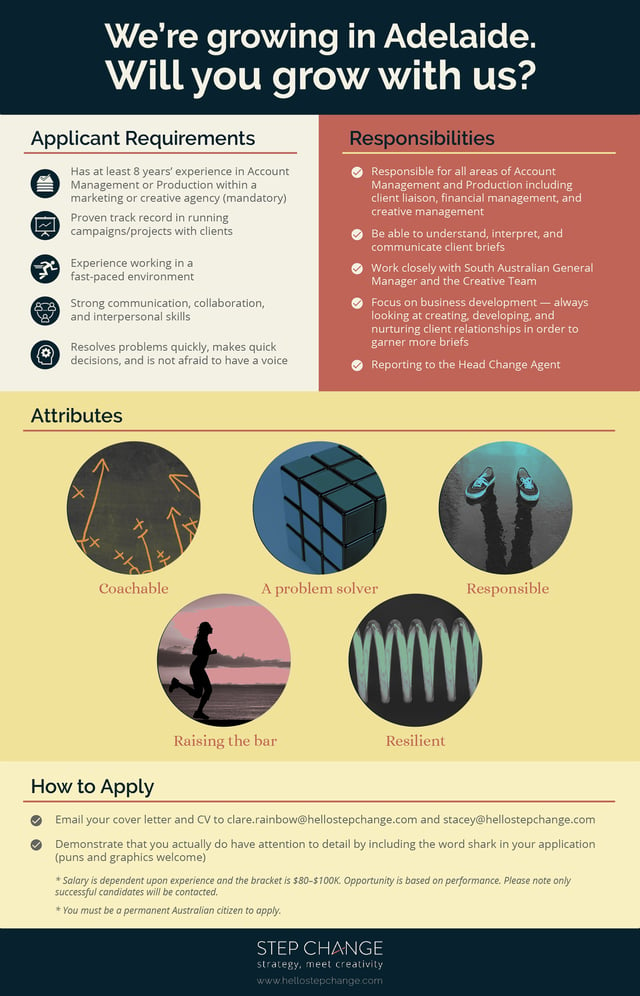 Do you have what it takes to be Step Change's new Change Agent?
Step Change exists to help challenger businesses outsmart their competitors. And although our head office is in Sydney, we've been sharing our smarts with Adelaide classics like Beerenberg, Adelaide City Council, Qattro, and Minelab.