UPDATED: As of 3 November 2022
Let's face it— we're in a marketing battleground. Your business is only one of the hundreds or even thousands competing for your customer's attention. If your goal is to win the war for attention, you need to differentiate yourself in a way that actually matters to your customers.
While this sounds obvious, it's not. All too often, businesses assume they understand what is important for their customers.
---
Insight: Your offerings and how you market them are inseparable. Understanding your customers' needs and communicating the value you deliver go hand in hand.
Data: While many businesses invest time, money and effort in building a value proposition, only 2.2% of companies have value propositions deemed "useful" by consumers. (Neil Patel)
Key Action Point: Utilise the five-step Predatory Bridge framework to fine-tune your product/service offerings, articulate the value you deliver, and create a powerful value proposition that drives results.
---
Watch: Let Step Change CEO Ashton Bishop walk you through the five-step Predatory Bridge Framework
What Makes a Winning Value Proposition



If you want to come out of the marketing battleground alive, the key is to have a value proposition. This is a statement that differentiates you from your competitors and draws the right kind of prospects to your business.

But a mere value proposition won't help you win — you need a value proposition that's supercharged with customer insights and Predatory Thinking™ which is all about striking at the weakness that arises out of your competitors' greatest strength.

People make emotional decisions and then rational justifications. This is why most successful brands are the ones who take the time to connect with their customers on a deeper level, not just on price. More than that, a great value proposition is focused on the point where your brand is true to itself, different from competitors and valuable to your audience.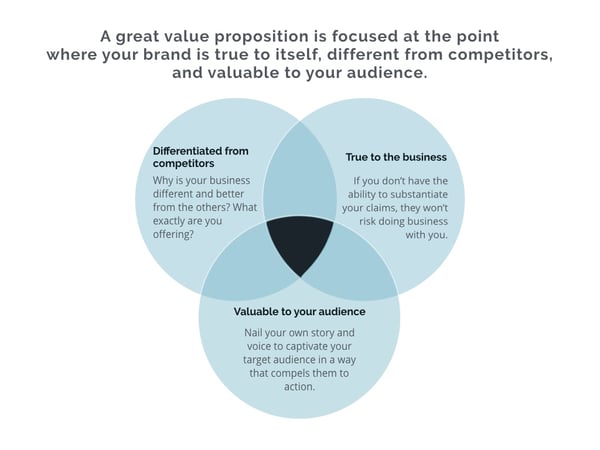 When paired with the Predatory Approach, this makes it difficult for your competitors to respond because they can't suddenly start communicating and acquiring customers through a platform or messaging that's not consistent with their brand.
Studies show that brands with a strong value proposition enjoy 76% growth in over a decade. How can you make that happen for your business? It all starts with insights and asking the right questions. This is where the five-step Predatory Bridge framework comes in.
How the Predatory Bridge Works
Now that you know the makings of a great value proposition and what the Predatory Approach can do for your brand positioning, it's time to explore the tools that will help you get to where you want to be.
Your offerings and how you market them are inseparable that's why you need a killer value proposition in the first place. The relationship between the two is explored in the Predatory Bridge.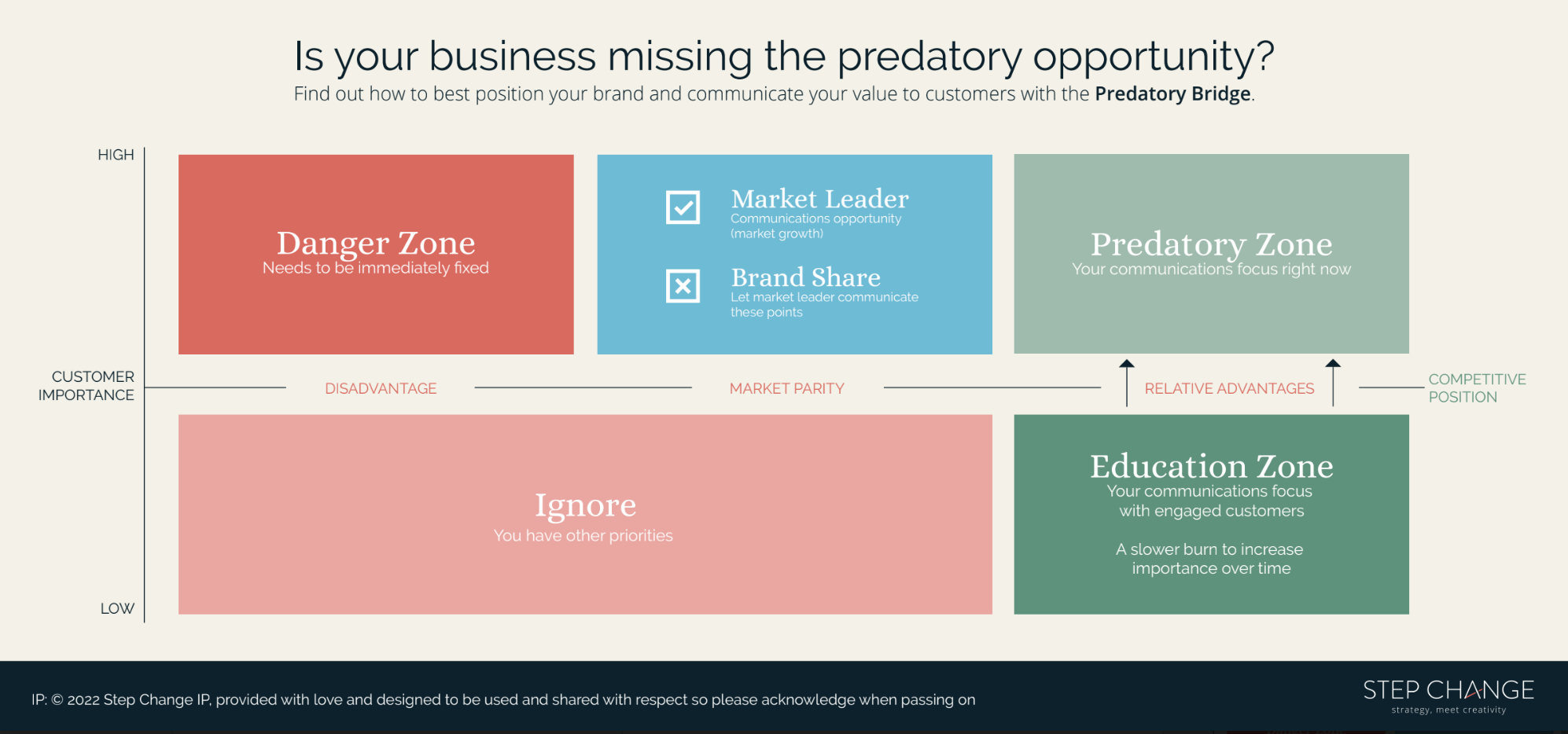 To use this tool, you first need to find out all the things you could talk about when it comes to the marketing or communications of your products/service offerings. You should experience these offerings from a customer's perspective and their relative value.
After gathering this information, assess its level of importance to the customers. Then, determine whether you are disadvantaged relative to the market or whether you have an advantage.
When you have access to these pointers, you can plot the features and functions of your organisation's product or service into these different strategy zones:
Danger zone – Identify issues surrounding the product/service and address them before you spend any time or money on marketing communications. Asking questions about its relevance and importance to your customers, how you can deliver expectations, and the standards you fall under can be a good place to start.


Ignore zone – Do not waste resources like time, money, and energy on product/service concepts that may not be relevant to the customers and when you are at a market disadvantage. In the words of innovator Steve Jobs, "I'm as proud of what we don't do as I am of what we do."


Predatory zone – This is where you have a relative advantage when it comes to your target market. This makes your product/service highly relevant to customers.


Education zone – The opportunity to educate customers on the importance of your innovation and how that importance may increase over time.
Discussing pain points is key to identifying communications opportunities for market growth. However, it is best to exercise discretion if you are market parity and looking to take brand share or if you are a challenger in the market.
While there are inherent risks when it comes to developing offerings, marketing can reduce these risks. This is why it should matter as much as the offering itself.
While this isn't the end of your brand positioning, utilising the Predatory Bridge framework helps you unlock the insights needed to refine your product/service offering, understand how it fits into your customers' lives, and articulate the value you deliver.
Ultimately, this is the first step in painting a clearer picture of the opportunities that lie for your business and which ones are worth investing in. This gives you the opportunity to outsmart competitors and differentiate yourself in the process.
Tying It Together
Much of our work here at Step Change involves the development of value propositions. And if there's anything that we've learned from writing over a hundred value propositions across all 26 vertical industries recognised by the Australian government it's this — everything starts by asking the RIGHT questions.
Tired of missed business opportunities? Find that your messaging doesn't land with your audience? You might be overlooking the importance of doing the right research and the power of choice analytics.
It's not enough to have relevant customer data — you also need to learn how to turn them into insights. The Predatory Bridge framework helps you unearth customer insights from data, gives you a better understanding of your customer's point of view and make it possible for your business to connect and reach those who can drive results forward.
Never miss out on priceless business opportunities ever again. Download our Predatory Bridge Framework PDF for free today!