As a startup agency that began with just two people, Step Change has come a long way in becoming a strategically led marketing agency celebrating its 10th year.
We sit down with our CEO Ashton Bishop to ask him his thoughts on key points that have made Step Change how it is today.
Below is an edited transcript of the videos.
Why Did You Start Step Change?
Step Change was started mid-GFC, with no clients, no money, no idea. For Step Change, the seeds were planted even before with Simon Rutherford and myself. Simon had a lot of media experience, I came from agency lands (advertising and comms agencies), and we decided to come together and sort of become the Robinhoods of marketing, taking all that big brand thinking for growing brands.
Then you'd throw in Jeff Cooper to the mix. I worked with Jeff in the BrandShop with a guy called Gavin Larkin who was the famous Founder of Are You OK Day? Gavin was a mentor and friend to Jeff and I. When he got sick, there was a opportunity to question where we wanted to go. At that moment, all those things came together, and that was where the seeds for Step Change was planted.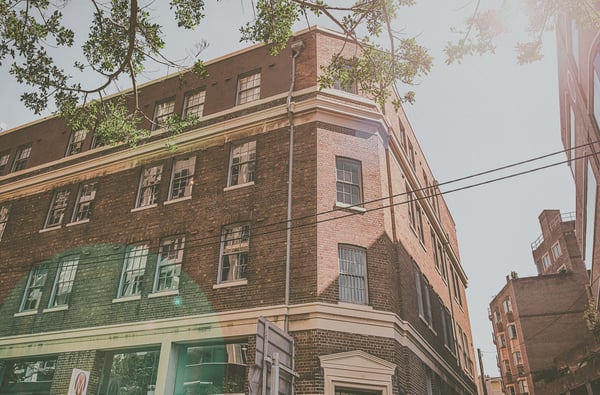 What Helped You Survive in Your First Year of Operation?
The first thing was naivety — because we had no idea what we were doing. What we were doing on paper really wasn't going to work out and wasn't a good idea, so we're grateful for a bit of naivety and just plowing on and getting on with it.
The second thing was that, as we looked back, we had to take a very big cut in salary and expectations to get through. So there was a little bit of naivety, desperation, and necessity. And then there was sheer agility because it was really just Jeff and I with one Mac computer and one desk.
With these, we were able to shape, form, and build ourselves around our client's needs. The foundation of how we grew was really finding out from those first-hand directions from clients what they needed, building it for them, and then figuring out how we could repackage that and service other clients with the same needs.
The Step Change Office, Unit A135-39 Bourke Rd,Alexandria NSW 2015
What Had the Biggest Impact on Your Success?
When I think about the business as it is today, trying to identify what allowed us to survive, I go back to a philosophical foundation that led to strategies that led to actions that stem from that. And the philosophical foundation was to get beyond words and really be accountable to our clients. And what does that mean?
It means that while there were those in the industry that were hiding behind a lot of flowery concepts, we wanted to be very direct and straight and really show up with value or not show up at all.
So the actions that that led to was Stump the Strategist. We didn't have the creds deck or the potential to be in a lot of pitches, so we actually targeted any question on marketing, strategy, or communications with 9 minutes on the clock and let the audience decide whether we stumped or passed. And that was game-changing for the business as it came with the "No results, No invoice policy" which was revolutionary back then. And it sort of cracked in our DNA around speaking straight, speaking direct, and being accountable directly to clients and letting them have the final say.
So that's what shaped the way we are today, all of our facilitated environments, and our approach to have strategy connected to the business at all levels.
What's Next for Step Change?
If there was no barrier to success to moving forward, I think there is a global opportunity for Step Change at some point.
We wouldn't want to become so big that we wouldn't be one Step Change. We worked so hard to integrate the disciplines of Digital, Creative, Strategy, and Client Success. We hate to lose that unity and harmony because the more we see some people try to pull that one lever, it doesn't work and we don't see results.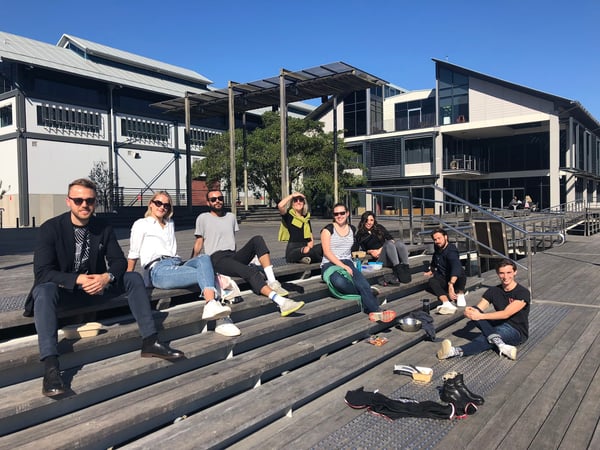 Steppers enjoying the sun. Credits to Kerstin Allin
So we want to do more than what's required to effect a step change. We have worked internationally and have worked everywhere from Wellington to Toronto, London, the US, and there just seems to be a very different approach that we have here. I think there's something special in that, and I'd like to bottle it, and I'd like more people to share in that.
We sat down as a group of directors and really said that we believe in using business as a positive force for change. We do want a better business for a better world. The more individuals and the more businesses we really believe in that we can help affect a step change, the better.
So I think the global horizon is right at the moment; we're very much closer to home. But in a world without barriers and constraints or scarce resources, we'd love to see Step Change around the globe.
Watch out for our next Stump the Strategist session and get our best strategists to tackle all your business, marketing, and strategy questions live on stage.