Too many professional services and consultancies have become hyperspecialised to the point where too many missed the end business result they are driving. At Step Change, we're here to inspire step changes in your business and your people, and that means looking at your business more holistically than a typical service line specialty would allow.
The Big 6 Challenges from Step Change on Vimeo.
The following text is a transcript. This also contains links to different blog articles that cover the Big 6 Challenges.
The Big 6 is a growth system for leaders in challenger businesses that are looking for a step change and a path to winning in a VUCA world, a world that's volatile, uncertain, complex, and ambiguous.
Now Vern Harnish famously said, "Never solve less than 100% of your client's problem". And it stopped us in our tracks because we realised so many industries are hyperspecialised to the point where they lost relevance with their customers and their market.
It's happened in a whole lot of industries — the medical industry, for example, where customers and patients are being bounced around from expert to department without ever getting a real view of what's wrong and the interrelatedness to get the results they are looking for.
So we built the Big 6 and strung together the six areas that we found to grow businesses, after serving over a hundred clients a year on over five continents in all the tax categories in the industry. These are the things that really make a difference.
The Big 6 collides Strategy and Creativity.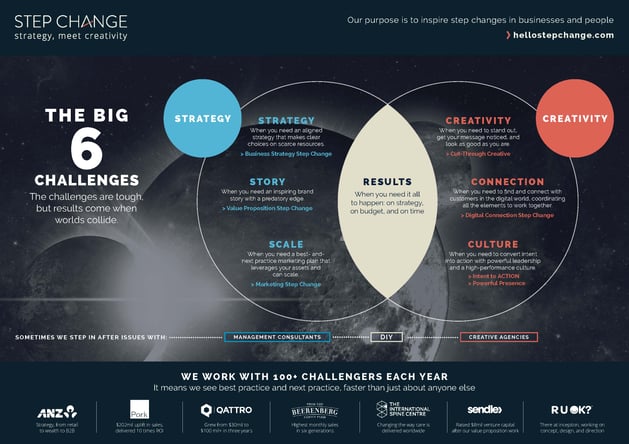 Click on the image to download and view your own copy.
Strategy
Strategy — We have a strategy upfront that applies resources in a scarce world.
Story — We have the story that motivates customers and has a predatory edge.
Scale — We also then need to look for a marketing plan that has best and next practice and will scale as we grow.
Creativity
Creativity — we unlock the strategy by making sure we communicate with impact to the hearts and minds of our customers.
Connection — In the digital world, how can we reach out and make sure that we are in our customers' world on every device?
Culture — If that's our strategy, how can we make it hit the bottom line and not the bottom drawer? And the answer to that is culture — to have the intent run through the organisation with high-performance leadership and culture.
What Are You Waiting For?
Audit and find out your next step change. Rather than living in the world of "everything's important", what are just the next things you need to do in order of importance so that we can apply those resources for maximum effect.
So bringing this together is how we're driving results for customers. It's how we deliver on our purpose, "To inspire step changes in businesses and people." And it's how we deliver on our ambition, which is to make sure that every single client beats their industry benchmark or their personal best.
So go on,
. It takes less than nine minutes. Share it with your team, we'll give you a call, and book in to find your next step change.