As the holiday rush pours in, you need to do more than the usual to make an impact in your holiday marketing.
To make a lasting impression that leads to conversion for the holidays, you have to be able to capture interest and emotionally connect with your audience to elicit a response and get them to engage.
The most effective way to do that is through emotive storytelling.
Emotive Storytelling: Veering from In-Your-Face Brand Advertising
The world is full of great ideas. Brands launch every day with a great idea to market, but not all of them will get a customer to buy into it.
No matter how passionate you are about your product offering, or no matter how great you think your idea is, not all your customers will get it.
Why?
According to Simon Sinek, "People don't buy what you do, they buy why you do it" (emphasis mine).
What makes your idea, product, or brand so different? What led you to market it in the first place?
We've probably put so much focus on mapping out customer journeys that we sometimes forget to tell our audience our own brand story.
Everybody loves a good story. Data from Onespot on The Science of Storytelling says:
92% of consumers want brands to make ads that feel like a story. [Click to Tweet]
This holds true especially today when consumers are desensitised by too much in-your-face product and brand advertising.
So find a way to break free from the dullness — use emotive storytelling to get your audience to remember you. Start by telling your brand story. Tell your best customer's story. Use real people and highlight actual experiences. Use visual content to grab attention and keep it.
It is also important to note that in marketing, we need to consider that people generally think emotionally and intuitively first, which influences decisions.
According to Daniel Kahneman, System 1's (emotional) intuitive and fast thinking is often more influential and largely steers our System 2 (logical) thinking. This means your buyer or audience's quick decision to purchase a product is triggered by emotional thinking.
According to Unruly, which releases an annual list of the year's most viral ads, the most widely shared ads used emotional content to relate with their audience.
These viral ads, which also garnered the most likes and shares in social media, often revolved around a premise that made viewers feel joy, belongingness, happiness, love, friendship, and family.
If you want your business to leave a lasting impression on your target audience and convert viewers to buyers, it is important to weave emotive storytelling into your marketing strategy. [Click to Tweet]
Identify Emotional Motivators
You may have already realised the need to emotionally connect with your customers but like many companies couldn't find a way to define what emotions to cater to and how to connect with them.
Data from Harvard Business Review outlined these high-impact emotional motivators that drive consumer behaviour.
You can use these top emotional motivators to connect with your customers.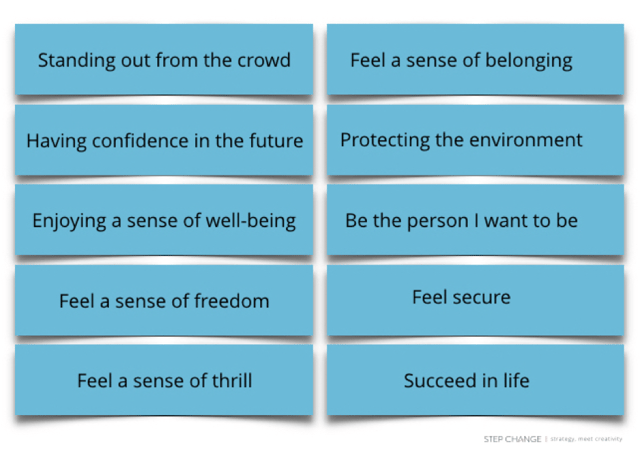 Once you've identified the emotional motivators for your audience, remember to develop your brand story in a way that engages the consumer, is sentimental, and original.
Use Video to Tell Your Story
You've probably already seen them or just about to — Christmas video ads. We may have all grown fond of them over the years and have come to expect them this time of year.
These perennial Christmas ads from popular brands and agencies never fail to tug a laugh and even a tear or two when they launch as early as October.
Generating millions of views on YouTube and Facebook, its easy to see why they've caught on.
The ever popular "#ManOnTheMoon" advertisement from John Lewis, which showcased the man on the moon staring longingly at earth banked on everyone's eagerness to come home for Christmas quickly went viral worldwide.
In this year's John Lewis Christmas advertising campaign, we follow the story of Moz the monster and a little boy named Joe. Their story reminds us of how poignant children's imaginations can be and how friendships can be magical — even if it is with a giant under-the-bed monster.
We've also seen Aldi's Christmas ad featuring Kevin the Carrot in his quest for love and the opportunity to meet Father Christmas. With the success of Kevin the Carrot's ad last year in promoting the brand's line — heroes are grown not made — Aldi continues his story this year to present their festive range.
All this viral ad content proves one point: using emotive storytelling in your marketing strategy not only enhances your audience's memory of the story as well as your brand, it also tugs on people's heartstrings, which influences their buying decision.
Why Emotive Storytelling Matters
With the holidays just around the corner, now is the perfect time to build new connections and reinforce old ones through the power of emotive storytelling in your marketing strategy.
Remember to look into your customer's journey, identify their common pain points, triggers, and barriers, and then look into the emotional motivators that you can leverage to build into your story.
Don't forget to use analytics to track the success of your campaign and if your audience is becoming more connected and highly engaged.
What makes your story unique? Tell it from your vantage point. Use stories not only to transform your brand but also to inspire.
Appeal to your audience's humanity, and let the power of storytelling amplify your marketing strategy to connect more effectively. [Click to Tweet]
Do you have a powerful story to tell? Next, read more about what makes a great brand story here.