UPDATED: As of 23 June 2022
Do you know how much your brand is worth? Although brand valuation can be difficult to measure, since a brand is an intangible asset, knowing its worth is useful not only for your business strategy but also in shaping your marketing strategy.
Building powerful brands in today's competitive market is crucial if you want to stand out. In this post, we look into how today's top brands are valued, how you can measure your brand's value, and what you can do to build your brand power.
---
Insight: More marketing leaders are investing in brand building to nurture their brand image and create more value for their audience.

Data: 81% of consumers need to a trust a brand to consider buying from it (Edelman).

Key Action Point: Use these insights to understand your brand's true value and what you can do to fully harness the power of your brand.
---
Many companies today invest in building their identity through their brands to stand out, compete, and drive growth.
Many companies have been trying to measure brand value, brand power, and brand equity over the years. True enough, more and more businesses are recognising the importance of brand building, so much that they allocate a portion of their budget for this very purpose. Calculating the ROI of a brand has also become a good indicator of a brand's value.
But before we dive into a brand rabbit hole, let's go back to the basics and work from there. Here's all you need to know about brand valuation.
What is a brand?
First of all, a brand is not a synonym for a product or service.
A brand is created. It lives in the mind of a consumer and is a combination of all communication and experience — both good and bad, intended and unintended. People identify brands with a name or a symbol, which occurs in the consumption of the product or service in the course of day-to-day life.
How do brands influence consumers?
The power of brands can be seen in the following key statistics:
In other words, brands influence consumer behaviour in several ways:
Great brands make identical products seem different
They also set up positive expectations which are self-fulfilling
A brand can instigate trust and take away risks
Great brands inspire loyalty and encourage repeat purchases
A brand can influence the price consumers are willing to pay
When done right, all of this translates to the bottom line — as great brands encourage consumers to pay more, buy again, and believe your product is better.
Brand building basics
True brand building is more than just marketing. It's all about selling the product in a way that is appropriate and resonates with your audience. You know your brand building is sound when:
Your brand lives in the consumer's mind
Every contact with the consumer affects the brand
Every contact with the brand is a brand-building opportunity
Every contact with the brand is a selling opportunity
Every contact is an opportunity to create an experience
In their work in "The Business of Brands", authors John Miller and David Muir shared the elements that differentiate strong brands from the rest:
Affinity or how closely people identify with the brand
Challenge or how a brand is making waves and challenging orthodoxy
Fame or how famous a brand is in their category
Price or how a brand offers very good value for money
Your brand building should increase your brand equity — or the value that your brand efforts bring into your business.
Organisational theorist David Aaker developed a model for brand equity. In Aaker's Model, brand equity should provide value both for consumers and the business and is demonstrated through the following elements:
Brand loyalty or the support that consumers offer the brand. This can be measured through the price people are willing to pay and the satisfaction they associate with your brand.
Perceived quality or how the public understands the products and services offered by the brand. Is your brand seen as the popular choice? Are you considered a leader in your category? These belong under perceived quality.
Brand associations or the connections between the consumers and the brand. Aspects like perceived value, brand personality, and organisational associations fall here.
Brand awareness or how familiar consumers are with the brand. Awareness measures like visibility, impressions, and engagement belong here.
Market behaviour measures or how your brand performs and thrives. Aspects like market share, market price and distribution coverage are covered here.
Why Brand Valuation Matters
Today's powerful global brands prove that brand power can promote growth by leveraging their reputation and customer loyalty. Brands like Apple, Coca Cola, Nestle, and Goodyear are examples of such brands.
Today, many customers pay for the name when they ask for a "coke", and they don't think twice about paying double for premium products from brands like Apple.
According to Forbes, the world's five most valuable brands recognised are the following:
Apple: $182.8 billion
Google: $132.1 billion
Microsoft: $104.9 billion
Facebook: $94.8 billion
Amazon: $70.9 billion
Powerful brands have a higher value, and this goes beyond anything financial — it encompasses customer loyalty, customer satisfaction, and the customers' willingness to pay even for a much higher priced product.

In Australia, a report from Brand Finance tracks Telstra as Australia's most valuable brand. Coles and Woolworth's are at second and third place. Commonwealth Bank has dropped two places to fourth from last year as a result of the Royal Commission investigating the banking industry.

Brand Finance Australia's report is based on overall brand value using revenue forecasts and the brand strength index (BSI). It also measures brand strength based on marketing investment, familiarity, loyalty, staff satisfaction, and corporate reputation.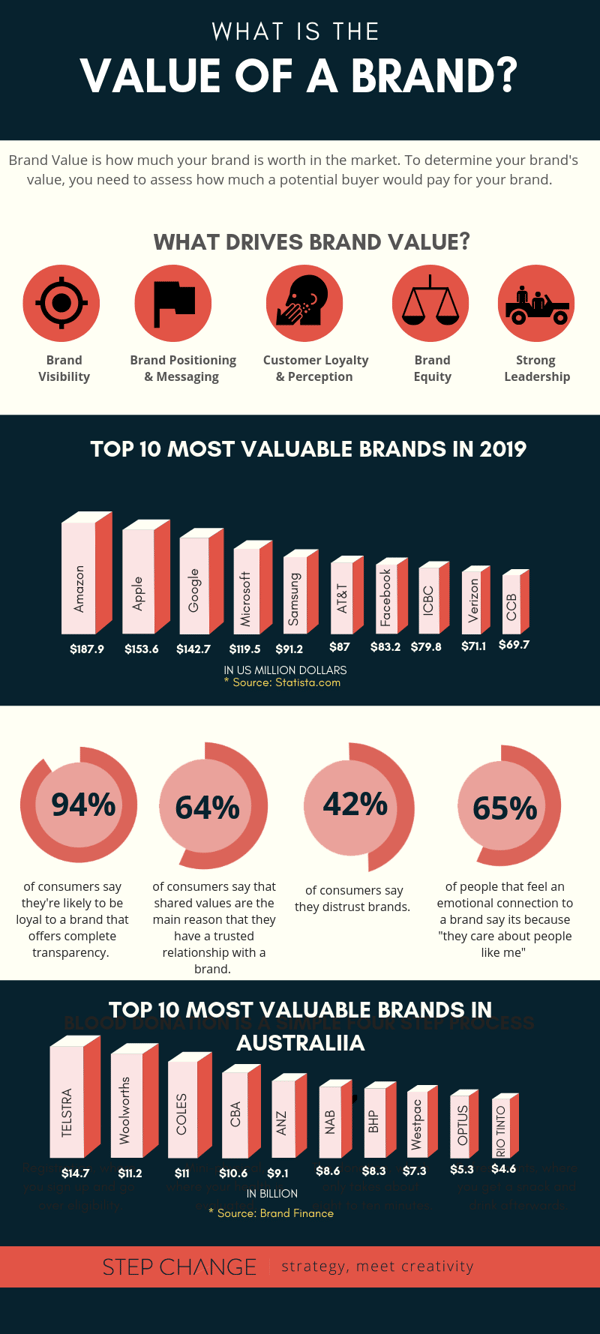 When determining the actual value of your brand, it is important to consider:
Trademark
Logo
Brand colours
Packaging
Digital assets
Marketing strategy
This means examining everything that is associated with your brand and influences your customer's perception of you.
How to measure a brand's value
According to Interbrand, a brand's value is measured according to three core components:
The financial performance of the branded products or services
The role the brand plays in purchase decisions,
The brand's competitive strength
Although it can be easy to track the financial performance of the brand, measuring a brand's strength and how it influences purchase decisions can be tricky.
When you think about a brand's value, it's important to note that a brand in itself is an intangible asset, which many consider as part of a company's intellectual property.
Knowing a brand's value may also be crucial for the following:
Tax compliance. Knowing the valuation of your brand helps when establishing the tax basis for a sale or transfer of trademarks.
Transaction. Knowing a brand's independent value is also important so it can be pledged as collateral for a loan when necessary.
Financial accounting. When a brand is acquired, knowing its independent value is crucial for financial accounting tracking.
In determining the value of your brand, knowing your income and market value is essential.
You also need to consider that companies that do not own their trademark are required to pay royalty fees for the right to license their trademark. But when a company owns the brand, they get relief from paying royalty.
In brand valuation, popular brands can demand a higher royalty rate, and a higher royalty rate can lead to higher brand value.
Popular brands are also considered as having lower risk, and in valuation, a lower risk rate leads to higher brand value.
There are five things that drive brand value:
Brand visibility. How a brand is perceived by its customers.
Brand positioning and messaging. The feelings and positive experiences evoked from your customers when they interact with you.
Customer loyalty. The percentage of high-quality satisfied customers who would purchase or use the brand again.
Brand equity. This is how the brand is valued according to the customer's perception and experiences.
Strong leadership. How a brand is valued according to how its leaders shape the company.
Curious to see how other brands and performing and how you can learn from the world's top brands? Check out the following resources:
Interbrand
An international branding consultancy with 40 offices in 24 countries. Interbrand designed a methodology that puts a value on the financial benefit of owning a brand. Interbrand annually releases a ranking of the best global brands by value.


BrandZ
A brand equity database that holds data for over 23,000 brands in over 31 countries. The database is used to estimate brand valuations and generate annual lists of top brands.


Roy Morgan Research
Australia's largest independently owned research company with offices in each state. It is considered to be the authoritative source (or 'currency') of information on financial behaviour, readership, voting intention and consumer confidence.
Tying It Together
In the words of author Jerry Bullmore, "The way people build brands is in their heads. We build an image as birds build nests — from scraps and straw we chance upon."
Brands play a big role in defining the companies that own them. Today's biggest and top brands shape our everyday lives and guide our choices. Though it may be challenging for some companies to fully realise the importance of their intangible assets, knowing your brand's value helps you realise your brand power and your full potential in a competitive marketplace.
In business, building your brand's identity not only influences your customer's perception and drives customer loyalty, but it also impacts the valuation of your brand in the long-term.
Featured photo from yummy.co.ke