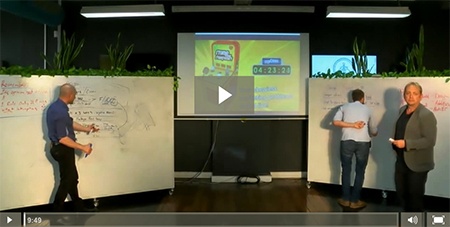 A:
Show customers why you sell your services as a premium, and how it translates to greater profits in the future. You offer a bespoke service rather than something standard and ordinary, and that is one of the reasons that you are worth the greater investment in the short term, for cheaper costs in the long term.

Business that take the cheaper option and refuse to invest in themselves, will give customers a reason to turn away. Explain how choosing a premium service first, will be cheaper than rectifying mistakes made by choosing a cheaper alternative.

Set benchmarks to indicate why you are the better option for more discerning clients. Indicate that companies that are lacking in confidence should go for cheaper options, while those who believe in their ability to succeed in their fields should come to you for a more complete solution.

Challenge your cheaper competitors head on. Take on the same briefs that they have been given, create focus groups and see who they would prefer, and how much they would be willing to pay. This will give you good feedback, while demonstrating why you are worth more.

Use testimonials from your happy clients to demonstrate why you are the smarter alternative. Hit pain points, such as speed, cost and time and also some negatives about your competitors. Business always want to make the smartest choice the first time.
Featured strategists are:
Ashton Bishop
– CEO, Step Change
Andrew Durack
– Marketing Manager, St. Ives Retirement Living
Kevan Baker
- General Manager, BrandMail
About Stump the Strategist:
Questions from the floor, answered live in nine minutes
It's opinion, not advice
Step Change charges clients for advice, Stump The Strategist is free
Get more Stump the Strategist HERE.