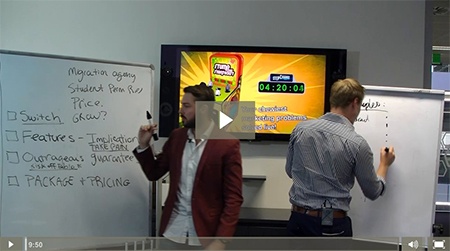 A:
Understand value versus price. Rather than using a Price Plus model, which places a fixed percentage on top of the product or service cost, consider the value your customers receive.

Outlining the value delivered allows you to price a service based on the problem solved, versus Price Plus pricing. Highlighting the potential up or downside of using or not using your product increases the overall product value to the customer.

Consider strategies to display the dollar values you're saving customers to make the value more 'real'.

The market leader often provides customers with a little more security, so it's important to try and take risk off the table. One method of doing this is to use outrageous guarantees. These guarantees aim to take your customers' biggest worries off the table and offer them value they can't refuse.

Customer switching is the biggest goal of marketing. In order to do this you need to find the features you do differently, or better, than your biggest competitor. When examining your best features, you should consider whether they are specific, exact and measurable.

Try using decoy pricing or Broken Window Theory. Decoy pricing is the adding of a decoy product or service to give the perception of increased value. This helps drive customers toward the price or product that is best for your business.
Featured strategists are:
Jeff Cooper - Founding Partner, Step Change
David Siegel - Strategist, Step Change

About Stump The Strategist:
Questions from the floor, answered live in nine minutes
It's opinion, not advice
Step Change charges clients for advice, Stump The Strategist is free
Get more Stump The Strategist HERE