The written word alone isn't enough to fully engage your target audience. In telling stories, video is undoubtedly the most engaging form of content and your best bet if you're after engagement and a longer website dwell time.
Check out these statistics.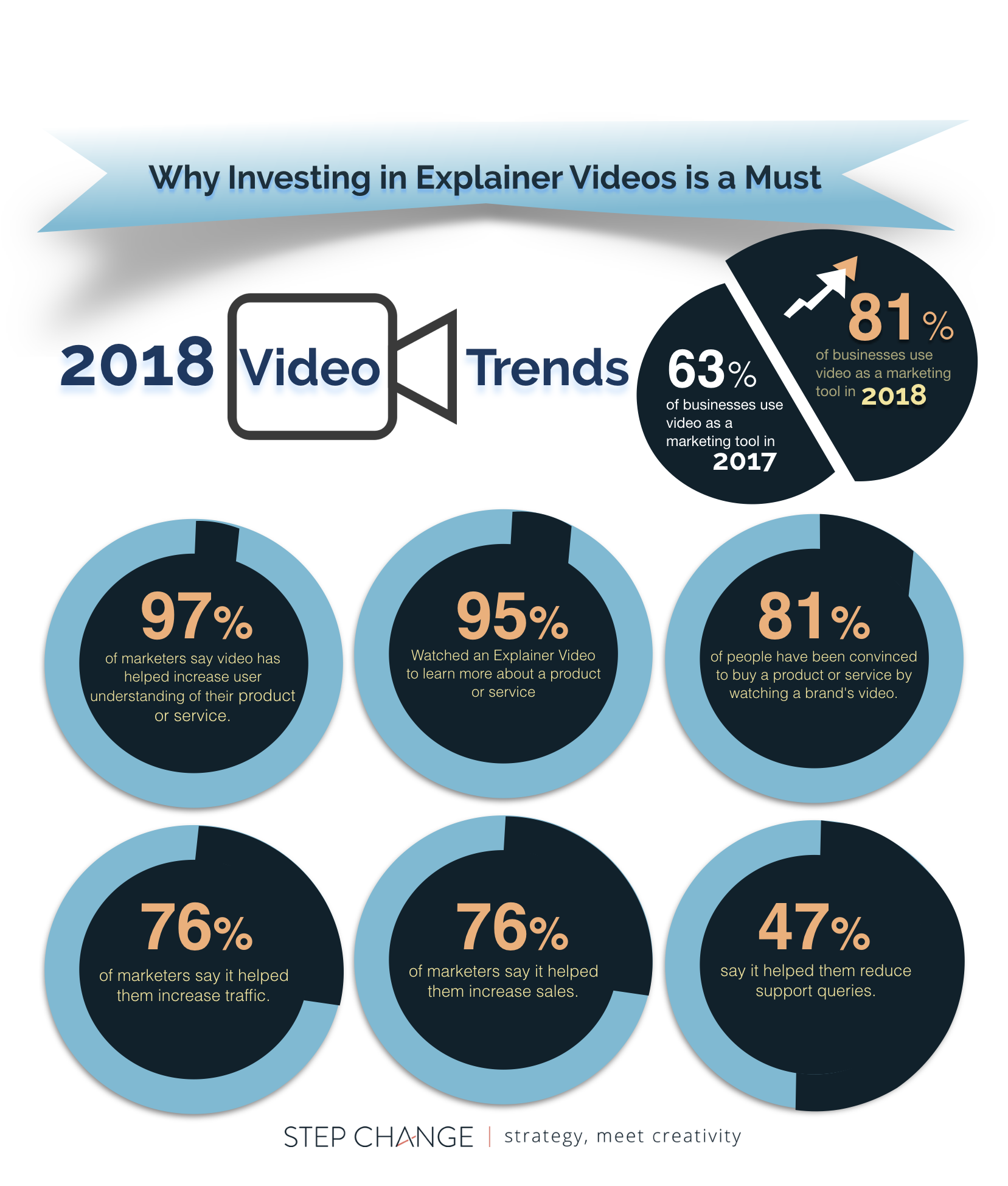 Videos are an effective marketing tactic businesses should leverage to share their brand story, explain their product, emotionally attract prospects, and build relationships with customers.
One type of video that you can leverage is the explainer video. Videos are the best content to use to engage your audience and draw interest; explainer videos are no exception.
Explainer videos are short eye-catching videos that work great when introducing a new idea or a product. Data from HubSpot show that almost every other user would prefer to watch a one-minute product video than read a 1,000-word post.
And since explainer videos are a great way to engage your viewers and help them understand who you are, what you do, and what your products do, they should be placed front and centre on your homepage for better traction, gain leads, and drive sales.
Related topic: The One Reason You Should Invest in a Manifesto Video
So What Makes a Killer Explainer Video?
1. A brilliantly crafted script
A powerful script makes all the difference in capturing viewer interest and making people buy from you.
So make sure that your script encapsulates your message and resonates with your target customers.
Aim for a timeframe of 1–2 minutes as an explainer doesn't deliver its purpose effectively if it contains everything people need to know about your business. The shorter it is, the more powerful it is.
What are the elements of a powerful script? It needs to address a problem, present a solution, describe how this solution works, and tell people what to do next.
2. A voice talent that fits the brand archetype
The best way to reach out to your target audience is to find someone they can connect to who fits your message and your branding.
Brand archetypes are really useful in helping you find a suitable voice talent for your brand, depending on which type you fall under.
A Jester brand will go for a lively, comic talent. If you're a Lover brand, go for a sensual-sounding voice talent. If you're a Caregiver brand, choose a talent with a warm, thoughtful, and motherly tone.
Take this explainer video below, and notice how perfectly suited the narrator is for Olsens Funerals.
Olsens Funerals - Paper Plane from Step Change on Vimeo.
3. Visuals that strengthen.
Use visuals to aid in telling the story. Explainers work so well because you can have a very complex idea in a very symbolic way. Whether it's an animation or live-action led, it depends on your message.
When you have complex things to explain or when you have a fun and quirky theme, animation or infographics will work well. Here's an example from Tap for Teacher.
Tap for Teacher Explainer from Step Change on Vimeo.
When you want to explain a product — like, say, a bike or clothes or gadgets — you'd want to show the actual product in use, so having a live-action video works best.
Quantify Hype Reel from Step Change on Vimeo.
4. Music that moves.
Music sets the tone for how a viewer feels throughout the video. So a lot of thought should be placed into choosing the right music track.
Even if you have a great visuals, an excellent script, and the perfect voiceover, if you use the wrong music, you lose out on getting your viewers to emotionally connect with your brand.
You need to consider the target audience and the type of visual (animation or live action). It sets the tone and pace of your video.
The right music track has a beginning and an end and should go well with the voiceover too.
Conclusion
There's a reason why 5 billion videos are watched on YouTube every single day. Video is the content to beat in multichannel marketing and when it comes to capturing and holding your viewer's attention.
They also draw the most user engagement. As of 2017, more businesses are already using video as their marketing tool.
If you want to get the most traction for your products and services, using an explainer video ensures you get to position yourself right where the audience is and how they want their content to be digested, which drives results and promotes value more than anything else.
Editor's note: This post was originally published in December 2016 and has been updated to include new statistics.