Unless you've been running your business under a rock, you would know that businesses today are operating in a VUCA environment. In this context, it's the quick-thinking, action-oriented, and strategic organisations that win. Those that produce strategic documents and leave them in a bottom drawer — well, they come second or simply fail to finish.
And when it comes to getting strategy from the bottom drawer to the bottom line, it's culture that makes or breaks. Increasingly, it truly can be your competitive advantage.
But culture, like strategy, is one of those misunderstood concepts. Yes, everyone agrees that it's important in organisations, but everyone has not agreed to what it is.
So what do we really mean when we talk about culture?
Strategy vs Culture
Every organisation has limited resources (in terms of time, money, and focus), and strategy exists to apply those resources for the greatest leverage and result.
Culture — shared values, beliefs, and behaviours — is an organisation's execution engine.
Recommended reading:
"Have. Do. Be" to "Be. Do. Have"
Most of us think we need to "have" a certain thing (more money, time, etc.) so that we can finally "do" something important (have more work-life balance, buy a new home, etc.), which will then allow us to "be" what we truly want in life (fulfilled, successful, etc.).
The reality is that it works the other way around.
First, we need to "be" what we want (balanced, successful, etc.). Then we start "doing" things from this state of being. And soon we discover that what we're "doing" brings us the things we've always wanted to "have."
Businesses that understand and operate this way have a competitive advantage.
Purpose (Have)
Forget mission and vision. Why? Because so few people actually understand those concepts or know when and how to use them.
Purpose is all about being a purpose-led organisation. If you don't have a purpose, you are effectively purposeless — and strategy is all about the long-term achievement of the purpose.
Your purpose states the reason you're in business, and it defines what you aspire to be. It's your mission informed by your beliefs. It's your north star that guides what you ultimately want to "have".
Recommended reading:
Beliefs (Fundamental Drivers)
It all starts here. Your organisational beliefs underpin your purpose and guide what you value. Great beliefs are empowering — they power your purpose.
Your beliefs and purpose should be true to you and have inherent value for all stakeholders — be it shareholders, management, staff, clients, or partners.
A good test of your beliefs (and purpose) is whether they easily a flow into a manifesto for your organisation.
Recommended reading:
Ways of Being (Be)
Clever businesses build an organisational culture that drives the behaviours they need to achieve their purpose. They do this by defining how their people should be each day.
More than just core values posted on workspaces, the Ways of Being define how teams do their work and interact with each other. They are the ultimate lead metric and, like any good metric, need to be measured.
In Action (Do)
We know that traditional, top-down, command-and-control leadership doesn't work in a VUCA environment. Things are simply moving too fast.
Instead, leaders must empower their people by providing clear, concise, and complete 'doing' guidance that flows directly from a belief set and defined way of being. This enables everyone to make decisions with confidence and lead within their realm.
The Step Change Way
To give you an example, here's Step Change's purpose, the things we believe in, our ways of being, and how we deliver our work.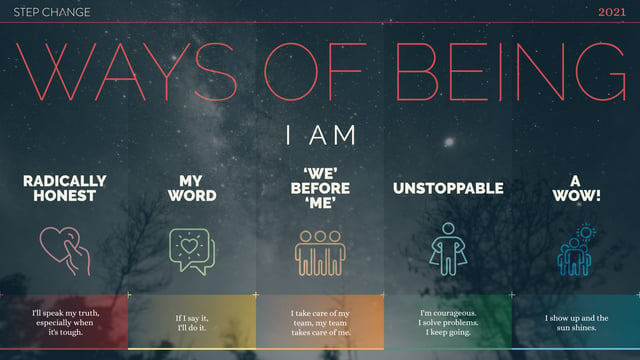 Purpose
To inspire step changes in business and people
We Believe In…
Creating strategic organisations rather than strategic documents

The magic of strategy and creativity coming together

Outsmarting rather than outspending

The most interesting breakthroughs come from looking outside your industry

Creating something to buy into, not just something to buy

Better business being the way to a better world

Hiring high-potential leaders and equipping them to deliver at speed
Ways of Being
I am Radically Honest

I am My Word

I am 'We' Before 'Me'

I am Unstoppable

I am a Wow!



Step Change in Action
Great Questions

System Thinking

Effectiveness over Efficiency

Going for the Wow

Choose Like It's Your Business
Why Does Culture Play a Vital Role in a Business's Success?
First, studies suggest it can influence the bottom line by up to 8 times more than strategy. Second, people are loyal to culture, not strategy. Lastly, it creates organisational resilience in a VUCA world.
At Step Change, we help our clients take their strategy and put it in their culture to hit the bottom line, not the bottom drawer. We do that by helping them take their intent and move it into action. If you want to know more about how bottom-line culture can take your strategy to the bottom line, click the link below.