Invisible Marketing is the messaging customers don't see. And this is the key to a step change for the Financial Services industry.
At Step Change, we deliver it through a workshop on behavioural economics, and it's one of our most intellectual perspectives on marketing. Our clients usually ask us, "How do I apply invisible marketing to our brand, products, and our marketing?" Well, if you have a product that isn't tangible, or if you need to elevate your brand to number one, this is a critical thought process for you.
Invisible marketing is what's received by the customer rather than what's said by the brand. It's the emotional response customers feel toward a product during a certain time of day or the desire to purchase something without feeling like they've been sold anything.
To support this post, we are offering a private Invisible Marketing session for you and your team, just simply fill out the form down below. There are limited slots available.
Invisible Marketing in Action: WePay
A few years ago, a company called WePay dropped a 300-kg ice block of frozen money in the front of a PayPal developer conference.
Why?
To evoke emotions and stun the massive crowd at the conference.
WePay used this giant ice block to expose its competitor, PayPal, for their frequent freezing of customers' accounts. By also placing the link "Unfreezeyourmoney.com" on the ice block, they were able to drive traffic to their page and promote themselves simultaneously.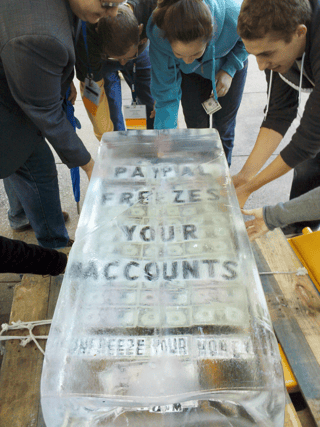 Photo credit: Tech Crunch
As you can expect, the stunt went viral.
In the week following the event, landing page conversions were three times higher than on a normal day. Additionally, the company saw a 300% increase in weekly traffic, a 225% increase in sign-ups, and were placed in hot positions in several top tech magazines. Not a bad result for a campaign spearheaded by a chunk of ice.
Why was this crazy stunt so successful?
Because it was confronting. WePay, in the most dramatic and shocking way possible, exposed their competitors' biggest flaw, promoted themselves, and managed to get good press in one simple stunt.
By using emotional triggers, they instantly instilled fear in customers by painting a picture of a frozen account. More importantly, WePay provided a quick solution to this problem before customers even learned a thing about the company.
This is just one clever example of invisible marketing as seen in the financial services industry. It isn't guesswork. This marketing strategy is driven by the principles of behavioural economics. This video explains more about the two decision-making sides of everyone's brain.
It has three elements: triggers, frame, and fuel.
Triggers
Emotions are powerful for driving attitude and behaviour, which is what marketing is all about. So what are the triggers — an emotion and a moment — that actually get people thinking about your brand? Once they start connecting a moment and an emotion with you, it makes for effective frequency.
Effective frequency is important because if people just see or hear your message just once, you won't get any result. With thousands of branded messages they encounter in a day, yours will most likely drown in the noise.
So have a look at your business. Think about what's going on in your customers' life. Think about what they do every day. And identify the trigger that you can connect your business with.
Frame
There are things that influence people's buying decisions, and you have the opportunity to set what influences their decision. Framing is about giving comparisons that make it easy for customers to assess your value and making it easier to purchase from you.
One of the practical ways to frame your message is to convert the abstract to the actual. The financial services commonly use statistics to try to get their message across. But given that people are emotional beings first and logical beings second, serving them with statistics just won't work effectively.
Take this ad for example: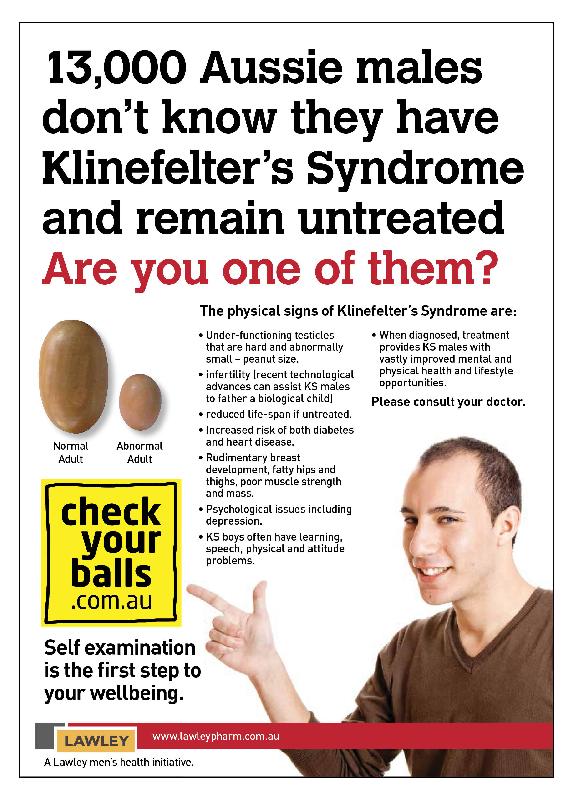 The advertisers had this ad posted in — guess where — airport male restrooms. Obviously, it triggers a response! 13,000 seems a lot of people, and it caused men to think they could be one of the 13,000.
But had the advertisers used the actual statistic — "0.0005% of Aussie males don't know they have Klinefelter's Syndrome" — it wouldn't sound as alarming, would it?
Fuel
For a rocket to go fast, you don't shove stuff in its nuzzle. Instead, you take stuff away. The same goes with business. To fuel your customer's decision-making and get things going, the first thing you need to ask yourself is, "How do I ensure that nothing slows down their decision-making?"
Given that decision-making requires energy (or brainpower), you need to ensure that the path to purchase is simple and seamless. So get the obstacles out of the way. Eliminate unnecessary or redundant steps. Sell them what you want them to buy.
Related topic: Why You Shouldn't Make Decisions Based on Instinct: System 1 and System 2 Thinking
Conclusion
Invisible marketing is the messaging we don't see. It's effective as it triggers emotions, is framed in such a way that compels them to buy without feeling like they've been sold anything, and is fuelled by a seamless path to purchasing.
If you want to learn more about invisible marketing and its practical applications to your business, contact us today for a private session.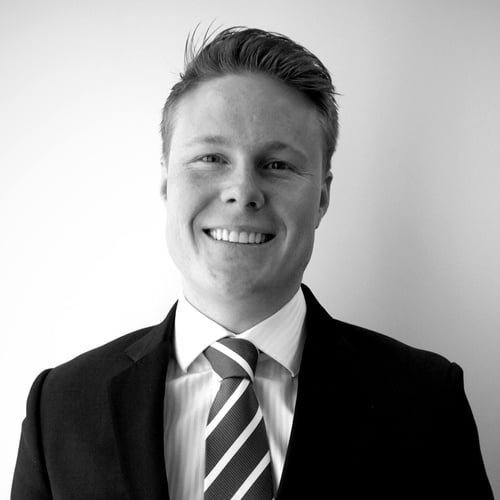 Jeff Cooper is Step Change's Founding Partner. Jeff learnt his most valuable lessons in strategic thinking by spending his own money. His entrepreneurial pursuits began back in 2004 when he started his first business, designing exhibition spaces and running events, eventually giving birth to an interactive event concept later adopted by the likes of Big Day Out and other major festival organisers. A decade later, in 2014–2015, startups Jeff was involved in raising over $1m in investment, and Step Change — which he co-founded — became a multimillion-dollar strategy consultancy, serving clients across five continents. He's a true generalist, with ownership and Board interests in businesses from retail solar to beauty and beyond, at life stages from startup to over $150m revenue annually.

Photo by David Werbrouck on Unsplash