In today's crowded marketplace, the need to stand out from the competition is crucial. But more importantly, in order to win, Financial Services companies need to look into existing challenges that may be stopping them from achieving true differentiation in their industry.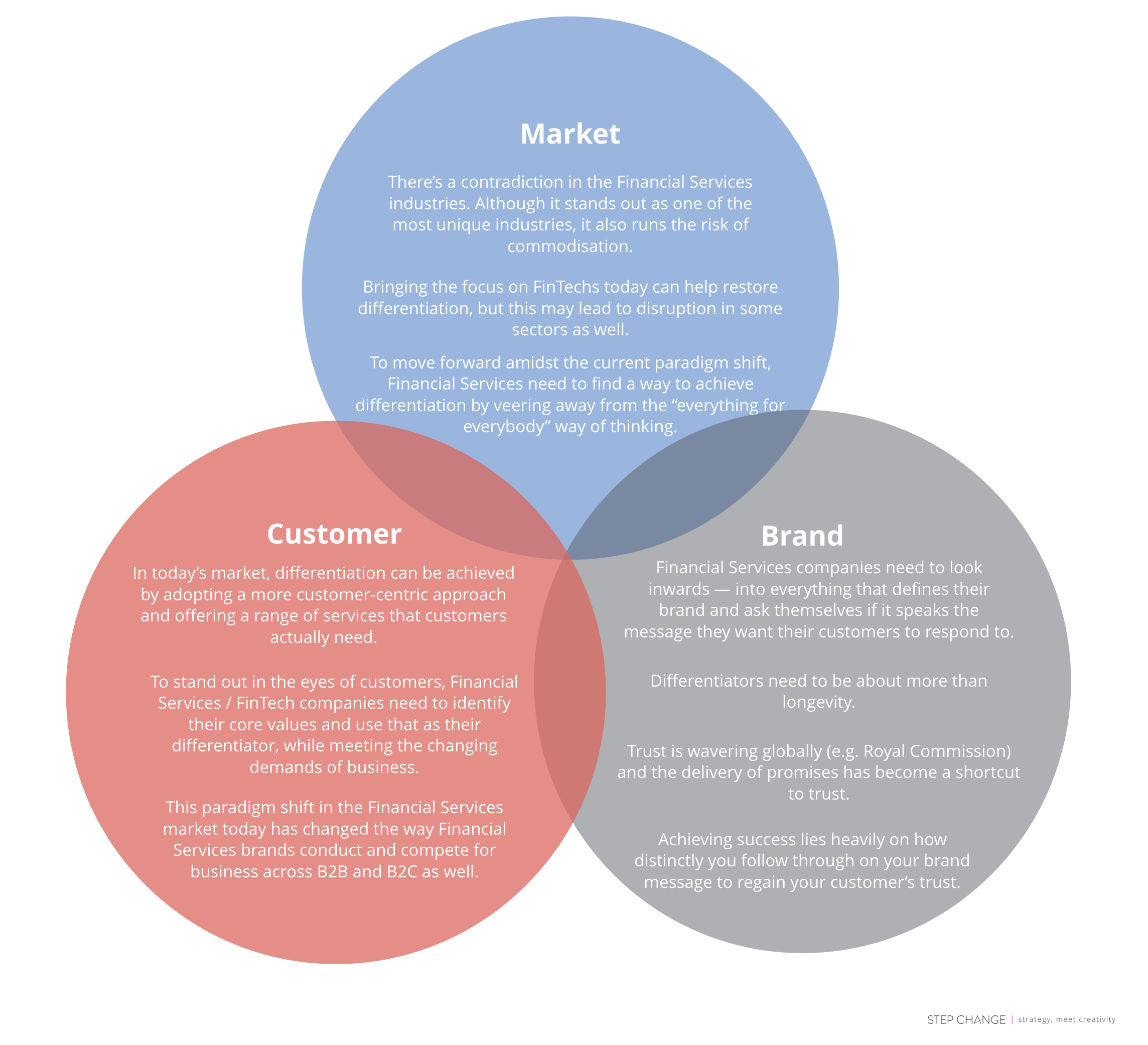 How to Win in the Market
Many Financial Services companies try to be everything to everyone, which runs the risk of them being unable to truly differentiate themselves from everyone else in their industry. To stand out in the market and venture away from commodisation, Financial Services companies need to plan out their competitive advantage by finding a way where their brand promise and the needs of their target market meet.
The only way to ever truly win in the market is to stand out. Having a true differentiator can be used to create a competitive positioning that is hard to beat.
Tweet this
Over the years, the traditional perception of what a Financial Services company is has changed significantly. This means Financial Services have a wider horizon open for them to redefine how they want to be perceived by their customers.
Rather than compete with the known and top key players in the industry, many successful Financial Services have come to know that celebrating what makes them unique and using that to drive their message to the market holds the key to getting people's business. This means serving with a purpose and using that to stand out and achieve differentiation from everyone else in the industry.
Example
Simple (an American Bank) found a way to work with their landscape so they can be comfortable being who they have always been: a simple no-frills approach bank where customers can easily complete financial transactions.
They didn't have to compete with the biggest banks out there because they knew they couldn't.
But they did want to be known as a bank that offers a better and a more convenient way for customers to complete important transactions.
Using this as their differentiator and competitive advantage, they were able to successfully create a unique identity for themselves that distinctly sets them apart from everyone else.
Read more about the Top 3 Marketing Pitfalls FinTech Companies Make.
How to Win with the Customer
Because Financial Services companies are known for offering a similar range of services, customers usually have no point of differentiation when choosing who to give their business to.
This should lead Financial Services to find a way for customers to choose them over a similar company offering the same services.
So answer this: Why should your customers choose you? What makes you different?
Research shows that high-potential companies fast-track their growth particularly from having a strong differentiator. This can be done by taking the customer-centric approach a step further and using technology to improve customer-facing services such as mobile banking apps, so common bank transactions can be done online and on the go.
High-potential companies fast-track their growth particularly from having a strong differentiator.


Tweet this
Knowing what your core values are helps Financial Services brands not only to differentiate themselves from the competition, it can also be the guiding force to how they conduct and compete for business across B2B and B2C entrants as well.
How to Win with the Brand
Many Financial Services companies are out looking for the best brand positioning for their business. But is having the best value proposition and brand positioning enough to get you the results you need?
Financial Services need to look into why so many companies are all about finding the right position in the market but continue to struggle in terms of returns.
So what is missing?
It's time to take a closer look into how this message is being delivered.
In a time where customer trust is wavering, there's an opportunity for Financial Services to achieve true differentiation by making sure they deliver what they promise and regain the trust of their audience.
To achieve success, it has to be more than just finding that one special attribute that makes you stand out; it also lies heavily on how distinctly you follow through on your brand message to regain your customer's trust.
Look into everything that defines your brand — your logo and trustmarks, every content you put out — and ask yourself if it consistently represents the same message you want your customers to respond do.
With a powerful and clear brand message to guide you, not only do you stand out, you ensure your audience finds value in the services you offer so they know you are the best company to turn to for their specific need.
Example
Zuper - Extremely Super Superannuation comes to mind as a brand that has achieved differentiation as a Financial Services company.
They took the time to outline their value proposition before coming up with the right strategy to ensure this message cascades through their branding.
In this, they gave their customers the perception of control and used a powerful branding strategy to tie it all together.
Differentiation: The Key to Stay Ahead
In Financial Services, or any other industry for that matter, there is but one playing field by which to win the race to being top of mind.
Gone are the days when everything was dominated by key market players who stood out because of longevity and having specialised services to show for.
To achieve true differentiation in their category and win in the market, with the customer, and the brand, Financial Services companies need to be prepared to redefine their purpose, stay true to their promise, and adapt to the changing times to better serve the needs of their customers.
While trust may be wavering globally in Financial Services, finding the courage to change and fighting to win back the trust that was lost in the first place may be all you'll ever need to truly stand out.