Neither size, depth, or scale can guarantee the continuity of businesses for tomorrow. So what can organisations do to be more future-ready? In this week's Knowledge Nuggets, a very special guest, one that's close to my heart, and I will help you better understand the premise in the book Exponential Organizations by Salim Ismail.
Insight: Organisations that are able to learn and take action accordingly have the best competitive advantage.

Data: Only 10% of CEOs believe their company's leadership development initiatives have a clear business impact. (McKinsey)

What's the step change: Learn how to build an organisation that is scalable, fast-moving, and smart for a better chance of success. Download the Exponential Organizations book summary to get started.

So what is an exponential organisation?
According to Salim Ismail, an exponential organisation (ExO) is one who leverages the use of new technologies to deliver an output that is 10x larger compared to its peers. Organisations that thrive in the future are those who adapt ExO practices — those that have a clear transformative purpose, have a flexible team, and are always up to face the unexpected.
Exponential organisations have changed the way organisations think about business and scaling businesses. This book is a work that is 36 months in the making, which Salim Ismail has used as a backbone or the handbook for Singularity University.
I was fortunate to see Singularity University in San Francisco last year. It's amazing how organisations are shaping and changing. The purpose of this book is to answer how some organisations go 10x and scale effectively, why they're able to do that, and how they're able to do that. For start-up organisations today, the big challenge is competing with a business that has these principles embedded in their DNA.
So let's look at the 4 key takeaways and moments that matter in Exponential Organization.
1. The Model
The book talks about five different ways that these organisations scale exponentially. We're talking about gradually to suddenly being able to generate huge results.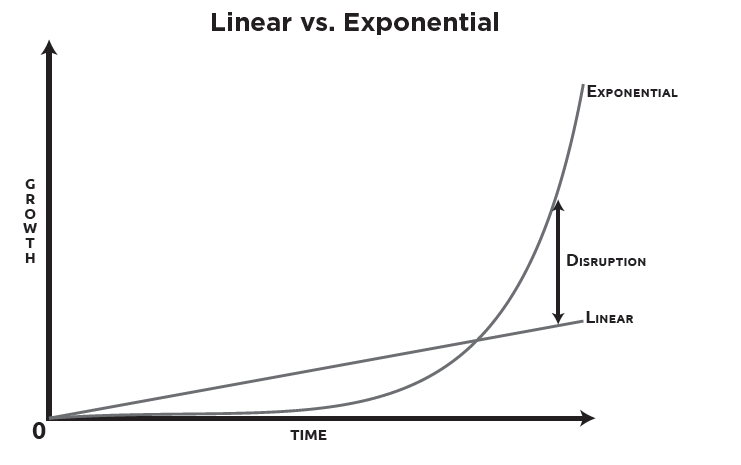 You can track different models in action such as the Brokerage Model with Airbnb to Uber. There's also the Advertising model from Google to Facebook, the Subscription Model from Dropbox to Evernote, and the manufacturing model like Tesla, SpaceX, Suncity Solar, and marketplaces from Amazon to Alibaba. The real question here is, what's the model that you're scaling?
To be an exponential organisation, you need to build a business model canvas and then find your business model.
Below are some business models behind the best Billion-Dollar Unicorns.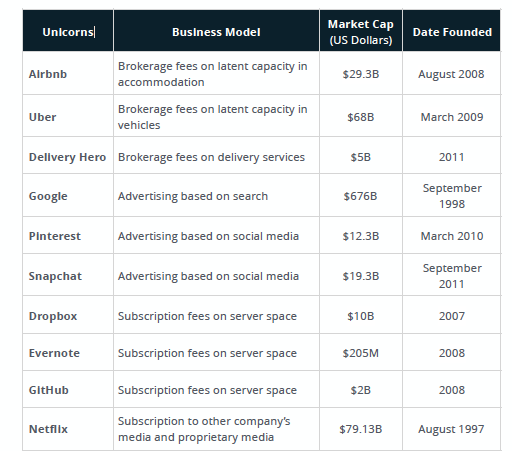 Recommended reading: The Business Models Behind the Best Billion-Dollar Unicorns
2. The Map
This is leading with a massive transformation purpose and then embedding underneath it the principles of agility with your staff, customer, and working towards scalability. There are two acronyms here that we want to zoom in on. There's the IDEA side and the SCALE side as below.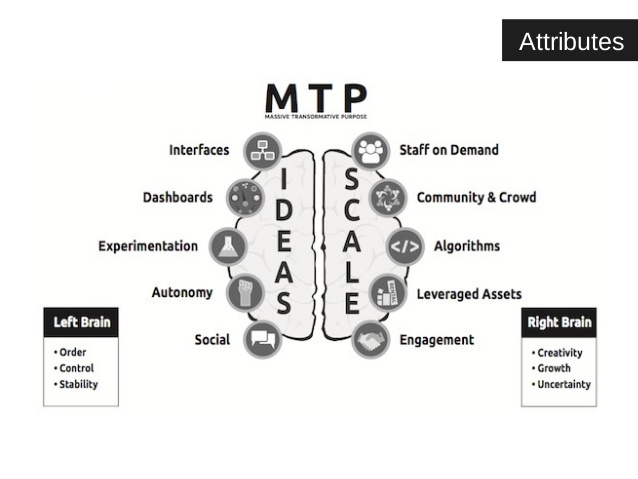 The five external characteristics of SCALE are:
Staff on demand
Crowd
Algorithm
Leveraged assets
Engagement
The five internal characteristics that need to support the company's external ones are:
Interfaces
Dashboards
Experimentation
Autonomy
Social

For more on this, download the Knowledge Nugget: Exponential Organizations PDF.
3. Data-Led Disruption
Disruption is the new norm. Every industry is going to face disruption, and data-led businesses are the only way to navigate that uncertainty. Data-led disruption means knowing how to get and use the data and apply the measures that matter in setting it up. That is called data-led disruption.
4. Customer Advocacy
The book also talks about the leader who is responsible for detecting any trends, competitive pressures, and disruptive startups. The Chief Exponential Officer is the leader of the future who looks to get organisational momentum so that the organisation can go through that scale.
This is also the role that engages customers in that journey where you can get them to actively participate where they are at that can lead to growth and scalability. By using this network effect, you can grow gradually and then exponentially.
Download our Knowledge Nugget on Exponential Organization: