Digital marketing has taken over traditional marketing channels as it's more engaging, more flexible, and it costs less. We've put together a list of brands that are standing out and cutting through the noise with their digital marketing campaigns.
---
Insight: The marketplace is increasingly becoming digital, and online marketing is the most effective way to reach target buyers.

Data: According to the 2018 Global Digital Report, Australians spend 5 hours and 34 minutes on the internet daily. (We Are Social)

Key Action Point: Find out and be inspired by how these seven brands were able to leverage the power of digital marketing.
---
1. Zappos
Industry: Online retail
Campaign: True Stories campaign video
Website: https://www.zappos.com/
What they did that was remarkable: What made Zappos' series of videos stand out was that they were able to find a creative way to leverage real customer stories and showcase how far the brand is willing to go to delight their loyal customers.
Your customers' stories can be a gold mine. It's one of the most influential and most trustworthy forms of marketing as they come from real people and authentic experiences.
So how about your business? Are you making the most out of your customer-centred content?
2. Simply Business
Industry: Insurance
Campaign: Content marketing and social media marketing
Website: http://www.simplybusiness.co.uk/
What they did that was remarkable: Simply Business is an insurance broker in the United Kingdom. Their target customers are business owners who are experts in their field. Their challenge was to improve people's perception of them being an uninteresting business that also belongs to an industry with a poor reputation. They also want to increase the number of web visitors.
With their current marketing strategy failing to deliver (focused heavily on product advertising), they turned to content marketing. They produced a comprehensive, actionable guide for small businesses called "Social Media Success Road Map". It gained social traction, cementing the fact that it resonated with their audience.
Their marketing initiative resulted in a great significant in their search rankings, traffic, conversion rates.
Does your company belong to the "boring" or "serious" category? Does your industry have a shady reputation? Perhaps it's time to rethink your marketing strategy to include producing and distributing content that resonates with your ideal buyers.
3. Amazon
Industry: Online retail
Campaign: Influencer and content marketing
Website: https://www.amazon.com.au/
What they did that was remarkable: This campaign leveraged influencers and showcased the benefits of using the product. Their video shows that nobody, not even an influencer, can replace Alexa. First aired at the Superbowl, the creative video went viral, earning 47 million views.
4. Children with Cancer
Industry: Nonprofit
Campaign: Multichannel
Website: https://www.childrenwithcancer.org.uk
What they did that was remarkable: The UK-based Children with Cancer charity were seeking to raise awareness and the needed funding to continue supporting vital research that aims to save the lives of children with cancer. They launched a campaign with the message "Keeping Families Together."
They were able to spread awareness on social media, enhanced their main landing page with relevant information, and launched powerful videos on YouTube and TV in order to share their message — "To create a world where every young cancer patient gets to ring their end of treatment bell" — and report how the organisation's efforts were making a significant impact on the lives of the young patients.
So have a look at your business. How have you shared your one big message or your purpose? Have you effectively shared on channels where your audience are? Are your landing pages optimised for conversion?
5. The Shelter Pet Project
Industry: Petcare
Campaign: Social media
Website: http://theshelterpetproject.org / Facebook: https://www.facebook.com/ShelterPetProject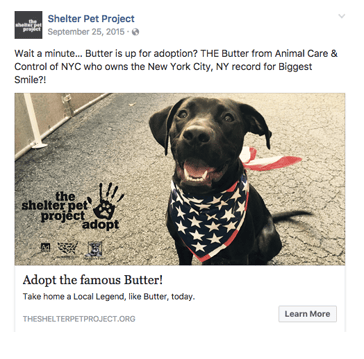 What they did that was remarkable: The public service group focuses on making "shelters and rescue groups the first choice and desired way for acquiring a companion animal". They created an ad campaign that showcases pets in local shelters and rescue groups to drive Facebook users to their website and search for pets to adopt.
6. GE
Industry: Conglomerate
Campaign: Social media
Website: https://www.ge.com/au/
What they did that was remarkable: Whilst most marketers would use video to showcase their products, GE leveraged it to put the spotlight on their employees and their stories. Social media is not just for driving traffic and generate leads; you can also use it to tell your story, build your brand, and attract followers.
How about your brand? What method have you used to tell your brand story and build awareness?
7. IKEA
Industry: Retail
Campaign: Video marketing
Website: https://www.ikea.com/
What they did that was remarkable: The 25-minute autonomous sensory meridian response (ASMR) video is an example of a product-focused content that adds value for viewers. It that showcases their back-to-school college dorm products. The viral video gained over 2 million views on YouTube, with one commenter who even said, "[It's] the only ad I won't skip."
Did We Miss Anything?
What's your favourite and most memorable digital marketing campaigns? Please share with us in the Comments section below.