Do you know how much your brand is worth? Although brand valuation can be difficult to measure, since a brand is an intangible asset, knowing its worth is useful not only for your business strategy but also in shaping your marketing strategy.
Having a powerful brand in today's competitive market is crucial to stand out. In this post, we look into how today's top brands are valued, how you can measure your brand's value, and what you can do to build your brand power.
---
Insight: More marketing leaders are investing in brand building to nurture their brand image and create more value for their audience.

Data: 90% of searchers haven't made up their mind about a brand before starting their search. (Status Labs 2018)

Key Action Point: Use these insights to understand your brand's true value and what you can do to fully harness the power of your brand.
---
Many companies today invest in building their identity through their brands to stand out in a noisy space, compete, and drive growth.
Throughout the years, we've seen many companies trying to measure brand value, brand power, and brand equity. Many businesses are recognising the importance of brand building, allocating a portion of their budget for this same purpose. Calculating the ROI of a brand has also become a good indicator of a brand's value.
Key Branding Statistics You Need to Know
Why Brand Valuation Matters
Today's powerful global brands prove that brand power can promote growth by leveraging their reputation and customer loyalty. Brands like Apple, Coca Cola, Nestle, and Goodyear are examples of such brands.
Today, many customers pay for the name when they ask for a "coke", and they don't think twice about paying double for premium products from brands like Apple.
According to Forbes, the world's five most valuable brands recognised are the following:
Apple: $182.8 billion
Google: $132.1 billion
Microsoft: $104.9 billion
Facebook: $94.8 billion
Amazon: $70.9 billion
Powerful brands have a higher value, and this goes beyond anything financial — it encompasses customer loyalty, customer satisfaction, and the customers' willingness to pay even for a much higher priced product.

In Australia, a report from Brand Finance tracks Telstra as Australia's most valuable brand. Coles and Woolworth's are at second and third place. Commonwealth Bank has dropped two places to fourth from last year as a result of the Royal Commission investigating the banking industry.

Brand Finance Australia's report is based on overall brand value using revenue forecasts and the brand strength index (BSI). It also measures brand strength based on marketing investment, familiarity, loyalty, staff satisfaction, and corporate reputation.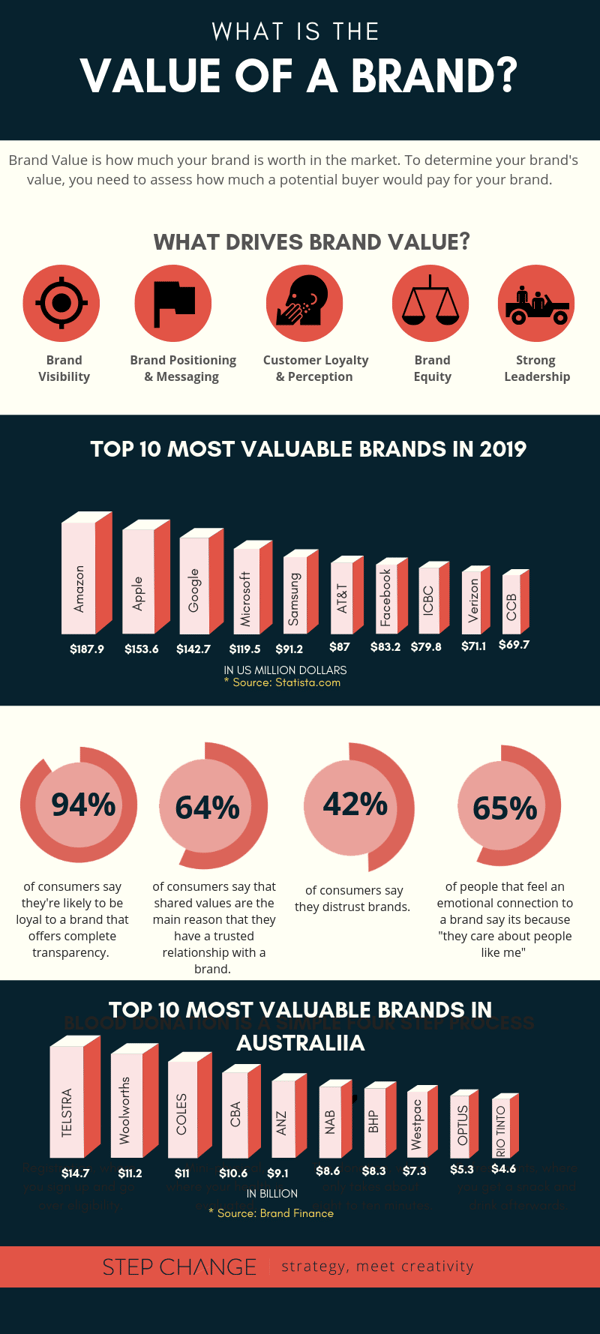 When determining the actual value of your brand, it is important to consider everything that it includes:
Trademark
Logo
Brand colours
Packaging
Digital assets
Marketing strategy
It's everything that is associated with your brand and influences your customer's perception of you.
How Do We Measure a Brand's Value?
According to Interbrand, a brand's value is measured according to three core components:
The financial performance of the branded products or services
The role the brand plays in purchase decisions,
The brand's competitive strength
Although it can be easy to track the financial performance of the brand, measuring a brand's strength and how it influences purchase decisions can be tricky.
When you think about a brand's value, it's important to note that a brand in itself is an intangible asset, which many consider as part of a company's intellectual property.
Knowing a brand's value may also be crucial for the following:
Tax compliance. Knowing the valuation of your brand helps when establishing the tax basis for a sale or transfer of trademarks.
Transaction. Knowing a brand's independent value is also important so it can be pledged as collateral for a loan when necessary.
Financial accounting. When a brand is acquired, knowing its independent value is crucial for financial accounting tracking.
In determining the value of your brand, knowing your income and market value is essential.
You also need to consider that companies that do not own their trademark are required to pay royalty fees for the right to license their trademark. But when a company owns the brand, they get relief from paying royalty.
In brand valuation, popular brands can demand a higher royalty rate, and a higher royalty rate can lead to higher brand value.
Popular brands are also considered as having lower risk, and in valuation, a lower risk rate leads to higher brand value.
There are five things that drive brand value:
Brand visibility. How a brand is perceived by its customers.
Brand positioning and messaging. The feelings and positive experiences evoked from your customers when they interact with you.
Customer loyalty. The percentage of high-quality satisfied customers who would purchase or use the brand again.
Brand equity. This is how the brand is valued according to the customer's perception and experiences.
Strong leadership. How a brand is valued according to how its leaders shape the company.
Tying It Together
Brands play a big role in defining the companies that own them. Today's biggest and top brands shape our everyday lives and guide our choices. Though it may be challenging for some companies to fully realise the importance of their intangible assets, knowing your brand's value helps you realise your brand power and your full potential in a competitive marketplace.
In business, building your brand's identity not only influences your customer's perception and drives customer loyalty, but it also impacts the valuation of your brand in the long-term.
Featured photo from yummy.co.ke