Trends are emerging on our horizon, and they're impacting businesses. In fact, some of them could be under your radar — and you just didn't know it.
Technological advancements and societal shifts are influencing people's buying behaviours, and ignoring this fact only means you're giving your competitor the upper hand.
While most business leaders can easily identify trends, they fail to realise how some trends — and most especially those that they ignore, thinking they won't directly impact their core markets — are actually influencing consumers' behaviours and attitudes and thus affecting the business.
Kodak's Shortsighted Value Proposition
Here we learn a thing or two from Kodak. The imaging company once believed that in the digital age, people would still want to take photos to treasure memories. So they invested heavily in digital printing.
What they failed to recognise is that how people want to share those precious memories had changed. They're not just keeping photos on physical albums and sharing them to houseguests — they want to share their photos with their friends online.
The emergence of the digital space was a trend Kodak wasn't prepared for. They failed to see it as something that would affect them and, therefore, didn't spend money on R&D to reinvent their value proposition, which is a vital aspect of any business. Succinctly, a value proposition is a collection of persuasive reasons that make people notice you and buy from you.
Do You Know What's Flying Under Your Radar?
Customer value–led thinking is something we're passionate about, so in this article, we link the trends that are ever present with the customer value that makes them worth considering for your business.
What we see is that these trends can be used to bolster those very 'human', higher-order value drivers like convenience, self-expression, speed, and confidence.
Below is an illustration we developed to show these disruptive trends, and within it are questions that will help you determine those that are flying under your radar.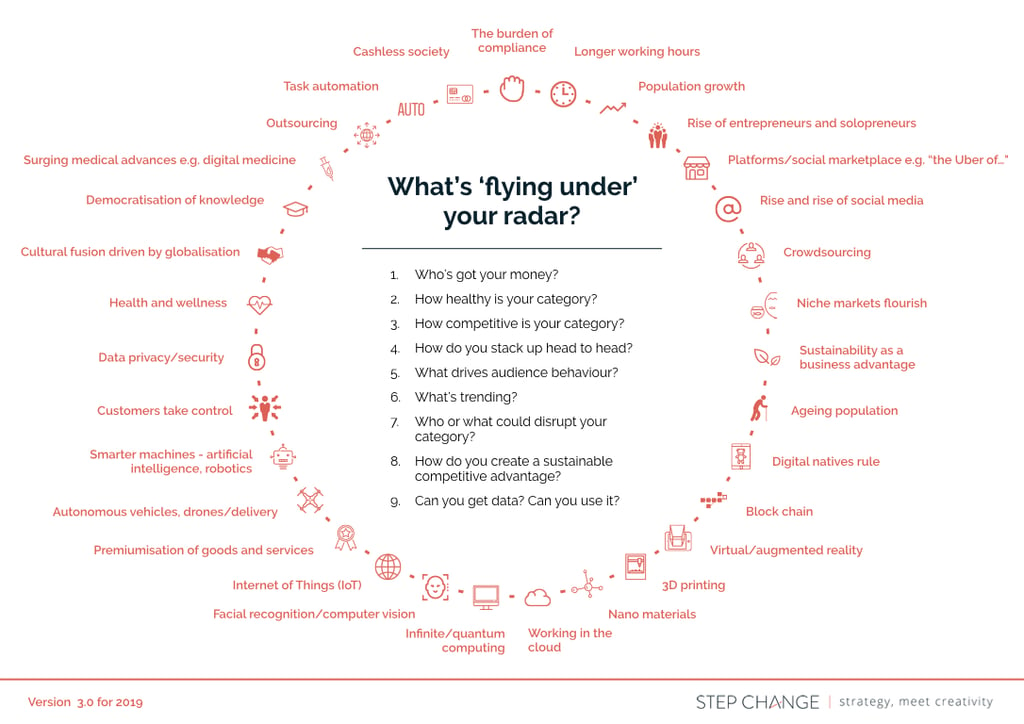 As with so many things in life, it's easier demonstrated than explained, so let's have a look at the trends and the value they can create for customers.
1. Smarter Machines: Getting Personal with Robots
From tech giants Apple, Google, and Microsoft to app-based startups, we see a rise in companies that have added AI to their services to create a remarkable and seamless customer experience.
Take, for instance, the travel-planning local discovery startup Trip.com. It functions with a predictive technology, so deciding where to go for lunch has never been easier. This app- and web-based company makes real-time, personalised recommendations based on the consumer's preferences, search history, real-time location, time of day when the query was made, and even the weather. The feeling of being understood, self-expressions, and 'VIP' have built many a brand, and now they can be delivered en masse.
How customers experience your product or service has become more important than the product itself. Do your products or services make people's lives easier? Does it help improve their way of living?
2. Task Automation: The World's Famous Burger — Your Way Without the Wait
Robots are capable of automating workflow, improving speed, quality, and cost of products and services. We all know that some major tasks in factories are now automated. The trend that's changing businesses now is that these smart machines are now capable of working on the front lines, face-to-face with humans.
For example, McDonald's created a "Create Your Taste" kiosk — an automated touchscreen system that allows customers to make their own burgers without interacting with another human being.
Efficiency is the name of the game. With advanced technology that is capable of automating high-volume, low-complexity, repeatable tasks, people can then turn to doing high-level tasks like higher-level customer service. Switching the lens from cost-cutting to value creation opens up a world of opportunities for brands and their customers.
3. The Rise and Rise of Social Media: Your Customers Have Gone Digital… Have You?
Social media allows businesses to extend their reach more than ever before. Studies such as this one by Deloitte have shown social media's incredible influence on people's buying decisions.
With an increasing amount of different demographics flocking to social media, there's never been a better time to review your digital marketing strategy and bump up your digital marketing spend.
So rather than 'social' being a media channel for acquisition and retention, we should now be asking, "What value could be created for customers through the service delivery?"
4. Digital Natives Are Ruling the Roost: Is It Time to Rethink Your Strategy?
Did you know that in Korea, the young ones are capable of having lengthy conversations using emojis? 'Talking' to people using emojis is becoming such a thing now that the Oxford Dictionary has selected the Face with Tears of Joy emoji as Word of the Year!
That's right. This is what the young generation — Generation Z, the Digital Natives, or millennials on steroids — are capable of influencing. It proves to us that they are now dominating. In fact, analysts predict that today's young people will be more demanding than their predecessors, the Millennials.
This trend is a great reminder for businesses that how you talk to your audiences is as important as what is in your value proposition. If your brand targets this demographic, you need to study their buying behaviours, know what they expect from their favourite brands, and speak their language.
5. Augmented Reality: Taking Ikea's Couch to Your Living Room — Without Paying for It
Augmented reality is a trend that has been raising marketers' interest in recent years but has yet to be practical. In case you don't know, it works by enhancing the physical world you see on your phone screen with virtual elements overlaid in it. It could be in the form of virtual information, images, or even a couch from Ikea.
The Scandinavian furniture company has recently developed an augmented reality app. The app allows you to access their catalogue of over 2,000 products, choose, say, a wooden coffee table, and hold up your phone to see if it goes perfectly well with your bedroom wallpaper.
Indeed, reality has never been more real. It's transforming how people select and buy from businesses. With convenience being such an important key message in many companies' value proposition, the competition for convenience is heating up.
When you remember that in recent history, IKEA so understood the 'negatives' of shopping for furniture and homewares in their stores that they rolled out cafés with delicious and cheap restaurants and family-focused food, you realise that augmented reality could be the next step change in their customer value proposition.
6. Customers Take Control: Businesses Are in the Palm of Their Hands
Never have our customers had so much control. Studies have shown that customers want to buy from brands that match their values. With the help of the internet, they are more informed about their choices.
To prove my point, developers have built an app called Nudge, which alerts customers when a business clashes with their values. It rates the business against their stated value and their performance against those values and that of the consumer.
When consumers and clients buy from brands who are social and environmental advocates, they feel a sense of fulfilment. So this can be a real differentiator.
7. Internet of Things: The Next Industrial Revolution in Australia
The Internet of Things (IoT) refers to a network of everyday objects connected to the internet, making it capable of collecting, exchanging, and analysing data. And it's been named as the biggest business transformation in history, predicted to bring $116 billion to the Australian economy less than a decade from now.
To demonstrate its capability, one startup in Sydney is developing a powerful tracking tool, an electronic tag, that would help farmers track their cattle by sending them IoT data straight from the pasture. Farmers could then use this to monitor the health of the herd and could be helpful in detecting injury or illness.
From smart homes to smart cities to wearables, to cars — the Internet of Things truly has the power to simplify life and enable its users. It's bringing "integration with my life" to the forefront of value propositions across many categories.
8. Life-Saving Drones: Faster than Your Paramedic
While the concept of drones isn't new, especially in military context, these unmanned aerial vehicles are showing the potential to disrupt industries — whether it's surveillance, delivery, healthcare, exploration, mining, and so on.
Startup Flirtey delivers mails, pizza, books, and what-not with drones. And now, they could be the ones you call when you're experiencing cardiac arrest too. Partnering with REMSA Health, Flirtey dispatches drones to deliver defibrillators to anyone experiencing the symptoms of cardiac arrest, arriving on the scene faster than the time it would take for an ambulance to weave through traffic.
In today's fast-paced world, customers' patience is dramatically decreasing. This means that speed is a big factor in their buying decisions.
9. Entrusting Your Body and Sole to 3D Printing
Additive printing, or 3D printing, is not an unfamiliar technology; in fact, it's been around since the eighties. But its potential to disrupt has only been in discussion in the past decade or so.
In the medical industry, for instance, there are apparatuses and disability tools that need to be tailored according to the user. And to produce them in small volumes while remaining cost-effective is quite a challenge.
3D printing is relevant in this aspect: it helps manufacturers reduce costs and improve patients' health because of its capabilities. In fact, medical researchers and orthopaedic shoemakers have digitally manufactured specialised insoles for diabetic patients cost-effectively through 3D printing.
For value propositions, it can mean speed of delivery, reduced costs, but more important to us, humans, it means co-creation and personalisation of products, which connects with us on a higher level.
10. Premiumisation: Cats Eat Gourmet Food Now
Premiumisation is the practice of positioning a brand as premium. This trend is continuing to be on the rise as more and more consumers become cash-rich but time-poor. Because of this, they prefer to spend more for exclusivity and more value.
Going premium as a brand was born in the alcoholic beverage industry more than a decade ago. But now it's gone beyond that — we now see this as a trend in food, apparel, hospitality, beauty, and even cat food.
Creating an uber-premium brand drives up category value perception. And this is no exception for GOURMET, the culinary-inspired cat food. Their recent packaging design upgrade made for an increase of 15% in their market share.
According to David Aaker, there are the drivers of long-term brand equity: leadership, perceived quality, and innovation. We're finding that more and more value propositions are centred around these three dimensions than ever.
Conclusion
Trends shape what people expect from companies and their products and services.
As a business leader, it's vital that you know and understand the trends that play a central role in your customers' lives. This knowledge presents you with a great opportunity to grow and will help you determine how you can future-proof your business through a strong value proposition.
Knowing the emerging trends within your category can provide you with a differentiating factor, without which, your customers have no reason to spend money on you instead of your competitors.
The trick is to look at the trends in terms of how they drive value for the customers that drive your business.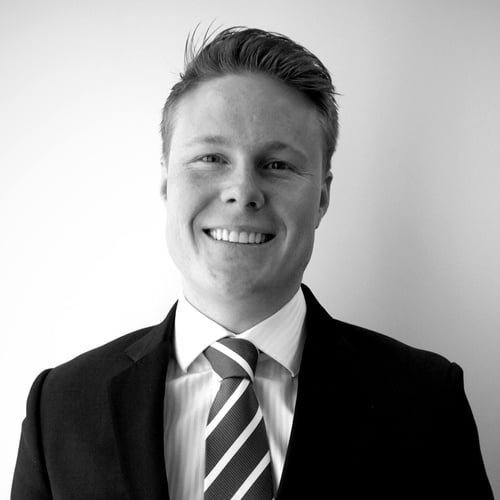 Jeff Cooper is Step Change's Founding Partner. Jeff learnt his most valuable lessons in strategic thinking by spending his own money. His entrepreneurial pursuits began back in 2004 when he started his first business, designing exhibition spaces and running events, which eventually gave birth to an interactive event concept later adopted by the likes of Big Day Out and other major festival organisers. A decade later, in 2014–2015, startups in which Jeff was involved raised over $1M in investment, and Step Change — which he co-founded — became a multimillion-dollar strategy consultancy, serving clients across five continents. He's a true generalist, with ownership and Board interests in businesses from retail solar to beauty and beyond, at life stages from startup to over $150m revenue annually.