In the midst of constant discontinuity, only one thing is certain: technology will disrupt every aspect of our lives and drive how business is done in the coming years. For CMOs, it is crucial to know and understand what these technologies are and how they are disrupting the way we do business today.
The speed of change or innovation today is a threat to every business aspect. We've seen enough companies disappearing because of their inability to cope with change. But the hard truth is this:
How you see your business in a few years' time will no longer be just about how you want it to be but where the latest technology will take you.
Tweet this
Disruption is already here. You feel it changing the business landscape for every industry there is.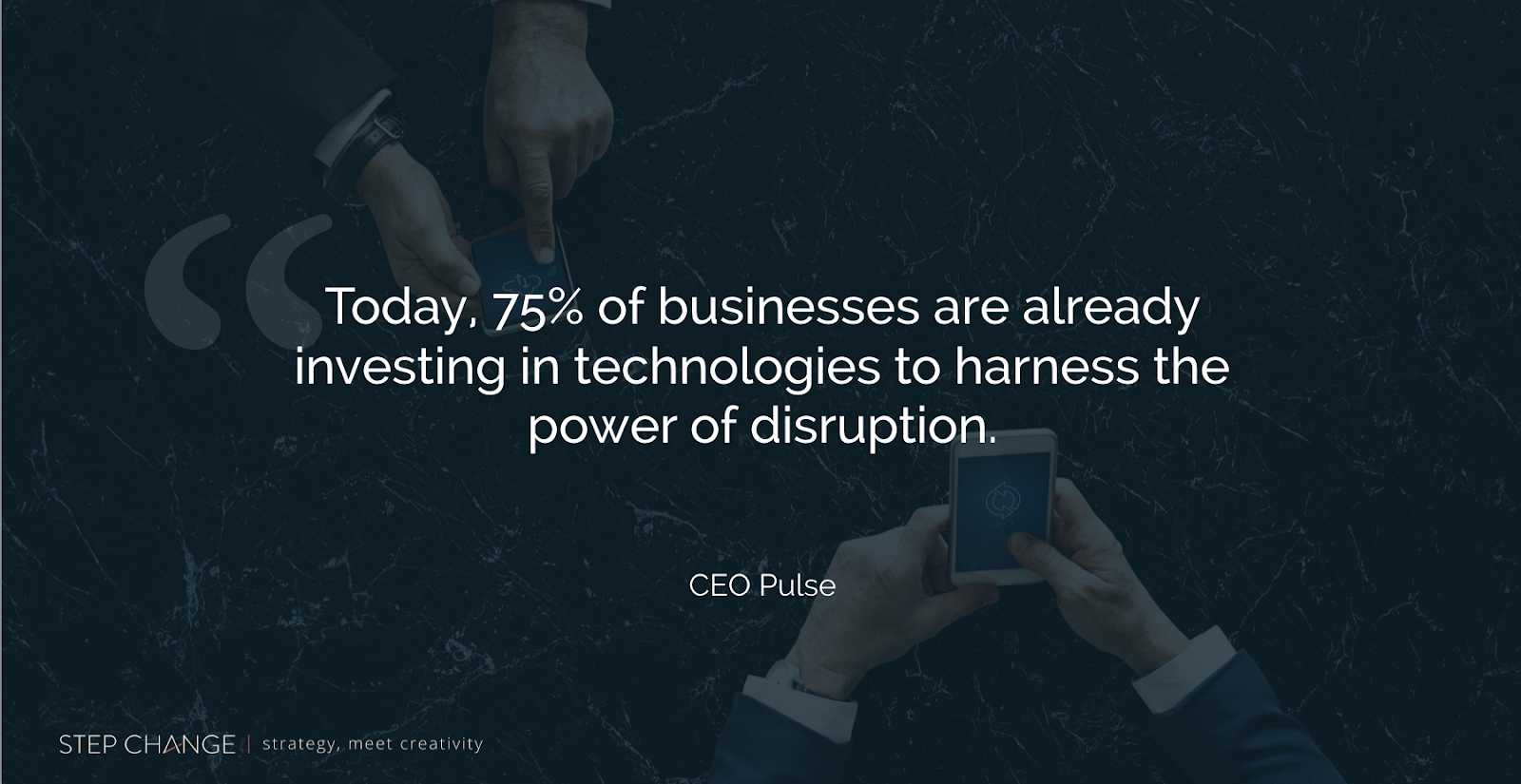 1.

Artificial Intelligence

A major shift has happened in business when Google and Microsoft adopted an AI-first strategy in 2017 — leading everyone else to follow suit.

We already see AI come alive in software programs that use machine learning to automate tasks, eliminate redundancy, employ voice recognition, and use predictive analytics in collecting and organising data.

PWC notes that in a few years, Execs will turn to AI to lessen repetitive tasks such as paperwork (82%), scheduling (79%), and timesheets (78%).

The availability of these new and exciting AI technologies today means forward-thinking agencies are already adopting AI to remain competitive and win in their business strategy.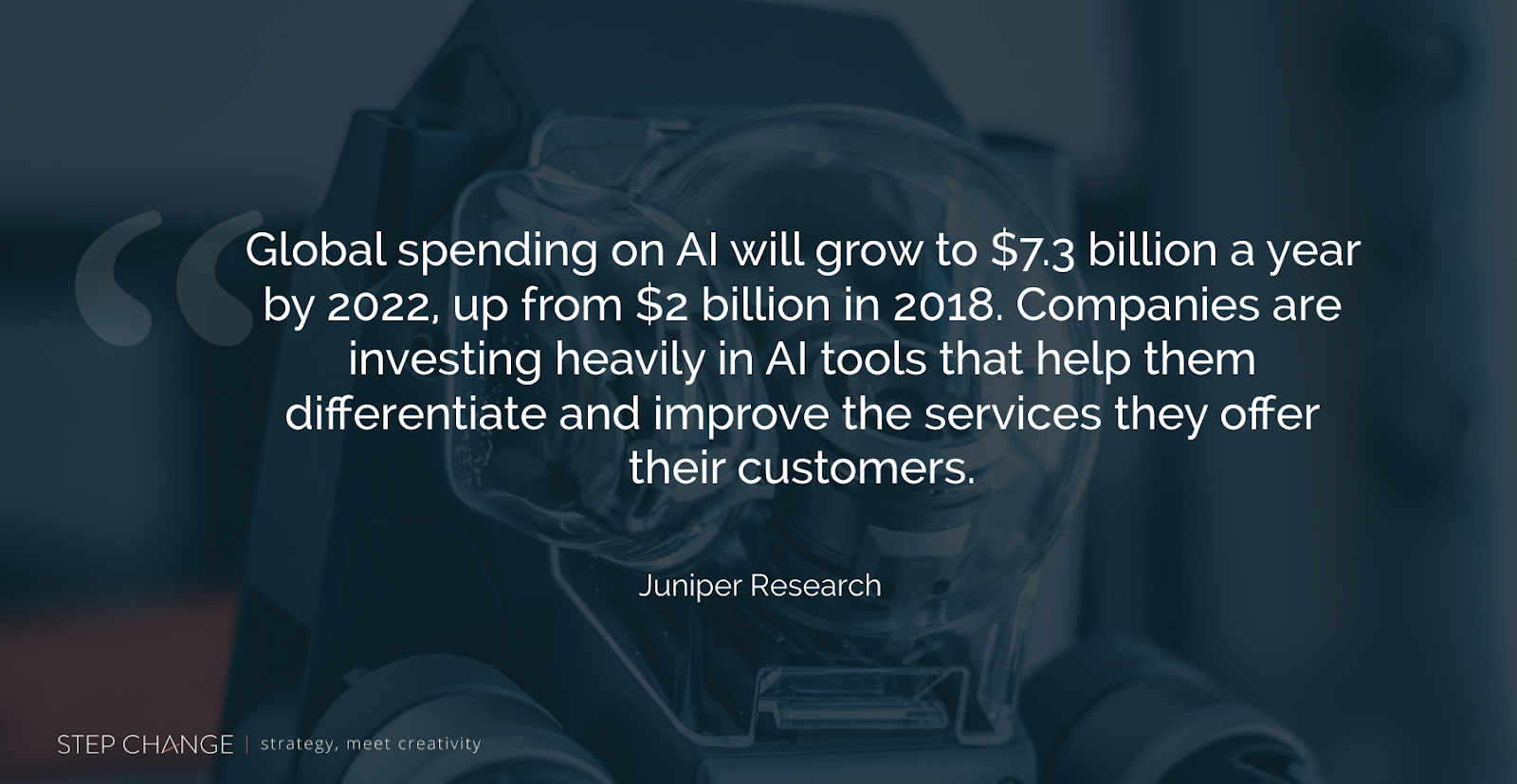 We're seeing more of AI-powered solutions dominating the market with automated data analysts and communications solutions (email and chatbots), virtual personal assistants, automated research reports and information gathering.
As a step up to old Google alerts, AI-powered Bitvore has the ability to learn what is relevant to the business and weed out all else that is not. It can be trained to sift through millions of data in order to pick out only KPIs that matter to the business.
In accounting, SMACC is an AI platform that reads and prepares invoices, reminds you when to send and settle them while keeping you abreast with important business KPIs.
In sales, AI can now be seen in the form of a sales assistant (Conversica) that can carry human-like conversations with potential leads until it convinces them to make a purchase. Not only is this very interesting, it can boost a company's lead generation and conversion efforts exponentially.
This year, bots are expected to disrupt industries with its ability to predict customer behaviour and may very well be a real alternative to human customer service. We're already seeing the use of AI bots in hospitality sectors, taking over customer service apps that mimic human responses while still making you feel as if you're talking to a real person. In concierges and hotels in the United States, AI chatbots are taking centre stage in taking note of guest preferences and giving personalised recommendations for restaurants. We'll also see more of AI in other industries such as real estate and law.
By 2021, bot development will surpass mobile app development by as much as 50%, as reported by Gartner.
Today, more global consumers are now turning to AI with Siri (37%), Microsoft's Cortana AI (23%), and Amazon's Alexa (19%).
Industries Likely to Be Disrupted by AI
Healthcare, Manufacturing, Automobile, Finance
What AI Can Do for You
Improve efficiency through system and workflow automation

Superior predictive analytics for data gathering

Better market insights on customer behaviour

Long-term cost-effectiveness
2. IoT Smart Devices
There's a reason the Internet of Things (IoT) has been called the mother of all infrastructures. It is a core technology solution that is revolutionising everything in our lives today. And businesses need to start paying attention.
IoT has already disrupted how devices communicate with each other, with its users, and how networks share data without the need for human interaction.
Today, 69% of companies are already using IoT or plan to adopt it in the next 12 months. In two years' time, over 95% of new product designs will contain IoT technology, and the added feature will be at a minimal cost.
IoT devices are already starting to reshape industrial settings through real-time notifications and alerts that lead to better operational efficiency and cost reduction. In shipping industries, the use of IoT sensors on packages and vehicles leads to a better tracking system for cargo and transportation operations, which reduces the risk for delays, theft, and more.
Some businesses are already adopting the use of IoT smart devices to enhance business operations in product monitoring and customer support. We now see IoT smart devices in some cars today that uses a network system to support functions that notify both the customer and the manufacturer when a product fails. 90% of cars will be connected to the Internet by 2020 as compared to 10% in 2012.
Very soon, IoT devices will be used to augment security systems as well.
According to a study, IoT's ability to gather new data and automate infrastructure is helping companies add connectivity and intelligence to their physical infrastructure. Many of those who are already adopting IoT in their industries are seeing a huge reduction in energy consumption and equipment downtime.
By 2018, IoT data platforms will allow businesses to gain full control of their data in terms of usage, distribution, and monetisation.
Despite the great things IoT has to offer, an increased adoption of IoT poses its own set of challenges.
Tweet this
For one, our current networks today just aren't built to fully support the kind of traffic that IoT generates. There's a need to develop our security systems further to protect infrastructures better against IoT cyberattacks. But even with these risks, there is so much value that businesses can gain as they work to integrate IoT into their infrastructure.
To win with IoT now and into the future, businesses need to develop the means to take control of their IoT data and use it to drive business growth.
Industries Likely to Be Disrupted by IoT
Retail, Advertising, Manufacturing, Hospitality, Financial Services, Automotives
What IoT Can Do for You
Increase productivity and lower operational costs

Improve data quality and reduce errors

Promote a faster notification system that leads to better decision-making
3. Cloud-Based Services (SaaS, IaaS, PaaS)
Software as a Service (SaaS)
Software as a Service (SaaS) has been around for some time now. We have subscription-based software models like Dropbox, Cisco WebEx, GoToMeeting, and Google apps hosting and delivering their services over the internet for personal and business use.
It is set to continue disrupting many industries with our growing need to store and process more data as seamlessly as possible. The massive breadth by which we analyse and store data today has brought on the development of applications that make it relatively easy to track your business's operational needs — from customer behaviour and engagement, sales, ad performance, and lead generation.
These SaaS apps also automate many business functions and have simplified the way we do business.
For example, Infusionsoft allows businesses to capture leads, track profitability, and automate repetitive tasks with their email marketing and sales platform.
We also now see more of POS SaaS apps that are automating tasks such as signing receipts and getting rid of common bottlenecks in many business transactions with retailers.
SaaS analytics platforms like Insight, Profitwell, and Baremetrics are making business growth tracking and internal data management as simple as ever before. They feature helpful customer insights and analytics tools that dig into critical metrics such as cost per acquisition, customer lifetime value, average and monthly revenue, and churn.
Insights as a

Service (IaaS)

Insights as a service (IaaS) gives companies the option of offloading their data infrastructure needs to the expertise and convenience that an IaaS provider gives them.

The wide range of infrastructure components needed to operate a modern data centre today can be daunting. WIth IaaS providers like Amazon Web Services (AWS), Microsoft Azure, and Google Compute Engine, companies no longer have to go at it alone.
Platform as a Service (PaaS)
Platform as a service (PaaS) is a cloud-based platform suitable for developing applications. PaaS providers offer an environment that has the resources that will enable developers to build web applications and services online.
Like SaaS and IaaS, PaaS is built on virtual technology where businesses can demand resources as they need them instead of investing in expensive hardware.
SaaS, IaaS, and PaaS have changed the landscape by which businesses operate today, and it will continue to do so as technologies evolve to provide on-demand solutions that can be accessed from just about anywhere.
Industries Likely to Be Disrupted by Cloud-Based Services
Everyone — specifically Internet and Software, Retail, Marketing and Advertising, BioTech, Real Estate, Education, Finance, Healthcare.
What Cloud-Based Services Can Do for You
Access data faster, anywhere and on demand, through the cloud

Automate repetitive tasks and reduce data infrastructure costs

Solve business problems faster and increase operational efficiency

Get insights that help you understand your customers better and gain competitive advantage
4. Blockchain
This is the tech behind Bitcoin, a digital currency that operates separately from central banks. Blockchain is an online database that allows anyone to send value anywhere and worldwide where the blockchain file is accessible.
Its potential to disrupt the financial sector is massive — with its capacity to change the way businesses operate by reducing costs and using a secure distributed ledger system that provides better transparency in every single transaction.
With blockchain technology, every block contains a timestamp that holds batches of individual transactions linked to a previous block. This distributed system makes it impervious to hacks that rely on a single point of failure common in a bank's centralised database system.
When harnessed correctly, blockchain's secure network makes it perfect for financial industries looking for better transparency and data security where every transaction is made trackable and impossible to erase.
Even more exciting is blockchain's potential to transform payment processes with better security and lower costs in payment transfers between organisations.
It's true that there are many more hurdles to harnessing the full power of blockchain technology. But its potential for cost savings and security in the worldwide financial market is so massive that many key players in the financial services industry are investing millions for research and in finding the best way to implement it.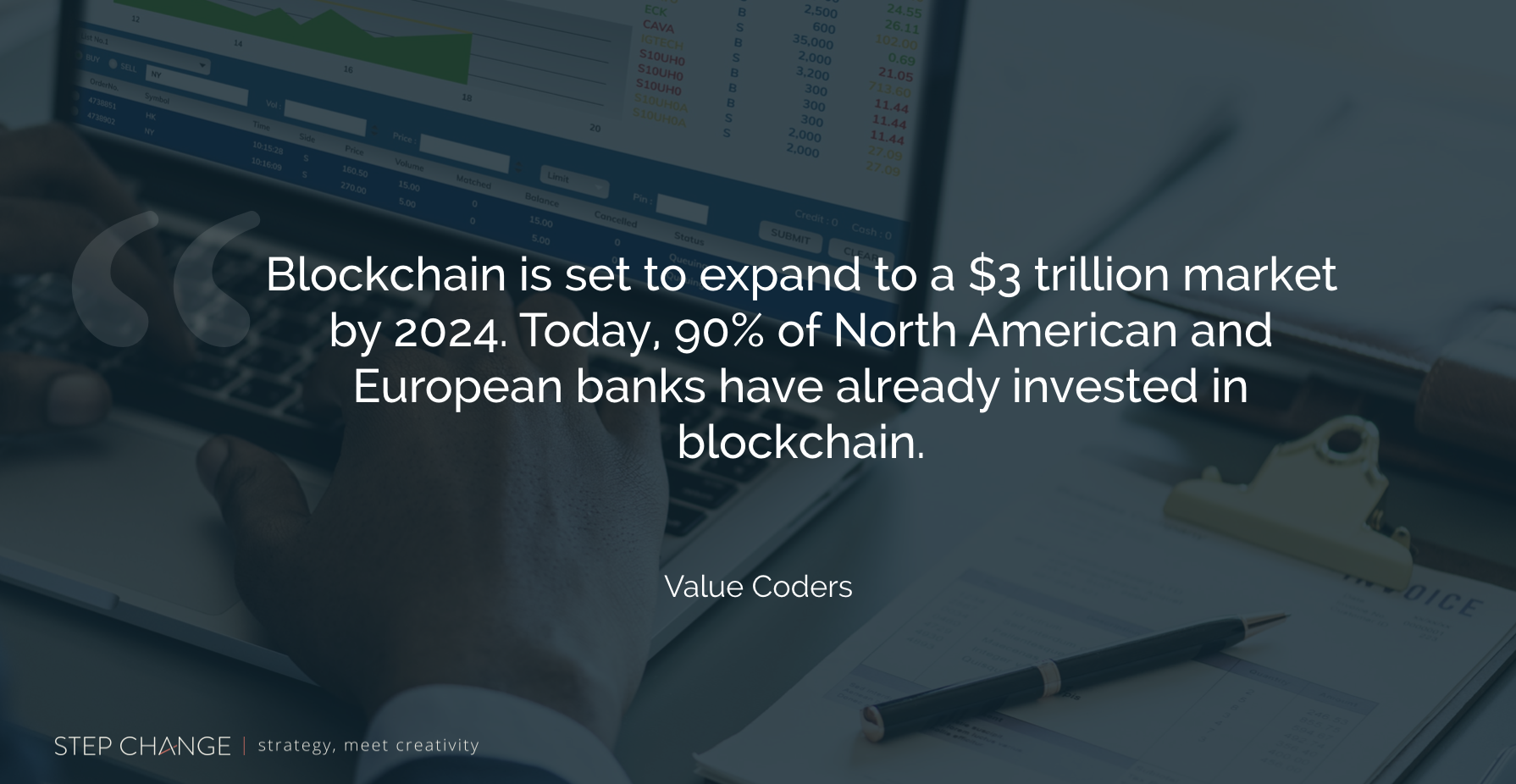 In whatever angle, blockchain has disrupted modern commerce and impacting non-financial services in a huge way both in addressing security and the supply chain in healthcare and retail.
Businesses need to look inward and examine the disruption that blockchain will bring to the table when key players decide to adopt a decentralised and distributed ledger system like blockchain for better security.
Industries Likely to Be Disrupted by Blockchain
Banking, Finance, Cryptocurrency Exchange, Real Estate, Healthcare, Legal, Video, Education, Startups
What Blockchain Can Do for You
Secure and safe transactions with a traceable audit trail

Eliminates human error and reduces tampering

High-quality assurance and cost-effectiveness

Fast and secure peer-to-peer transactions
5. Cloud to Edge Computing
Many organisations today are already enjoying the benefits of storing, managing, and moving data quickly to a cloud database. What edge computing does is taking this a step further. Edge computing pushes data literally to the edge — rather than relying on the central cloud.
It enables data to be gathered near or at the source of the data. This makes for faster decisions and response times, reduces latency, and promotes better communication between infrastructures by only filtering out data that is essential in real-time.
By combining cloud and edge technology, organisations can analyse and manipulate data in the cloud while minimising traffic.
With everyone moving to the cloud today, there is just no more room for growth. So what does the future look like for enterprises? It's all about adopting edge computing in their infrastructures so they can enjoy the benefits of computing power at the source with the ability to host, manipulate, and analyse data transferred from those sources.
Industries Likely to Be Disrupted by Edge Computing
Retail, Smart Cities, 5G Next Generation, Autonomous Vehicles and Drones
What Edge Computing Can Do for You
Faster response times and reduced network traffic

Lower solution and operating costs

Added security and improved performance

Easy communication between new and legacy systems
Read more about where CEOs are investing for growth in 2018.

The Business Takeaway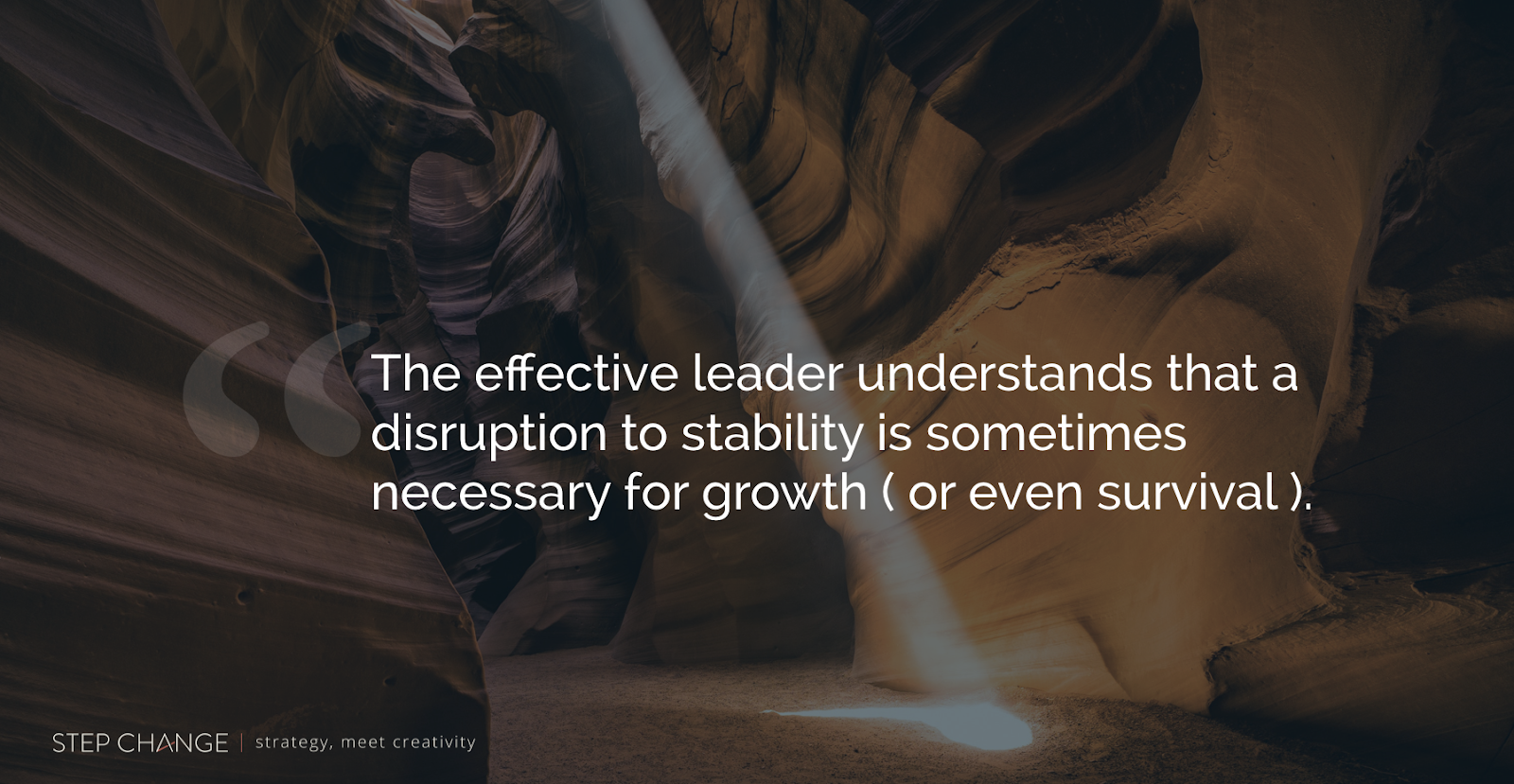 The best companies today that have managed to stay on top for many decades have never been those who shied away from innovation. They know that disruption is necessary for growth and even survival.
To be a forward-thinking organisation, you need to have the capacity to employ these disruptive technologies, even at the price of stability, if only to push you forward towards growth and relevance in a highly volatile market.
At some point, disruption will catch up with you and change the face of your industry. By then, you'll need to come to grips with the threat of discontinuity and take action.
As leaders, it is up to you to take an adaptive approach to disruption and work it into your business strategy so it stays relevant no matter where the waves of change might take you.