Do you know when and how disruption is coming to you?
On the Admatic stage delivering his recent keynote titled "Disruption3", Jeff Cooper, shares the top disruptive trends that may be affecting businesses and the strategies to deal with disruption.
You can watch the nine-minute video here or read through the comprehensive summary below.
Below is a summary of his keynote.
Disruption3
According to futurist Tony Seba, disruption is when a new product or service helps create a new market and significantly weaken, transform, or destroy an existing product, market category, or industry.
The question is not "Is disruption here?" as it has been the talk since last year. We know that it's here. Thus the challenge for businesses is coming up with a strategy to deal with disruption.
There are just three things businesses need to do to formulate a strategic response to disruption.
Know your context

Pick your strategy

Ensure you have an organisation that's capable of enacting that strategy
Let's dive deeper.
1. Know Your Context: What's Flying under Your Radar?
From social media to smarter machines, to digital natives, to customers taking control — there's a lot of disruptive and technological trends flying under your radar. Ignoring them will do more harm than good. You need to know your context so you can have the focus and clarity to act.
Editor's note: Watch the video above for Jeff's lively take on some of the top underlying trends.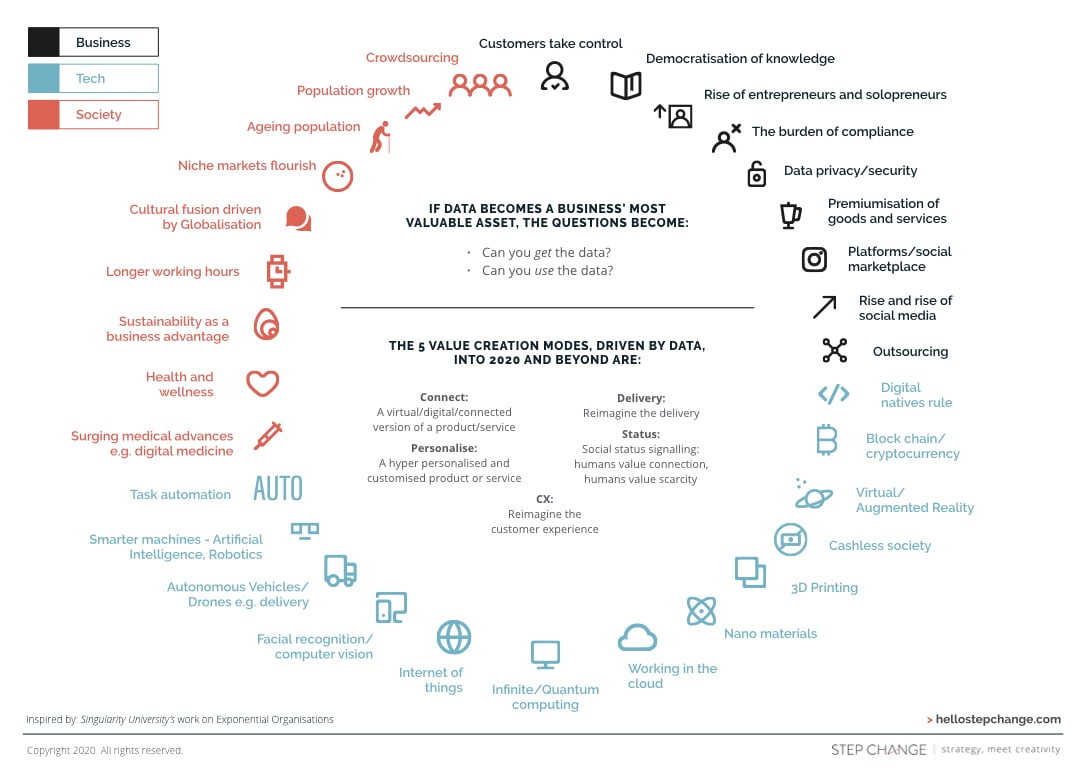 To respond to disruption, you need to have the right disruption strategy set in place for you and your team to implement. And to do that, you need to do more than your annual SWOT analysis. In fact, at Step Change, we discourage our clients from doing that.
Why?
Because people do it for the sake of doing it. This boils down to teams and leaders not having a clear understanding of their business context. Thus the opportunities and challenges often don't get prioritised, and the so-called strategies ultimately end up in the bottom drawer, covered in dust.
The tool that works best, based on our experience, is the strategic radar.
What is a strategic radar?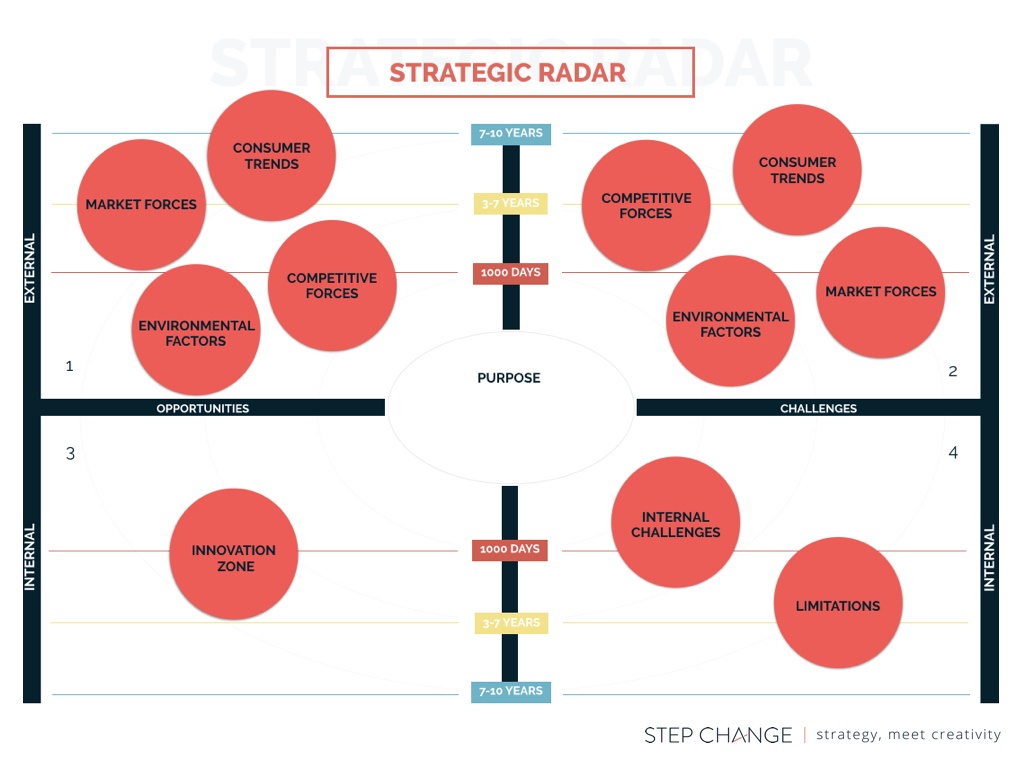 It's a tool that categorises things into internal and external opportunities and challenges over a time horizon so you can act within the context. The goal is to narrow down the list of opportunities and challenges to three points in each quadrant.
Once you know the disruptive trends under your radar, you plot them on this tool along with the other internal and external opportunities and challenges, taking note of their time-critical nature.
2. Pick Your Strategy: Don't Worry, There Are Only 3
There are three strategies to deal with disruption:
Be the disruption.

Be the disruptive force in the market.

Bridge the disruption.

Find a way to take the status quo of your business model and augment it with new disruptive forces so you can transition smoothly.

Avoid the disruption.

Find a niche market or an uber-premium market that you can defend.
3. Agile-Acting Organisations: Having a Team that's Capable of Enacting the Strategy
In the rapidly changing and competitive global marketplace, the key is to act with adaptability and agility. There are three crucial things you need to look at so your business can actively respond to disruption.
Competency. Your people differentiate you. Having a talented team to work with ensures that your efforts to deal with disruption is not wasted. So you want to make sure that the people you have today have the skill set you need for tomorrow.
Capacity. What are we asking people to do and not do?
Culture. It's culture that facilitates resilience for change, so it should be the driving force behind your recruitment strategy. Do you have a culture that's excited for change or resistant to it? Do you have a culture that exhausts or inspires?