Digital transformation has accelerated the game for healthcare. Patients now have more options and methods to monitor their health online or seek care. For healthcare brands, the clear path to success today is in establishing a solid online presence and effectively implementing mobile-first digital marketing strategies that get you front and centre to patients who are online.
---
Insight: For many healthcare customers, the search for a health provider often begins online and on mobile.

Data: 90% of all healthcare journeys start online, and 60% of health-related searches start on a mobile device. In fact, consumers are now spending over 15 hours per week researching service providers from their smartphones.

Key Action Point: Mobile first is a different way of thinking. UX and channel choices are vastly different and should be considered independently in implementing the right digital marketing strategy that drives the best results for healthcare brands.
---
According to Consumer Barometer, 61% of people in Australia use local online and offline research to find local businesses and service providers. This means if you want your business to be found, you need to be online.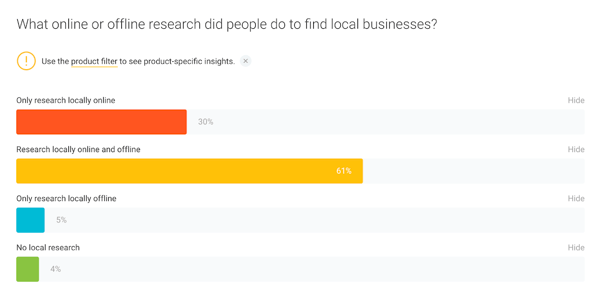 Today's service directories are found on mobile; if your business is not getting traction on online channels yet, you may be only setting yourself to fail.
But it's not too late to reverse this. Below are some of the best mobile-first digital marketing strategies that can make all the difference for healthcare brands today.
1. Create Seamless Patient Portals
No one likes having to visit the doctor's clinic or going to the hospital for a check-up, to renew old prescriptions, or to access important health records every single time. Giving your patients access to an online patient portal not only empowers your doctors and medical team, but you also give your patients exactly what they need — their time back.
In a survey by CDW Healthcare, 89% of patients want easy and seamless access to their personal health records, and a survey by Accenture shows as much as 78% of consumers are interested in receiving virtual healthcare.
According to Accenture's 2018 Consumer Health Survey, 56% of consumers are already using websites to manage their health, 46% use their mobile phones and tablets to book doctor appointments, and 38% access their health records electronically.
As shown in the graph below, patient portals and virtual healthcare are preferable in offering patients timely care, reducing medical costs, and accommodating both patient and physician schedules.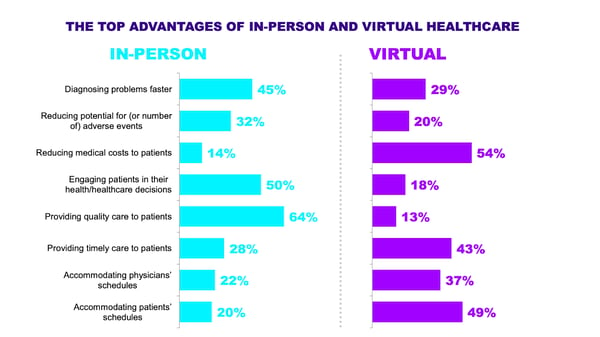 Image credits: Accenture
For online patient portals to be effective, it needs to have access to the following:
Doctor or specialist look-up features
Online booking or self-scheduling features
Easy access to patient health data or records
Online bill payment options
Online prescription renewal
Patient-provider messaging and chat features
A knowledge-based portal containing patient health information and explainer videos
Patient access to virtual check-ups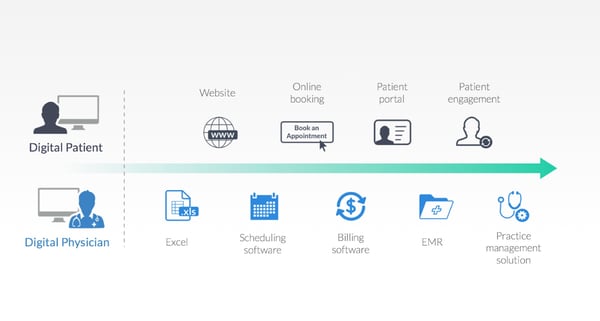 Image credit: Petal MD
Patient portals serve both patients and doctors alike; they save time and promote efficiency. If you want to stand out to your patient-customer base, you need to strongly consider online portals and virtual health tools and apps to level up your online offering.
2. Make Patient Booking and Scheduling Online
Though the majority of the patients prefer to call for appointments, majority of the Millennials (71%) think taking time off to see a doctor is inconvenient and would rather book appointments online or through mobile apps; they would rather consult a doctor virtually rather than making a trip to the clinic.
Data from Accenture also points out that by the end of 2019, 66% of health systems will offer self-scheduling and 64% of all patients will use this feature.
Making online booking and self-scheduling available to your patients helps you save time, provides easy tracking and booking management, and minimises costs.
3. Build Mobile-First and Responsive Websites
Your practice will be judged by your website's design and user experience. If your website's performance is not up to par, it hurts your credibility and potential patients turn somewhere else.
According to research by Klein & Partners, 11% of visitors to a hospital or health system say poor website experience led to negative feelings about that brand.
Keep in mind that Google puts a prime on the user experience when ranking websites. Mobility is fast becoming the new standard. In Australia, 60% of consumers use their smartphones and tablets to find local information, according to Consumer Barometer.
Website responsiveness and mobile optimisation are only some of Google's key ranking factors. If your website is not responsive and fails to adapt to different devices, you lose out on visitor retention and user traffic, and time on site comes crashing down.
4. Develop Faster Site Speeds for a Better User Experience
Did you know that it only takes 5 seconds to lose a website visitor or a potential patient because of a slow website? Today's online consumers hate slow loading times and can only wait so long before moving on to something else.
As of July 2018, Google has announced that page speed will be a ranking factor for Google searches.
To check that your website speed is up to par with today's standards, head on over to Google's Page Speed insights tool to check how well your page performs on the Chrome UX Report and get suggestions as to how you can optimise site performance.
Other useful tools that you can check out are the Chrome User Experience Report and Lighthouse, another chrome developer tool, which audits the performance and accessibility of web pages.
5. Use Pay Per Click and Display Ads Targeting Mobile
SEO may get you to the top of Google's first page results, but notice the top recommendations belong to pay-per-click (PPC) and display ads. With PPC or paid search, you can create a budget for your PPC spend so your practice is listed on top of search engine results for specific keywords and terms.
Not only does this dramatically increase visibility, but you also have a better chance to track your return on investment for PPC and display ads that can be set to appear on the sidebar or triggered to "follow users around" on other websites based on their search behaviour and intent.
With 9 out of 10 searchers ending up buying after a mobile query, mobile search has a great impact on consumer's purchasing decisions. Smartphone and tablets now account for 32% of paid search clicks and 25% of all PPC ad spend.
This means that setting up your ads and landing pages to match consumer intent can lead to a more successful mobile PPC campaign.
6. Leverage Patient Feedback, Reviews, and Testimonials
When looking for a health provider we can trust, we all turn to positive feedback from their former patients or check reviews online. Patient recommendations and feedback are frequently the driving force to new patient visits. In fact, 97% of people read reviews for local businesses, which drives the purchase decisions of 93% of consumers.
They are effective at creating social proof, increasing credibility and trust, and giving you a direct line to engage with your patients. Whether on your website or your social pages, these patient reviews and feedback should be highlighted front and centre.
Using video testimonials from your patients are a great way to share your brand story, build trust, and increase conversion.
So ask for reviews from your patients as much as possible. Always follow-up on feedback, and use it as an opportunity to evaluate their healthcare experience and identify ways to improve your services. It goes a long way to build trust and credibility for your practice as well.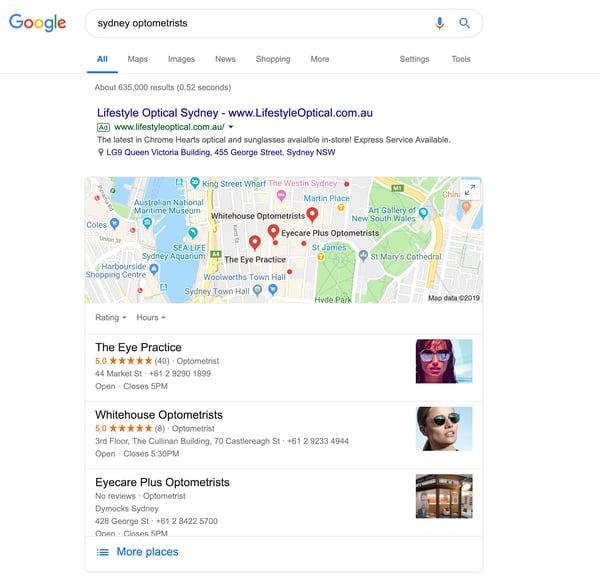 7. Win Your Patient's Micro-Moments
Have you ever had those "I need to know" moments where you have a sudden need to learn about skin cancer or stem cell therapy? These micro-moments happen more frequently than we realise, and we turn to our smartphones or any device at hand to search for something, and we demand quick answers at a moment's notice.
Your patient's micro-moments are an opportunity to position your brand exactly where your patients are looking. Being able to answer these questions and showing up when these micro-moments happen drives conversion.
Google points out that consumers and patients are drawn to brands that can deliver their needs during these micro-moments. In healthcare, these are the four micro-moments you need to pay attention to so you can leverage your marketing strategy when they do happen:
What's wrong with me? Be ready to answer random patient queries by optimising your web pages and creating content that addresses these questions such as explainer videos, blog posts, and infographics.
Where can I get treatment? This is why getting your business listed online and in Google is critical because "near me" searches matter, especially in health-related services. You need to make sure you're visible in Google Maps where your practice is located so search engines can make online recommendations according to patient proximity.
Whom can I trust? After healthcare providers are determined according to proximity, online patient reviews, feedback, and trust-building content are what gets potential patients to call you.
How can I book an appointment? This final step is crucial to getting the first call and driving conversion. Make sure your booking and contact information is easy to find. Offer seamless options, and make the booking process as convenient as possible.
Explore further: 10 Healthcare Marketing Case Studies to Inspire Your Next Move
Tying It Together
With the increasing need to be mobile-first, healthcare practices today need to take the next step and embrace digital transformation. To stay relevant, adapt to mobile-first digital marketing methods that answer the changing needs of health consumers today.
Today's digital marketing solutions hold the promise of timely and excellent care for patients, lower costs, and empower your brand and your patients throughout their customer journey.
Healthcare brands that turn a blind eye to these digital marketing strategies will not only limit themselves and what they can offer, but they also run the risk of alienating the huge percentage of healthcare seekers who turn to practices that are already mobile and online.
Get in touch with us today to explore how you can connect digital transformation to your customer strategy.