We often hear of brilliant marketing examples from many top industry players, but it's not every day we hear of this coming from the healthcare sector. In this article, we feature 10 examples of powerful marketing in healthcare.
---
Insight: When it comes to digital marketing, many healthcare marketers consider themselves behind the curve.

Data: 61% of healthcare survey respondents believe a strong digital and interactive strategy is crucial to building a brand. (The State of Digital Marketing in Healthcare)

Key Action Point: Take inspiration from these brilliant health marketing examples for your next marketing strategy.
---
1. Centura Health's User-Centric Website
Centura Health's website stands out best for its seamless information architecture and easy navigation. It has five primary links and a convenient way to search by provider, location, and healthcare, which is a plus for enhancing the user experience.
There are also easy navigation buttons to track their hospitals, pay bills online, and donate. The use of large and readable fonts also makes it easier for those with eyesight problems.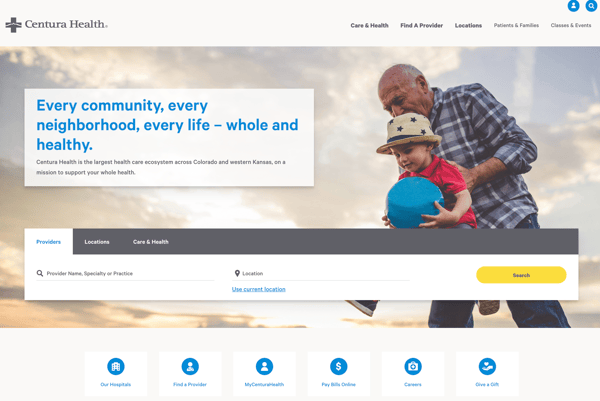 Read next:
2. Medical Realities 360-Degree Surgical Training Videos
As a medical training service, Medical Realities' use of technology and virtual reality to teach and educate students and health professionals on various healthcare topics instantly makes them a standout.
In this video, it features a surgical procedure from the patient's perspective. Using Facebook's Oculus Rift, viewers can drag the video up to 360 degrees for an expansive view.
3. Banner Health's Creative Infographics
Banner Health's creative use of infographics to promote awareness on issues like health myths and facts, parenting, nutrition, mental health has made them popular with digital marketing audiences.
Not only are infographics shareable throughout social media, they resonate with a wide audience who may not be as keen to read through long-form content.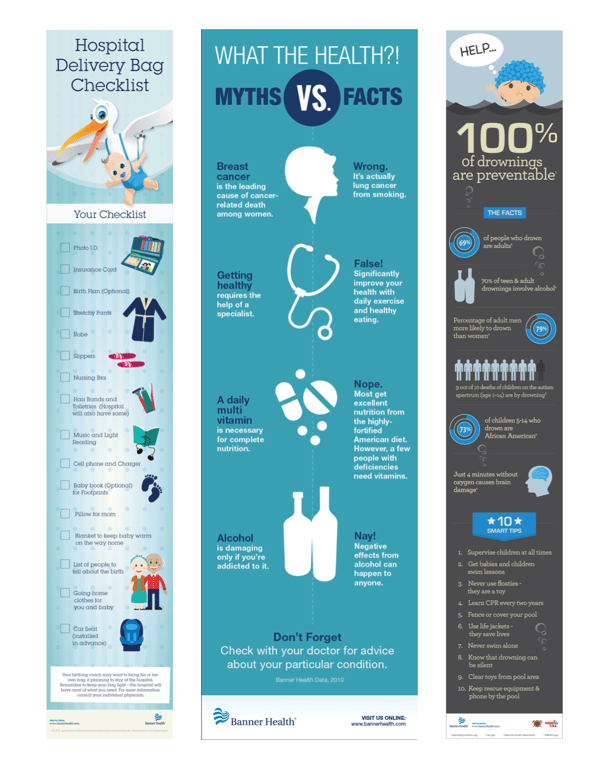 4. The Mayo Clinic Blog
Featuring stories from the Mayo Clinic staff, patients, and their families, the Mayo Clinic blog aims to unite them as one big online community. Because Mayo Clinic sees patients from all over the world, it makes sense for them to fuel their online presence through the use of the blog. It has helped seal their reputation as a trusted resource in health information and patient care.
5.Patients' Stories from New York Presbyterian Hospital
In previous posts, we've highlighted the importance of storytelling in promoting the value you can offer to your audience. In healthcare, sharing moving stories of patients and their journey to health helps you connect with your audience in a meaningful way.
New York Presbyterian Hospital used this video marketing strategy to share the story of their patients. In these videos, showcasing the true life experiences and accounts of doctors and nurses makes it all the more moving.
Read next:
6. Arkansas Children's Hospital Campaign
The Arkansas Children's hospital set out to promote awareness into the risk of death for children and teens in the period between Memorial Day and Labor Day. Using the hashtag #100DeadliestDays social media campaign, its shock factor made it shareable online and helped them share safety tips in various social channels.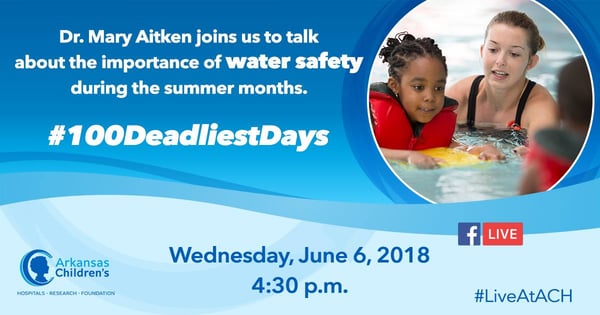 7. Healthcare Podcast: 2 Docs Talk
In a time where everyone is almost always on the go, podcasts are an alternative platform to share ideas and promote healthy discussions. The 2 Docs Talk is created by two doctors from Texas, Kendall Britt and Amy Rogers.
Their 15-minute episodes talk about healthcare concerns and issues from hospital policies to helping consumers make informed decisions about their health.
8. Carilion Clinic's Campaign
The Carilion Clinic of Virginia's Roanoke Valley started the "Yes, Mamm" campaign to promote breast cancer awareness.
Using the hashtag #YesMAMM, they answered breast cancer questions on Twitter, which drove significant traffic to their website and allowed women to book a screening appointment in any of their locations. The Yes MAMM Campaign is a great example of how powerful the right use of hashtags can be in driving the success of any campaign.
9. Dr. Howard Luk's YouTube Channel
Dr. Howard Luks is a New York–based orthopaedic surgeon and sports medicine specialist who started his YouTube channel in 2011. His videos often answer questions like "Why Does My Shoulder Snap or Pop? — which garnered over 60,000 views and got him thousands of subscribers.
Using video and YouTube as a platform has given him the avenue to reach a massive audience whilst promoting his practice and setting himself up as a visible leader in his area of expertise.
According to PwC, nearly one-quarter of consumers looking for health information on social media stop to watch health-related videos. As consumers continue to digest content on their spare time, video continues to be a powerful marketing strategy that can work its magic even in healthcare.
10. Dana-Farber Brigham & Women's Cancer Center's "You Have Us" Video
The Dana-Farber Cancer Institute started their campaign with an inspiring slogan that says, "Right now you may have cancer. But what your cancer doesn't know is — You Have Us." They then released a series of powerful videos that highlighted their centre's state-of-the-art facilities and their personal approach to treatment for their cancer patients.
Not only did sharing these videos on social media allow the centre to build credibility and earn the trust of their target audience, but it also made it easy for them to drive engagement and answer questions from prospects who were drawn to these videos.