Many e-commerce brands have used the power of great content marketing to their advantage and have seen amazing results. In this article, we highlight 10 brands we've noticed so far that understand e-commerce content marketing and know how to do it right.
---
Insight: Effective content marketing empowers your marketing strategy, makes you stand out, and drives results.

Data: 65% of brands still find it challenging to create engaging content. (Zazzle Media)

Key Action Point: Take inspiration from how these brands have used content not only to inform and inspire but to go above and beyond what their customers need to deliver a winning marketing strategy.
---
1. Beach Grit, Engaging Website Content
Beach Grit is a popular surf blog and the go-to website of the surfing community in Australia that's known to keep tabs on the latest news in the surfing world and gives non-surfers a preview of the surfing lifestyle.
According to their website manifesto, they "believe that surfing will never go out of style," and they also believe in the innate and perpetual intrigue of surfing to the non-surfing masses.
It features the latest surfing movies and is beloved by many for its funny and engaging surfing content. They believe that "if we steal your attention with a click-bait headline we have an obligation to deliver."
And true enough, Beachgrit delivers to its audience with cutting-edge commentary and original ideas, excellent video production, and an amazing advertising and magazine collaboration.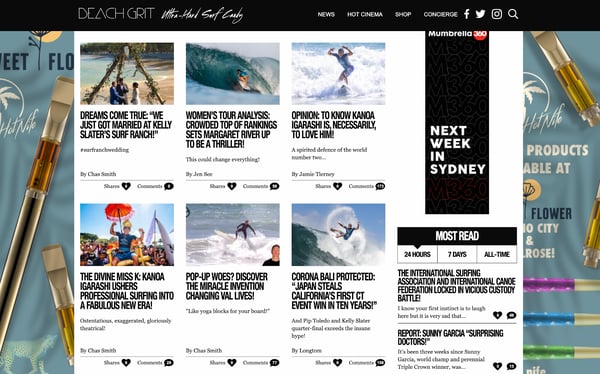 2. Woolworths, Online Recipes
For a supermarket conglomerate, Woolworths supermarkets have made a smooth transition to the online e-commerce space. Not only does it offer patrons with a seamless shopping experience online, but it also goes above and beyond in its content offerings.
Its Recipes section on its website brings together thousands of recipes and food inspiration to make the most of your grocery items from Woolworths and create delicious meals for your family and friends.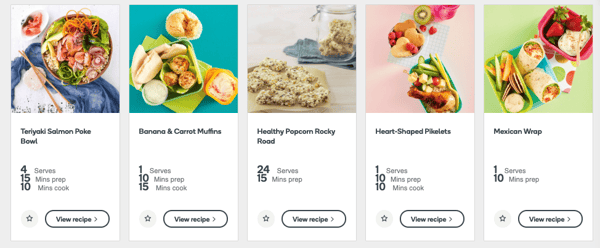 3. The Iconic, Website and Social Feeds
The Iconic is a one-stop shop for all your wardrobe essentials, curating a stylish and the latest collection of men's, women's, and kid's apparel, sourced from the most coveted Australian and international brands.
More than its rich selection, The Iconic stands out with its fun product catalogue, diverse and high-quality photos that highlight their offerings when worn. They also make use of fun themes such as playing dress-up for kids featuring the clothes available on their online catalogue.
The Iconic also makes use of their socials feeds on Pinterest, Facebook, Instagram, Twitter, and YouTube to showcase their unique offering.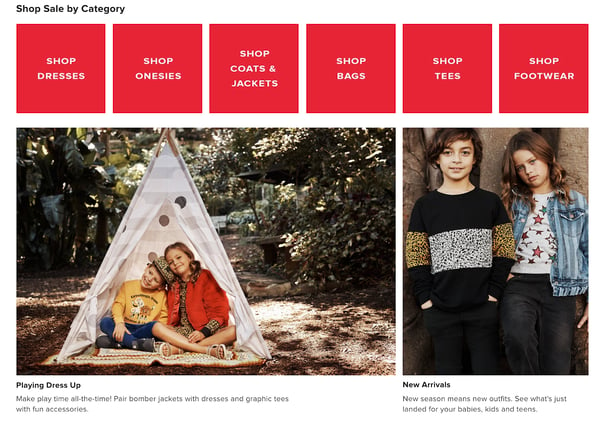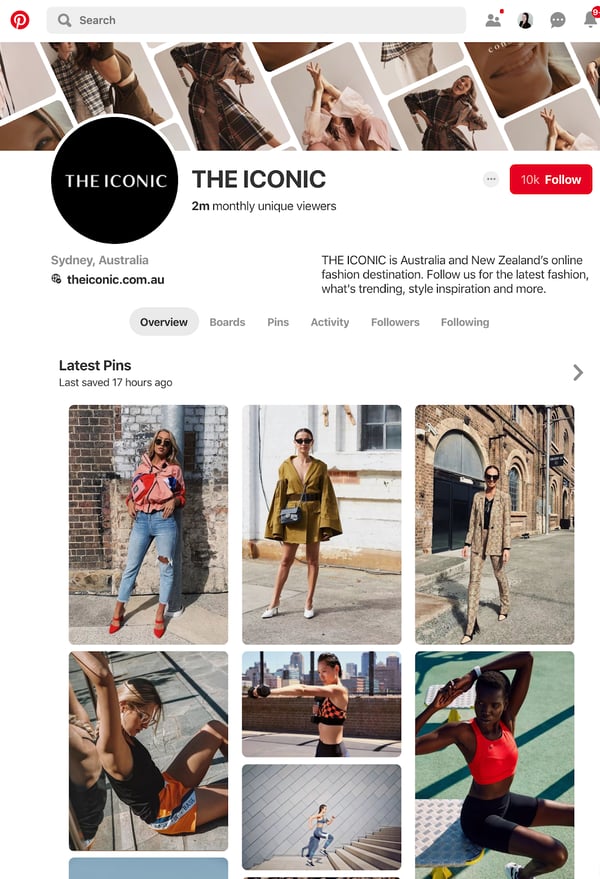 4. WestJet Airlines, YouTube Video Content
In the field of airline e-commerce, WestJet Airlines understands how to use content to their advantage. They use their YouTube channels to tell stories that resonate with customers and differentiate their offerings from their competitors.
On their YouTube channel, they've featured employee and customer stories, safety videos, and announce airline features by video. Perhaps the most successful WestJet video campaign is the WestJet Christmas miracle, racking over 36 million viewers and engaging old and new customers alike.
5. Lifejacks, Long-Form Content
Lifejack's long-form and evergreen content on healthy eating guides, diets, food, and recipe plans have been successful and attracting subscribers, website traffic, and leads.
Online consumers are always attracted to informative and easy-to-follow guides that show them a better way of doing things.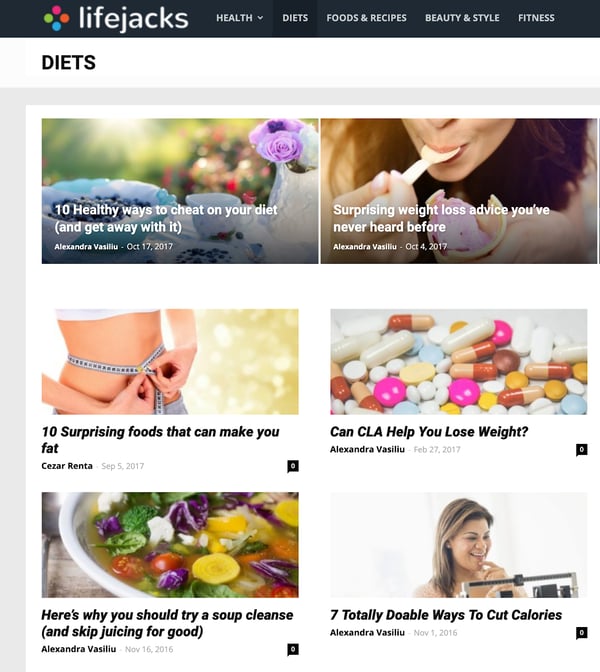 6. Booktopia, Rich Website Content and Blog
Booktopia is a popular online Australian bookseller headquartered in Sydney. With more than $100 million turnover each year, Booktopia is known for its seamless website navigation experience.
The online bookseller proves that you don't necessarily need a physical store to make your mark. Its completely digital store has everything a bookworm needs to find — ebooks, audiobooks, DVDs, magazines, stationeries, and other gift ideas.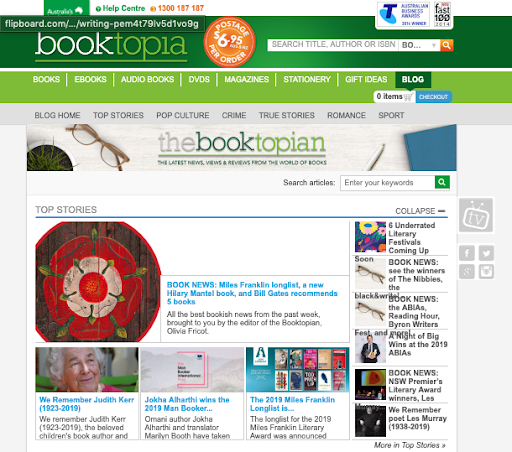 7. RipCurl, Online Publication
Rip Curl is a surfing company offering surfing wetsuits, surf watches, and other surfing gear. But it has become more than just that as it also dabbles in rich video and website content that entices thousands of viewers and subscribers. One popular feature on the website is its online publication known as The Search.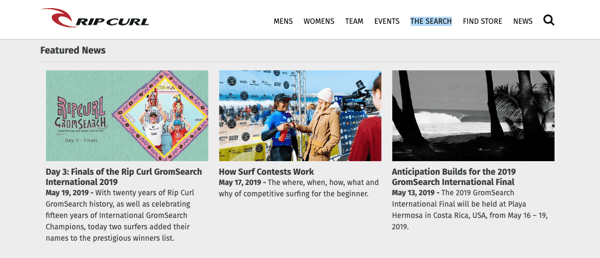 The Search features everything specific to the surfing lifestyle — from surf competitions to watch out for to beginner guides, to tutorials — giving subscribers and viewers everything they need to know to keep up with where the waves are.
8. Coles, Informative Food Content on Social Media
Coles has had a successful run at social media marketing primarily from its interesting, visual, and informative content. From easy and simple food recipes, its Facebook posts draw hundreds of likes, comments, and shares. Its YouTube video uploads that range from TV ads to cooking tricks are always a hit.
Coles knows how to use content to its advantage; inviting influencers such as Australian celebrity chef Curtis Stone have brought on massive wins. It makes use of its social media platforms to engage with their customers and has used it successfully to build their reputation as a brand that cares for its customers.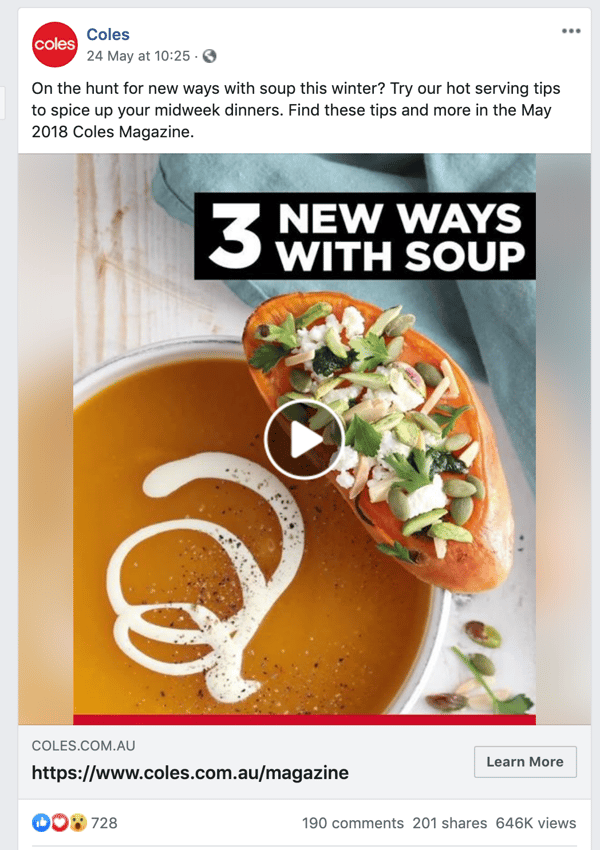 9. IKEA, Social Media Campaigns & Hashtags
IKEA has been known for its beautiful product catalogues both on print and online, and content marketing has played a key role in their digital marketing strategy. Ikea's Home Tour Series videos and inspirational boards are always popular with viewers as they not only help people redesign and redecorate their space, they also prove that making your home beautiful does not have to be expensive.
The furniture store effectively used social hashtags such as #IKEAatmyplace to entice customers to share their own home improvements and redecorations using Ikea's products, helping the brand engage with its audience and build its reputation.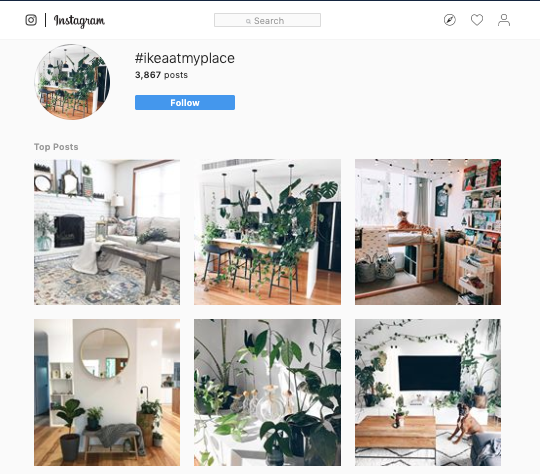 10. Surfstitch, Engaging Blog Content
Surfstitch is another company that understands what its audience is looking for. More than offering a good selection of products through its online shopping page, Surfstitch takes it even further through its engaging blog section.
From featuring useful fashion and style guides to effectively using their branding features, their website visitors always get more than the usual in terms of relevant and useful content on their website.