Assuming that content strategy and brand strategy are interchangeable is one of the reasons why most strategies fail. So let's get one thing clear before we dive right into the details: A solid brand strategy informs your content strategy. A well-executed content strategy builds better brand reputation.
---
Insight: Brands weaken their impact in the market when their content strategy is skewed.

Data: Almost six in every 10 customers felt most brands' communication were irrelevant (IBM)

What's the step change: Ensure your brand strategy is informing your content strategy.
---
What Makes a Solid Brand Strategy
Your brand strategy is a long-term strategic plan to create your image in the minds of your customers. It takes into account the following elements:
Brand positioning.

What's the strongest and most persuasive thought you wish to be known for in the customers' mind?
Brand story. Can you identify the most powerful things you can say about your business and transform it into an easy-to-tell story for your audience?
Brand values. Looking past the cookie-cutter terms like "trusted" or "reliable", can you clearly define what you stand for as a brand?
Brand messaging. This is more than catchy slogans like Nike's "Just Do It." Your brand messaging encompasses your values and the values your customers care about, value proposition, benefits, and implications.
Brand personality.

Customers find it hard to trust brands. Injecting some personality to your brand ultimately makes it easier for customers to trust you. So how would you describe your brand if it were human?
Brand promise. With businesses operating in a purpose-led economy, your brand promise is more relevant than ever before. What promises are you making to your customers? What kind of experience can your customers expect from you?
Read further: Brand Strategy: Everything You Need to Know
When it comes to it, consistency is definitely key. It's the best way to build and maintain trust. And trust is what makes customers come back for more. A well-executed brand strategy impacts every aspect of a business — from finance to operations.
LucidPress research reported that consistent branding across all channels increases revenue by up to 23%. A survey from The Drum also showed that 41% of customers believe consistency determines brand loyalty.
Marketers report that inconsistent brand usage creates confusion and sabotages credibility.
Despite what we know about consistent branding, only 10% of B2B companies say that their branding is consistent across all channels.
So in planning for your 2020 initiatives, how can you strengthen or refresh your most valuable asset so you can stand out and grow? In a world where experience is the new marketing, how can you ensure that your brand is consistent online and offline?
That is where your content strategy comes in.
The Importance of Having a Content Strategy
In 2020, customers will be more empowered, turning to the internet to get the latest information, discovering solutions, and learning best practices. They are expecting companies to obsess with them, serving them as an advisor and using their company knowledge to inform their purchase decisions (Walker Info 2019).
And the best way to do this is through content. Content encompasses everything that brands produce for their audience that can be consumed with their senses.
Content strategy is what helps brands prioritise content ideas that actually support their goals and objectives — whether it's brand awareness, engagement, lead generation, or sales enablement.
When it comes to its definition, strategists defer to Kristina Halvorson's interpretation:
Content strategy guides your plans for the creation, delivery, and governance of content.
The key elements that make a well-defined content strategy are the following, as outlined by Kristina Halvorson:
Key themes and messages
Recommended topics
Content purpose (i.e., how content will bridge the space between audience needs and business requirements)
Content gap analysis
Metadata frameworks and related content attributes
Search engine optimisation (SEO)
Implications of strategic recommendations on content creation, publication, and governance
Your content strategy needs to be audience-first. But it goes beyond persona — it's about connecting, engaging, and serving real people. It also goes beyond fulfilling the desire to go viral, as that's not the whole point of content.
The goal of content is to move the needle for your business by being memorable and building a relationship.
Take, for instance, SEMrush, an SaaS company that sells online visibility and analytics software subscriptions to digital marketers. They struggle with informing users of new product features.
To introduce the features and encourage users to adopt, they realised the experience had to be positive and fun. So they gamified the process. They developed an online Easter egg hunt game that challenges users to find Easter eggs by completing some actions within various SEMrush tools.
All of this made the entire journey engaging and educational. And the result? They attracted 9,300 participants and 8 million Twitter impressions.
With 8 in 10 people counting on brands to create content that serves them, and with 7 in 10 people who report they feel closer to a business after engaging with their content, no wonder it's crucial for a business to have a content strategy that's aligned with consistent branding.
Read further: Content Strategy: Help People Find Your Business Online
How to Align Your Content Strategy with Your Brand Strategy
Content strategy is part of a bigger brand strategy. It's but one wheel in a 16-wheeler truck. It supports your brand-building efforts and dictates how you share your brand. Ultimately, your content strategy should help build a better reputation for your brand.
That's why it's crucial to ensure that your branding and content efforts work in synergy to drive growth. Here are some ways you can do just that.
Keep Your Target Audience in Mind
Your content team may have produced the best article around a certain topic, but if it doesn't resonate with your ideal readers (a.k.a. target audience or buyers), what's the point?
Having a firm understanding of your audience allows you to zero in on creating content that's ultimately designed to speak to them and fulfil a need they have.
It also allows you to know the best way to reach them — where they spend the bulk of their time online and how they prefer to consume information
For example, if your target customers are new mums, they probably frequent parenting forums and Facebook groups, not LinkedIn. Because they are busy taking care of their newborns, white papers and 5,000-word ebooks may not be their thing. They might prefer infographics, short videos, or how-to articles.
Map Out the Buyer's Journey
Your content should be able to support a customer's journey with your brand. With 93% of B2B purchases starting with online research, the goal is for your brand, your content, to show up at the right time to help them make informed choices at every stage of their journey.
Here is HubSpot's buyer's journey framework and the set of content required at each stage.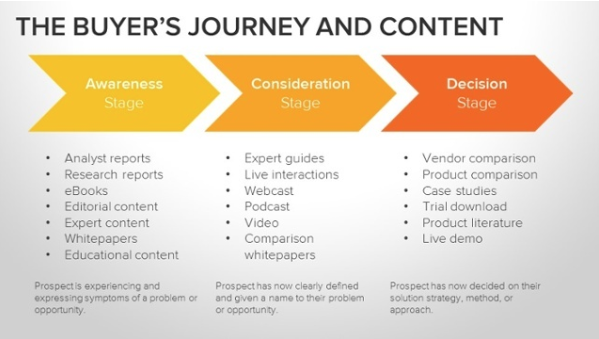 Have a look at your business and consider these questions to map out your customer journey and audit your current content efforts:
Are we answering the questions our customers may have at each stage?
Do our content pieces, whatever form they take, reflect our brand?
Is our messaging clear?
Develop and Follow Your Brand's Editorial Guidelines
Your editorial style guide is a living document that includes a set of standards that define your tone, voice, and use of imagery and words. It needs to clearly state how your content should make your audience feel.
But more importantly, it should clearly define your standards of performance so every piece you produce lives up to your very best content.
Conclusion
The rise of digital allowed branding to become a two-way conversation. It gave consumers a voice, empowering them. "They will not be passive recipients to information," as Deloitte puts it.
In a world where trust is the golden currency, how do your customers perceive your brand? Is your content representing your brand's values well? Does the content you create help shape your brand in the mind of your target customers? Does your content ultimately help them in their buying decisions?