Disruption is imminent, and organisations must find a way to be more resilient as they step forward into growth and implement their transformation efforts.
In this week's Knowledge Nuggets, we look into the ideal transformation model that businesses can use to address change and face today's disruptive forces through the book Dual Transformation by Clark Gilbert, Mark W. Johnson, and Scott D. Anthony.
---
Insight: Businesses are missing the clear signs of disruption — customer habits are changing, brand loyalty is on a worrying decline, businesses are rushing into venture capital, among other things.

Data: New research of 505 medium to large Australian businesses, commissioned by Microsoft Australia, shows the vast majority know they need to digitally transform their businesses. (Business Insider)

What's the step change: Tap into the forces at work behind today's disruptors to reposition your business today and create tomorrow's new growth engine. Watch the video below to find out more.
---

In this episode of Knowledge Nuggets, we'll talk about one of my favourite texts, which is Dual Transformation by Scott Anthony et al. A lot of people talk about disruption and what technologies are coming, but this chunks it down and gives us an approach to resilience for organisations and how we respond to disruption.
Transformation as a Response to Disruption
It beats that overwhelm that a lot of organisations are in at the moment. What should I do when disruption is making things very hard? It acknowledges that it's really complex at the moment, and there's a lot of uncertainty that we're moving into.
It also follows a lot of case studies from Xerox to J&J to and Amazon, so we learn from people who have led it and how they responded to it.
Here are the four key points worth noting out of Dual Transformation:
1. The Model
This model is so simple but has a brilliant distinction. It basically means every organisation must simultaneously go through a dual transformation to be successful.
A= resilience customer value. This is the current resilience transformation delivering customer value.
B= New Growth Engine
C= Capabilities link that brings it together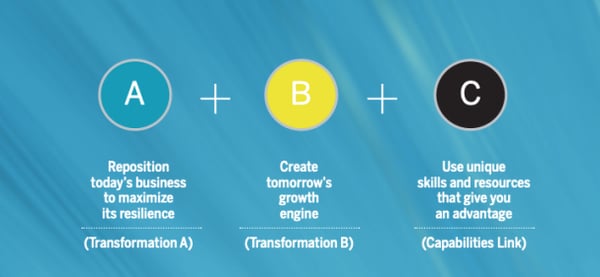 It is a very simple model that gives language at hand for people to pick on to because if you can't pick up and hang on to that value, then different divisions get confused, parts of the company fall away, and we lose momentum.
2. Build from Context You're In
This means building from the context you are currently in. So we look at what are the customer drivers.
At Step Change, we use triggers, fears, barriers, drivers, and pain points. It uses similar language like that to say, "Can you figure out what's been driving customer buying behaviour? What's changed around that? What would be the future wants?"
It looks through a customer lens of needs, drivers, barriers, pain points and then flips it in the future. This is really important to understand: the context is where the strategy should arise from.
Explore further: The Death of the SWOT Analysis and the Rise of the Strategic Radar
3. Success Variables for Transformation A
This is the transformation right now within the core business. And the first thing it says is it isolates the job to be done.
Within your current business, there is a job to be done that your customers are looking for. Can you project that forward? Can you do that more efficiently so that you can capture more value all the way through to fund Transformation B. Is there a niche that you can work towards? If you're really tied, you don't have to do everything, but if you can do that core piece of the job to be done with value, then maybe there is a niche in the future and that's the dimensions of Transformation A.
4. Transformation B Success
This is the growth engine transformation is where we look to see where the puck will be. If disruption is good news and it levels the playing field and creates a new opportunity, where will the puck and the opportunity be, and can we skate to there? And that's the question for Transformation B.
It then says, where is the value gonna be created? Value then comes from simplifying the complex or making the previously inaccessible accessible. So there are two ways to look at how value will be created in a post-disruption world.
5. Speed of Arriving at Just the Right Time
This falls under point C of the capabilities link. Can you look at your current business and then retranslate value today into what will be valuable in your new business in the future?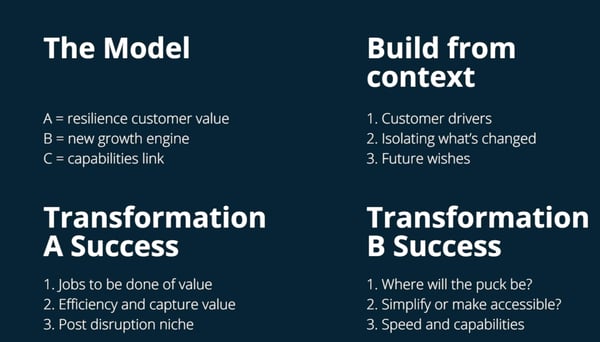 I think that this is a great model to follow for organisations undergoing a period of transformation.
Remember, A + B + C = success.
The question is, in your strategy, do you have the dimensions of how you are doing now, how value will be created in the future, and how are you preserving your advantage across the two phases?
Download our Knowledge Nugget on Dual Transformation: