Dollar Shave Club — Unilever's Newest Acquisition
Unilever has agreed to acquire the five-year-old Dollar Shave Club (DSC) for US$1 billion. DSC first went viral after founder Michael Dubin uploaded a hilarious ad introducing the blade, which gained 19 million views in 2012. (Now it's close to 23 million views). With DSC's disruptive branding and strategy and Unilever's famed reach combined, Dollar Shave Club is indeed looking as dapper than ever.
"Too Cool to Do Drugs" Campaign
You wouldn't believe why a certain company had to recall their manufactured pencils. Their message was good — "Too cool to do drugs" — but boy were they in for a gut-sinking surprise. This is what happens when people don't think through their campaigns.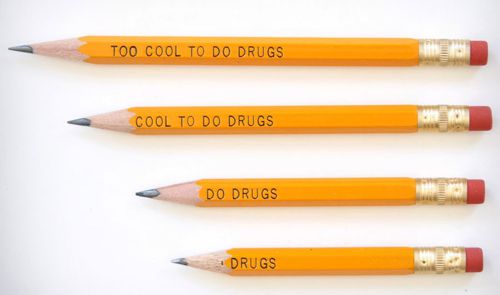 Photo credits to Waffles
And guess who was able to catch the mistake. A ten-year-old pencil user. Totally not cool.
Real-time Mobile Internet Stats
We all get it: mobile Internet is the thing of this generation. Across the globe, more and more people are gaining access to mobile Internet. But have you actually seen just how massive it is? India-based coupon website DealSunny.com has crafted an amazing real-time statistics graph that shows raw, real-time data of mobile usage. Prepare to be amazed here.
PS: Make your website more predictive and personal for your customers. Read here to learn how.