When it comes to running a business, it is important that you stand above the competition. And in the dog-eat-dog business world it is no longer enough to just offer great products. It is also necessary to take your customer's comfort into account.
What's the use of having the best tech and services if your customers can't get a hold of your product in the most efficient way possible? Or if they do get the product, it becomes a struggle to have it repaired or returned. This is where Experience Disruptors come in.
What are Experience Disruptors?
They are a new breed of companies that have reshaped what customers have come to expect of a company.
This is a central insight of Clayton Christensen's Theory of Jobs to Be Done, which tells us that customers don't simply buy products or services. They also expect the purchase and acquisition of the product to be as seamless as possible.
So if you want to stay competitive, you should know how to utilise the strategies that these experience disruptors use. Here are 5 key points to take into account.
1. Design Experiences
When it comes to marketing, Experience Disruptors don't limit themselves to selling their products.
Instead, Experience Disruptors take the time to create experiences that surround the product. These experiences will create scenarios that will compel the customers to search for products that they did not know they wanted or needed. It is all about creating the need and providing the service afterwards.
2. Remove Friction
Experience disruptors strive to make each and every customer interaction as frictionless as possible. When a customer buys a product, he or she expects the process to be both easy and efficient.
There should be no struggle when it comes to making calls, reservations or signing contracts. There should also be no unnecessary disputes when it comes to prices or discounts.
The services should all be as self-explanatory as possible. Overall the more efficient the customer interactions, the less chance of friction there will be.
3. Get Personal
Experience disruptors create a personalised experience for customers. There are a multitude of companies out there. And most of these companies adhere to a generalised approach when it comes to prospective customers.
Experience disruptors strive to create a personalised experience for customers.They make them feel cared for. They make each and every customer interaction feel as if it were tailor made for your customer's needs and concerns. This approach will make the customer feel more open and valued.
4. Turn Customers into Advocates
Experience disruptors strive to sell through customers. Although most companies sell directly to customers, it is a game changer to sell through customers. This is because customers can be picky. And they usually trust the opinions of fellow customers more.
A company can claim to have great products but buyers would be sceptical because it is the company that declared it. But if a fellow customer took the time and effort to post or comment about a product, then other potential buyers would be very curious about it. Some great examples of this are beauty vloggers who start their own cosmetics lines.
5. Empower staff to serve
Nothing annoys customers more than having to return products for repairs. This is because repairs take time to get to service centres. Parts take a long time to ship. Receipts have to be kept, and they have to remember when and where they bought the product. This creates a great deal of stress during employee and customer reactions.
But Experience Disruptors are masters when it comes to these situations. Where inculcated companies are more concerned with getting a profit from customers, experience disruptors are more concerned with making things easier for customers.
They know that the easier and more efficient things are for customers, the more goodwill there will be between them. And the more positive a customer's outlook is towards a company, the more chances they will come back and do business with the company again.
Notable Experience Disruptors
As it was stated earlier, Experience Disruptors are an innovative breed of companies that are reshaping how we do business.
Instead of just focusing on the quality of their products, they also focus on their customer's experiences as well. They focus on making their business transactions as easy and efficient as possible. This creates goodwill during customer and employee interactions.
And because of this goodwill, customers are more inclined to do business with the company. Here are some notable experience disruptors.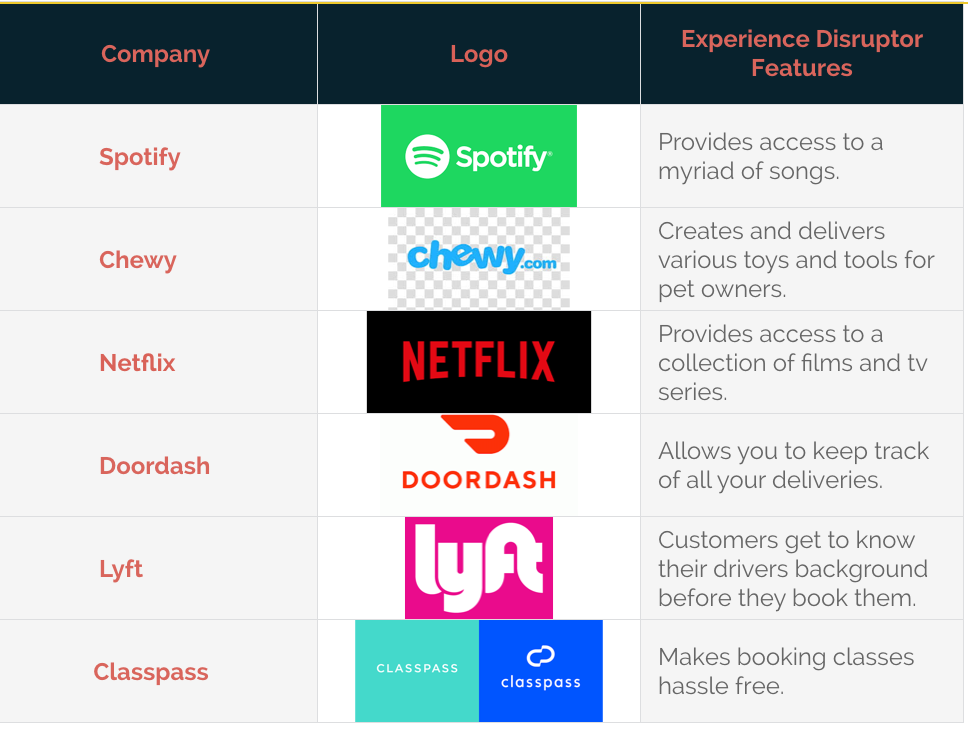 Now that you are aware of experience drivers, you can now utilise their methods into your own organisation. By doing so, you will be able to make your customer relations so much more harmonious and efficient.
Fill out the form below to download a PDF copy.