In the age of new retail, are your digital marketing strategies still relevant? The line between multiple devices and channels are blurring. To win customers, retail brands need to be able to follow and understand the customer journey throughout multiple touchpoints.
In this article, let's look into what digital marketing strategies work for retail brands in the time of omnichannel retailing.
---
Insight: Delivering in-store and personalised experiences to online shoppers across multiple channels is the new retail.

Data: Brands with omnichannel customer engagement strategies retain on average 89% of their customers, compared to only a 33% customer retention rate for brands that don't. (Invesp)

Key Action Point: Retailers need to have an integrated offering across multiple channels and in-store to compete effectively and grow into the future.
---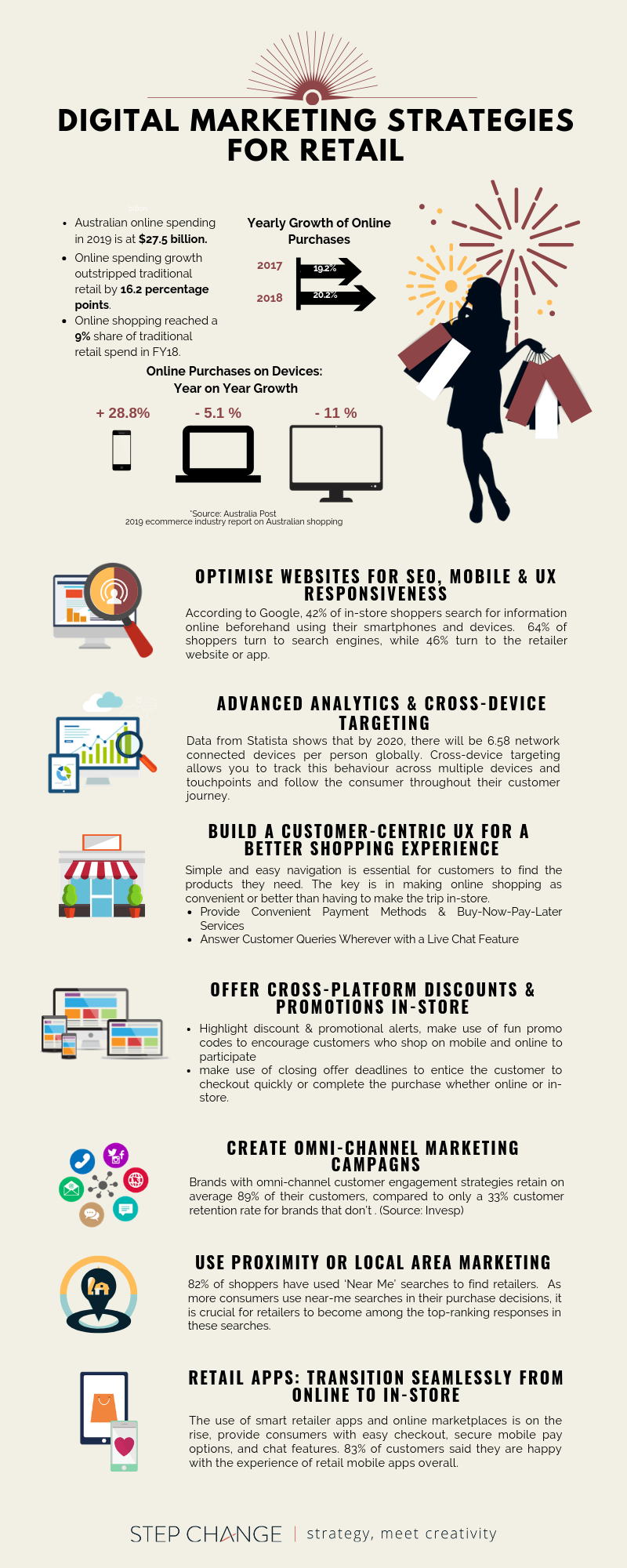 Improve the In-Store Experience through Digital
Australian shoppers have high expectations over retail. They expect it to be fast-paced and convenient; they're counting on them to offer both value and choice. This expectation has driven many shoppers to go online, where they can find the products they need when they need it.

Credits: The Future of Retail Study
We cannot stress enough how crucial SEO-optimised, mobile-first, and responsive websites are for retail.
In Australia, retail brands like The Iconic and Target continue to dominate, consistently landing on the first page of Google search results for their organic keywords, paid ads, and customer-friendly shopping websites.
According to Google, 42% of in-store shoppers search for information online beforehand using their smartphones and devices; 64% of shoppers turn to search engines, while 46% turn to the retailer website or app.
But more than the need to combine an online strategy with your physical store campaigns, today's retail shopping trends are transforming rather quickly and are now moving across multiple devices and in-store experiences.
Retail brands need to start focusing on cross-device targeting because today's consumers have multiple brand experiences across different platforms.
Use Analytics & Cross-Device Targeting for a Unified Shopping Experience
While many retailers today are already using user data and analytics to understand customer and purchasing behaviour, the presence of multiple communication channels today and customers sharing brand experiences from different devices can lead to data overwhelm. But this is how retail is today, and retailers have their work cut out for them.
Data from Statista shows that by 2020, there will be 6.58 network connected devices per person globally.
A person can get wind of your campaign via email on a mobile phone, browse your products on your website through a work desktop, and purchase from a laptop and then have their orders delivered at home. Other consumers also prefer to check out from an app and collect their items from the store.
Cross-device targeting allows you to track this behaviour across multiple devices and touchpoints and follow the consumer throughout their customer journey.
By understanding how your customers are using all these different online channels, you can create a more accurate customer profile that can help you target and engage with them better in your retail marketing efforts.
To connect customer experiences across multiple devices, retail marketers today are already making use of user ID authentication, walled garden environments, and device fingerprinting to follow their customers' behaviour throughout every device they're on.
Cross-device targeting leads to —
A seamless customer experience no matter what device they are using
Personalised and customised messaging across multiple devices according to user profiles, mobile insights, interests, shopping behaviours, and purchasing patterns
Improved ad targeting or remarketing campaigns for better sales
Build a Customer-Centric UX for a Better Shopping Experience
More than anything, one way for retailers to drive conversion online is by giving buyers the best possible user experience to ensure shoppers are able to complete the check and purchase.
Simple and easy navigation is essential for customers to find the products they need. The key is in making online shopping as convenient or better than having to make the trip in-store. This means giving the customer all the access to product variations, sizing charts, and FAQs that guide them to complete the checkout process with no hesitation.
Provide Convenient Payment Methods & Buy-Now-Pay-Later Services
It comes as no surprise that every single one of the retail brands who made it Australia's top fashion retailers offer Afterpay.
To be competitive, retailers need to offer buy-now-pay later services that customers are looking for today. They are an integral part of the retail shopping experience today and should be made available on your website.
About 44% of these retailers also offer same-day and next-day deliveries in metro areas.

Answer Customer Queries Wherever with a Live Chat Feature
There's a reason some of the most successful and time-tested brands out there are those with the best customer relationships. To win today, retail brands need to start treating their customers as real people. They need to create not only a great online shopping experience but one that is built on trust so they continue to return and refer.
A study from Zendesk shows that 64% of customers expect to receive real-time assistance regardless of the customer service channel they use.
Today, 25% of retailers and customer service operations are now integrating live chat features.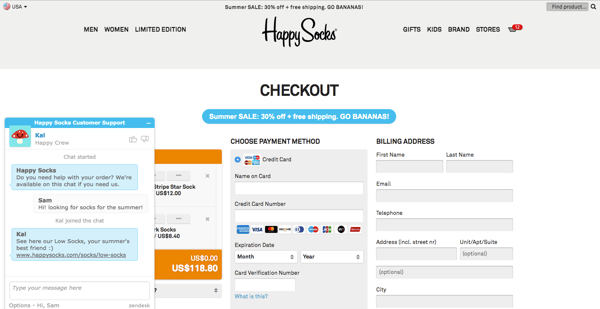 Credit: Zendesk
Offer Cross-Platform Discounts & Promotions In-Store
Customers still love discounts and promotions. So making the most of these offers even on the digital space is crucial to driving traffic and conversion.
On their website, Target highlights discount and promotional alerts for homeware, clothing, footwear, or anything else they have on sale. They also make use of fun promo codes to encourage online customers to participate. They use closing offer deadlines to entice the customer to checkout quickly or complete the purchase whether online or in-store.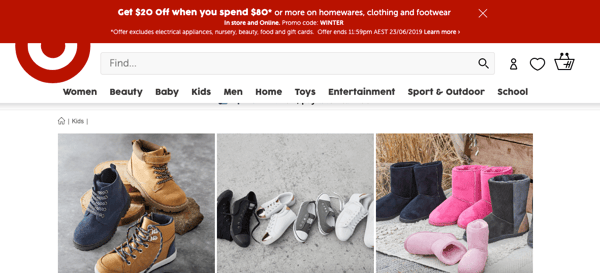 Create Omnichannel Marketing Campaigns
Today's consumers are buying in more locations than ever. Online buyers also go through multiple touchpoints and have several paths to purchase.
For retail brands to be truly effective in their digital marketing efforts, it's crucial to have an omnichannel marketing strategy that offers an integrated seamless experience across multiple devices and touchpoints.
This means making an impact online or offline and using this combined reach to promote brand awareness and customer engagement.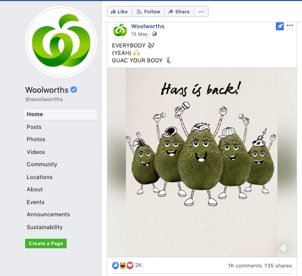 Perhaps no other retailer does omnichannel marketing campaigns better than Woolworths.
From Facebook to Instagram, Twitter to Pinterest, and even their YouTube channel, Woolworths draws thousands of engagements and subscribers through their funny and quirky social posts, recipes, and videos while highlighting their top products.
Use Proximity or Local Area Marketing
"82% of shoppers have used 'near me' searches to find retailers." (Uberall)
The increase of "near me" searches on mobile is dramatic, with a 150% growth for "near me now" searches and 200% growth for "near me open now."
With consumers turning to their devices for their micro-moments and making last-minute shopping sprees, it's essential for retailers to rank on top of these search results.
To start leveraging local area marketing, consider these tips:
Ensure your store listing contains your updated address and contact information.
Ask for reviews. Reviews matter in search rankings, so proactively ask your customers to leave their reviews and aim for positive ratings.
Use paid ads to increase visibility beyond SEO.
Explore further: Local Marketing Strategy: Improving Brand Awareness through Location
Use Retail Apps
Many big retail brands are adding digital revenue streams into their physical stores by offering "click and collect" options for customers.
This capability allows them to select the products of their choice, add to their online carts, choose the payment that is convenient for them, and collect their orders in store. This has greatly improved the customer experience in terms of speed and convenience.
The use of smart retailer apps and online marketplaces is on the rise, with 83% of customers said they are happy with the experience overall.
Retail apps provide easy checkout with secure mobile pay options, and their chat features help retailer brands engage with their customer and give them a quick avenue to address customer queries and concerns.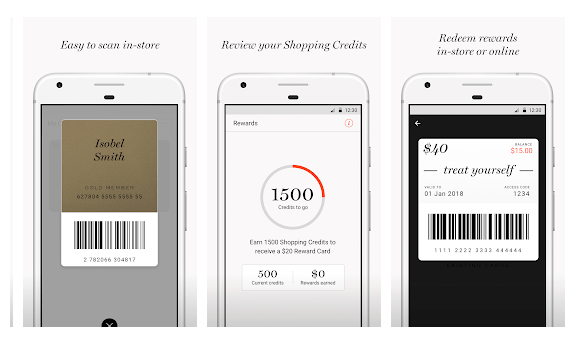 MyerOne app
Tying It Together: Transition Seamlessly from Online to In-Store
Many retailer brands today are already starting to make big strides in the digital landscape and are coming out on top with the right strategy.
Taking on new digital marketing technologies, offering convenient and flexible payment options, and fully optimising the customer online shopping experience throughout multiple customer touchpoints set the path for the future.
As consumers become more click-driven and more sophisticated in the way they shop and purchase, retailers must strive to create an integrated offering for the customer, use the latest in digital to build strong relationships with them, and stay personalised as they do in-store.
Are you ready to try out the best digital marketing strategy for your brand? Learn more about our digital services today.