The latest modern technology has changed the game for chief marketing officers, and it now takes more than the usual marketing skills to stand out today.
From becoming more customer-centred to embracing data, today's CMOs need to redefine their roles through a skill transformation that can elevate the CMO role throughout the enterprise.
---
Insight: The most absent skills in the CMOs we've surveyed were in Data and Analytics.

Data: One-third of global CMOs believe using data to reach individual consumers will be a top strategic priority over the next three years.

Key Action Point: CMOs need to build data teams and up-skill themselves in the analytics landscape.
---
I thought it might be valuable to look at the types of skills CMOs listed on LinkedIn to give me an idea of specific areas where my own skills are lacking.
My original hypothesis was that CMOs would have a relatively broad set of skills and would major in "marketing and sales" and minor in something like "communications" and "branding" or a skill set that includes "marketing, sales, account management, communications, branding, industry."
I took the raw skills CMOs have listed on their LinkedIn profiles and grouped them into major categories such as the one below.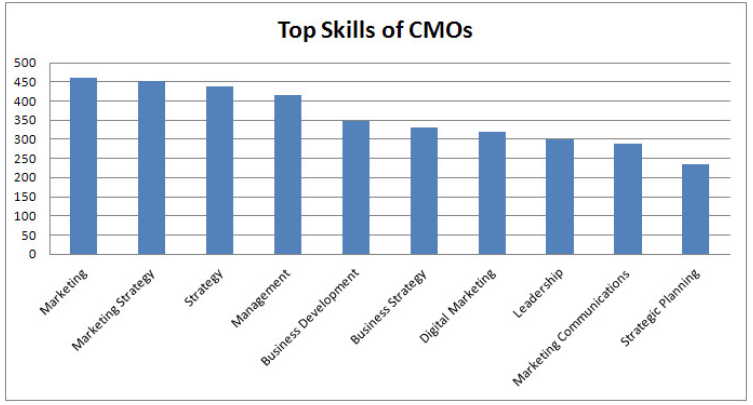 After compiling all the raw data and grouping these skills together, it became clear that base skills such as marketing, digital, sales, and strategy were required. The top 100 skills account for about 50% of all those listed.
Other CMOs also listed some version of marketing, business strategy, branding, or sales while others highlighted "industry-focus" and "technical skills" in their profiles. Perfect examples of this would be Michaela Chan, former CMO of OOH, and Tony Phillips of NewsCorp.
Interestingly, whilst "leadership and management" were in the top individual skills, as a group, they were outside of the top 10. There were just not enough profiles talking about their leadership talents. Many were focused on different segments of marketing.When you look closely at all the CMO profiles, you'll notice that not one is cut out from the same skill set or profile. CMOs are incredibly unique with very different stories. A long tail of 2,500 skills makes up the rest. 1,600 skills only appear once, such as winemaking, poetry, and weddings.
So what skills do CMOs need today to thrive in an evolving marketing landscape?
From the CMOs we've surveyed, here are some of the top crucial skills common in leading CMOs that you should pay more attention to in 2019 and beyond.
7 Critical Skills CMOs Must Have in Order to Succeed
Industry Focus
From the raw data of CMO skills I've compiled, 40% of these were industry-focused such as FMCG, banking, and sports. Some profiles are largely made up of industry-based skills, such as Margaret Wright, whose profile is predominantly medical-focused (healthcare, medical imaging, radiology).
While it makes sense that today's leading CMOs are well-versed in different channels, it is clear to see that to be successful as a top marketer for your organisation, you need a deep understanding and affinity for the industry you are in.
Having this expertise helps CMOs come up with better-orchestrated campaigns that resonate with their target audiences.
Market Focus
The best marketers know how to make the best use of what they have today, but to be an effective CMO, you need to know how to look ahead in the market. This means always keeping pace with the latest trends and listening to market changes.
From the CMO skills I've compiled, digital marketing, e-commerce, and SEO were in the top 3 specific skills. Even CMOs with very industry-heavy profiles still claimed some digital strategy as a skill such as Stephanie Tully, CMO at Qantas. Most of her skills are to do with aircraft and the travel industry, yet digital marketing is still featured.
The ability to see what lies ahead — from Google algorithm changes to ecommerce, SEO, and paid campaigns — ensures you are equipped with the knowledge to steer projects in the right direction. The best CMOs today are always forward-looking, catching up on the latest trends and mulling about their next big move.
Customer Focus
Now and into the future, CMOs play a crucial role in shaping the customer's perception of their brand.
CMOs must put a prime on the customer experience and need to leverage data to understand customer behaviour so they can improve how the business engages and connects with them and transform how their target audience views not only their products and services but that of the entire organisation.
No one else is better equipped to push for customer-centricity in the organisation than the CMO.
The CMO Council and Deloitte found in a study that over the past few years, CMOs have been tasked to go beyond the usual brand and marketing plan management activities to focus on enterprise-wide revenue drivers that are customer-driven.
In the survey, 34 percent of CMOs said they are applying these capabilities toward campaign management platforms, and only 10 percent said they are using them to improve lifecycle management or customer experience management platforms.
Tech Focus
According to Warc,
global marketing tech investment
will reach about $100 billion in 2019. As marketing technology continues to expand with the rise of industry-wide investments, it is a logical next step for CMOs to pay more attention to a technology strategy.
A survey from Forrester Consulting and Accenture Interactive in August 2018 points out that over the next twelve months, driving new technologies will be a key element of the CMO role.
In a time when innovation is becoming the driving force in marketing, CMOs need to keep abreast with the latest in disruptive technologies and trends to ensure they stay ahead of the game or, at the very least, adapt so they don't get left behind.
Not only is it crucial for CMOs to understand and effectively use new marketing technologies such as automation, but they also need to have the means to assess the significance of new technologies to drive business growth.
Business Focus (Finance & Accounting)
Having a strong business sense should be innate to a CMO, but many continue to struggle with proving marketing ROI. They should have the ability to look at the business from a wide-angle lens and work seamlessly with other departments and teams to steer successful campaigns that meet the organisation's objectives and goals.
One study found that only 6 percent of today's CMOs are actively working on growing revenue across all global business activities. Finance and accounting continue to be blind spots among CMOs, and that needs to change.
CMOs of the future need to have a clear understanding of how marketing fits into the overall business revenue. They need to have the means to connect customer-driven campaigns into financial results and know how to scale growth for the business while making sure that the customer remains front and center.
More than anything else, great CMOs understand that getting into the heart of their customer is what drives their marketing advantage.
Data Focus (Data and Analytics)
Another blind spot for CMOs today is in data and analytics. However, to have a deeper understanding of customers and promote initiatives that are tailored specifically to their needs, knowledge of data and analytics is crucial to success.
Data-driven CMOs know how to leverage data to identify patterns in consumer behaviour and use these insights to draw actionable steps that help make the business top of mind to its customers.
By now, it is crucial for CMOs to understand that data and analytics are necessary to establish a deeper understanding of their customers — and it is this insight that should guide their strategy this year and into the future.
One-third
of global CMOs believe using data to reach individual consumers will be a top strategic priority over the next three years.
Embracing the power of data and understanding what they mean for businesses will continue to be a driving force for CMOs to effectively create tailor-fit campaigns that help scale their business exponentially.
Handpicked article:
People Focus (Leadership & People Management )
The best CMOs I know are also great leaders. No matter where you look, leadership, people management, and being great communicators are common in successful CMOs today.
While the best marketing departments that really stand out are the sum of enthusiastic and passionate marketing people — on the helm, you'll often find a visionary and a great leader keeping them all together.
Your industry knowledge and skills will only take you so far. Having the ability to get people to do what they do best and inspire teams to work together is what makes great CMOs a cut above the rest.
The CMOs of Tomorrow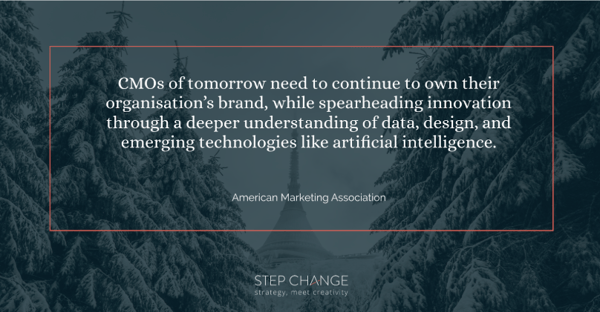 With the recent shifts in technology and consumer behaviour and changing data-driven marketing strategies, perhaps it is with necessity that the best CMOs today come from different backgrounds and are proficient at various things. They are no longer constrained to do just marketing. They go above and beyond what is expected of them.
If anything, evolving trends and the rise of new technology has made marketing more sophisticated than ever before. As the business and marketing landscape shifts, so should today's CMOs. No matter what industry, CMOs need to find ways to develop their strengths and acquire new skills that will help them adapt to the changing times.
Embracing change and not being afraid to innovate are crucial. These skills I've highlighted will hopefully be a good starting point for what you and your marketing team can endeavour to develop this year.
It's important to never limit yourself to what you already know. You never know when you'll be thrown a curveball.