Have you decided on your digital strategy for the year? As you and your team take this time to put together the best strategic game plan that can help you accomplish your goals for the year, it is important to understand what digital assets are truly giving you the best bang for the buck, where your ROI is concerned.
Rounding up your digital assets and understanding how they drive revenue can help you make informed business decisions in crucial times where you need to save on costs.
---
Insight: Many companies today have their own websites and digital assets in their business strategy but do not know their actual dollar value.

Data: MarketingCharts reports a 50% increase in digital marketing budget compared to 2016 in their study, proving the importance of digital assets like social media, content, SEO, video, and more.

Key Action Point: Know the true value of your digital assets and how it contributes to your ROI so you know what initiatives are worth investing in.
---
By now, you already know how crucial your digital assets are to the business. You may be spending a lot of effort, time, and money into developing the best website that's customised for the best user experience or spend most of your budget to ensure you always put out the best content.
But aside from the traffic they bring to your business or other key benefits you gain from them, do you know how much they're really worth to your business in dollar value?
Understanding the Value of Your Digital Assets
To gain a better understanding of their true dollar value, it's important to first define what a digital asset actually means.
According to Theresa Regli, a digital asset industry expert, a digital asset is "anything represented in digital form that has intrinsic or acquired value."
Your digital assets can be in the form of content such as
Media files

Images & graphics

Presentations

Videos

Blog posts

Websites
Because your digital assets, such as your website, isn't physical in nature, it is considered an intangible asset.
We are not accountants, so take what we say as a marketing point of view. If you want professional advice on intangible assets, talk to your accountant.
However, according to the IAS 38, an intangible asset is "an identifiable non-monetary asset without physical substance. An asset is a resource that is controlled by the entity as a result of past events (for example, purchase or self-creation) and from which future economic benefits (inflows of cash or other assets) are expected."
In Australia, AASB - 138 treats intangible assets as things such as software, lists, or marketing rights.
AASB also points out the value of websites saying, "An intangible asset shall be recognised if, and only if —
It is probable that the expected future economic benefits that are attributable to the asset will flow to the entity; and

The cost of the asset can be measured reliably. "
Your digital intangible assets then are anything of value that generates income for your business. For example, any content used for your social media campaign or a landing page that helps raise awareness for your event and drives registration leading to conversion is considered a digital asset. And just as stocks, bonds, real estate, or copyrights, your website is an asset.
To understand the value of your digital assets, it is important to look at it beyond just how much it costs. How much time and effort was spent to create it? How many key people were involved? What would be the level of difficulty involved if you were to recreate it? How many leads were acquired from it?
Your Website as an Intangible Asset
Let's consider the value of your most notable digital asset — your website.
Your website tells the world who you are. It is a showpiece for what your business stands for, your products and services, and what you have accomplished.
If optimised well enough, it can be your top lead-generation tool that connects you to your customers. And if you have a blog or an e-commerce website, it drives traffic, brand awareness, engagement, and conversion.
Your website's value should be based on your brand, your number of leads or new business required, and the result of your engagement with new and existing clients.
It can be challenging to get the accounting value for your website without knowing what valuation drivers are involved.
To get a better understanding of how much your website actually costs, it is important to consider the following:
The hard costs and total expenditure for the site

Importance to the business

The expected useful life of the website in generating revenue
From an accounting point of view, AASB 138 says that quoted market prices in an active market are the most reliable estimate of the fair value of intangible assets such as your website.
The Consensus agreement of AASB 128 also points out that when a website arises from development and is for internal or external access, "it is considered an internally generated intangible asset that is subject to the requirements of AASB 138."
According to the agreement, for an intangible asset to meet the identifiability criterion —
It needs to be "separable or capable of being separated or divided from the entity and sold, transferred, licensed, rented or exchanged, either individually or together with a related contract, asset or liability"

It should arise "from contractual or other legal rights"

It "can assure the expected future economic benefits from the asset can be credited to the entity"
This means a developed website can be recognised as an intangible asset if it can comply with the general requirements described in AASB 138.21 for recognition and can also satisfy the requirements in AASB 138.57.
One such requirement is showcasing the website's ability to generate probable future economic benefits from promoting its product and services such as generating direct revenue from order placement on the site.
When this is demonstrated, all internal expenditures incurred in the developing and operating the website will be accounted for according to the principles of AASB 138.
AASB 138 states, you can either
Apply multiples reflecting current market transactions to indicators that drive the profitability of the asset (such as revenue, market shares and operating profit), or

Discount estimated future net cash flows from the asset.
It is worth noting that GAAP considers that any content created or acquired may be identified as a separate intangible asset (such as a license or copyright). However, if the expenses incurred are directly attributed to the creation, development, and operation of the website, it is not recognised as a separate asset but instead listed as a website development cost or expenditure.

How Websites Might Appear on the Balance Sheet
According to Investopedia, intangible assets can be listed on a balance sheet if they are "acquired assets and assets with an identifiable value and useful lifespan that can thus be amortized. These accounting guidelines are outlined in generally accepted accounting principles (GAAP)."
As an example, here is a portion of Apple's balance sheet from their 2017 10K statement.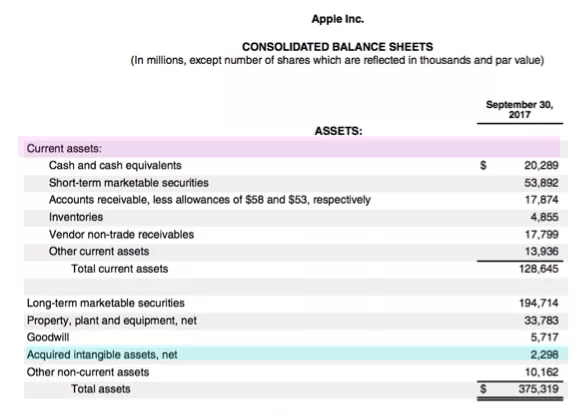 Image credit: investopedia
In the balance sheet above, Apple's intangible assets in 2017 were approximately $2.2 billion (with blue highlight). Note that intangible assets were not listed under current assets to show their long-term useful life.
When an intangible asset is developed internally, they do not appear on a company's balance sheet. An example of this is Apple's logo (considered an intangible asset), which has a big name recognition value. Since the logo was developed internally, it does not have a price that can be used to assign fair market value. This would be different had the logo been part of the acquisition of another firm.
Investopedia adds, "When intangible assets do have an identifiable value and lifespan, they can appear on a company's balance sheet as long-term assets valued according to their purchase prices and amortization schedules."
This is just one way of calculating the accounting value of your website. There are other ways to do this.
As we said, we are not accountants so this isn't professional advice, and this is just one point of view. If you want professional advice on intangible assets, talk to your accountant.
Website Value Calculators
Website value calculators online such as Worthofweb.com calculates and gives you a rough estimate of your website's value based on key characteristics and factors.
Estimated revenue per month. This is based on an estimate of the potential advertising revenue of your website per month, assuming that your website makes use of ads and other programs to generate revenue. Businesses that have monetised their website is generating revenue. You can monetise your website through Google AdSense, affiliates and infolinks, subscription-based offers for content and resources, or selling brand merchandise.

Estimated page views per month

Alexa rank. 0Alexa is a global ranking system that makes use of web traffic data to compile a list of the most popular websites. This makes an estimation of traffic figures based on monthly page visitors and views.
There are also other sites that consider the total worth of the website based on —
The value of age and inbound links. Older websites with a good amount of backlinks become more authoritative.

The value of the domain name. Your website's domain name influences SEO, marketing, and brand competitiveness. With a great domain name such as amazon.com or microsoft.com for example, you're set up to profit more in the value chain.

The value of the page views and the unique visitors to the website. The higher your page views and visitors, the more valuable your business will be.

The value of the amount of the website's content. Websites with significantly more valuable content to offer are ranked higher in search engines.
It is important to note though that website value calculators online are only based on estimations of your website's potential worth and are not 100% accurate.


Conclusion
Understanding these different valuation drivers for your website and digital assets helps you get a better sense of what key metrics you need to pay attention to that contributes to your their long-term value.
By thinking of your digital assets based on these value drivers while tying them together with their current and future economic benefits, you'll be in a far better position to market their worth and make the best use of them in your overall business strategy.
Now that we've gone through the essentials, do you know how much your website is worth?