Through the years, there's been a huge disconnect between what businesses are saying through marketing and what their audience actually wants to hear. We need to bridge this gap by offering consumers what they need — personalised and meaningful experiences.
But this is only made possible by going through millions of data points that help us understand our customers better.
We live in a world overrun by data. And though this has given us access to so much information right at our fingertips, not having the means to make sense of all this data can be a challenge — particularly in business.
In a time where everyone is fighting for differentiation, having the right audience insight not only gives you a clear competitive advantage, it can also help you inform your strategy.
But how do you make the most of all this data? How do you filter the music from the noise? The best way to do this is by integrating artificial intelligence (AI) into your marketing strategy.
AI-Powered Audience Insights and Big Data: What You Need to Know
Businesses today need to gain a better understanding of how their audience consume data and what specific data they want to access more of.
This is why marketing is evolving from its traditional role of demand generation to become customer experience management. In fact, a few months ago, the CMO Council asked CMOs to identify the top mandate they have.
The survey revealed that 67% of CMOs stated a mandate on growth and customer experience.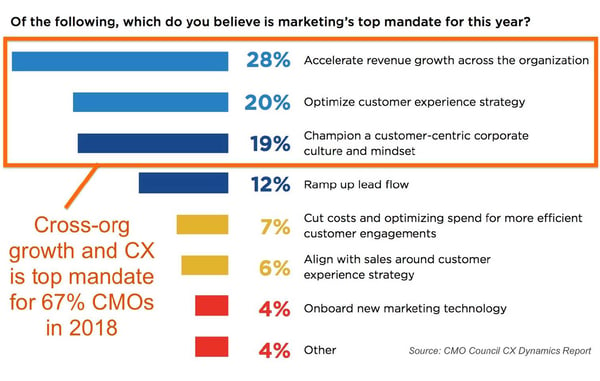 To this end, those who are leading the pack are leveraging AI and Big Data to uncover business and audience insights. These insights-driven companies, Forrester Research predicts, "will steal $1.2 trillion per annum from their less informed peers by 2020".
According to a report from Statista,
84% of enterprises believe investing in AI will lead to greater

competitive advantages.

87% are already using or considering

to adopt AI for sales forecasting.

75% believe that AI will open

up new businesses while providing competitors new ways to

gain access to their markets.
Given the need to better understand a highly segmented market, this data makes sense as organisations today are now better able to measure the success of their marketing efforts accurately and in real time through analytics and AI technology.
In a sense, AI is already revolutionising marketing as we know it, in harnessing the data needed to inspire more targeted marketing campaigns for greater success.
Instead of relying on gut instinct, understanding what drives your Marketing Qualified Leads (MQLs) and Sales Qualified Leads (SQLs) further down the funnel now relies on data-driven audience insights.
Now marketers have access to the data needed to build precise and profitable campaigns that have changed the way marketing is implemented today.
Editor's note: This post is an excerpt from our latest ebook, The Power of Big Data and AI in Marketing: Unlocking Actionable Insights from Your Target Audience. Download the ebook to get on some strategies you can use to take your customer experience to the next level.