With over 18 million active social media users in the country, having a social media platform is vital for the success of your brand. But it's not enough to post content regularly. It's all about the long game, so it's equally vital to know if your efforts have a positive impact on your brand.
Now the question is, are you tracking the numbers that actually matter?
---
Insight: Tracking the wrong social media metrics will give you a narrow view of your social media campaigns.

Data: 73% of marketers believe that their efforts through social media marketing have been effective for their business. (Buffer)

What's the step change: Learn to track the social media metrics that truly matter in your content marketing strategy and focus on actionable metrics.
---
The State of Social Media in Australia
Australians are one of the most active on social media with 60% of the country's population active on Facebook and 50% of the country logging onto Facebook at least once a day.
Below are the social media platforms most frequented by Australians.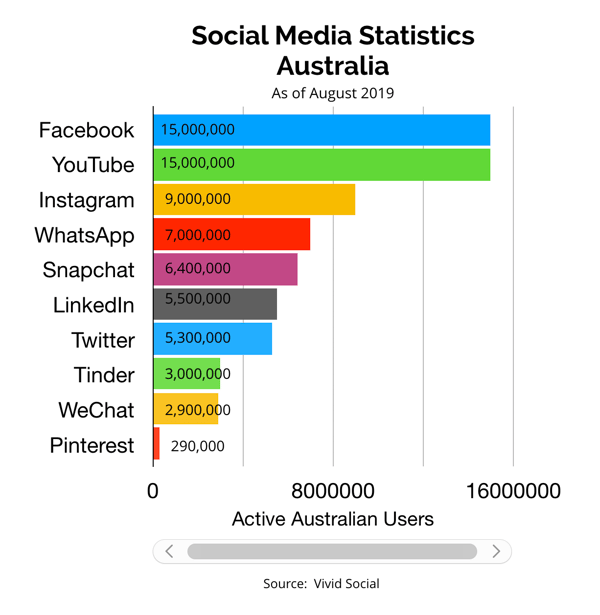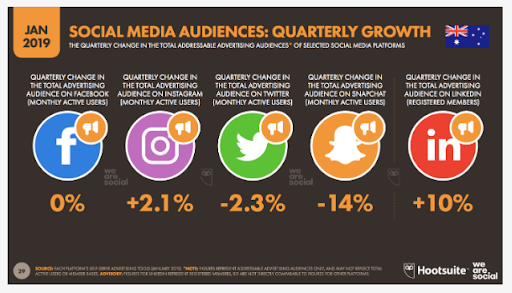 Tracking Your Top Social Media Metrics
Knowing the right metrics to track can make all the difference in the success of your social media campaigns. Let's focus on the core metrics that you'll need to track to measure how well your social accounts are performing.
1. Competitor Metrics
We know of brands that measure their success according to their own growth. In social media, this could be through tracking any increase in your follower count or brand engagement through likes, shares, and comments. And while these are great, it shouldn't be all you need to worry about.
Know thy enemy — and this means knowing how you measure against other similar brands in your niche or industry. To do this, a social media competitor analysis is needed. Here are some points that you'll need to keep track of:
Competitor Spend. Find out how much your competitor has allocated for their social media and ad campaigns. This should give you a good indicator of how much you should be spending. Calculating your competitor's social spend helps you determine if you should continue, stop, or even double down on certain social media campaigns.
Competitor Fan Growth or Number of Followers. Social media tracking tools can help you analyse patterns and look into your competitor's follower growth rate so you have a better sense of whether you should revisit your strategy to increase brand awareness.
Competitor Engagement. By tracking your competition's content engagement and post performance, you can adjust your own content strategy as needed to get better results.
2. Customer Metrics
Tracking your customer metrics is important as it gives you a better feel for how your customers think about your brand.
Customer Testimonials. These pertain to any reviews, comments, referrals, and feedback about your brand. Monitoring this metric will help you understand what your customers think about your products and services. These are also a great way for customers to recommend you to family and friends based on their experience, which helps you gain trust and credibility.
Customer Satisfaction (CSAT) Score. This metric measures how happy your customers are with your brand. Determine your CSat score by asking, "How would you describe your overall satisfaction with this product?" with a scale of poor to excellent. Sum up all the scores, divide the sum by the number of respondents, and multiply by 10 to get your CSAT score.
Net Promoter Score (NPS).

If you want to measure customer loyalty, tracking your

NPS

is the way to go. It lets you track satisfaction and loyalty by asking one simple question: "How likely are you to recommend our product/service to your friends?" Based on your customer's answers, they are grouped into detractors (0–6 range), Passives (7–8 range), ad Promoters (9–10 range).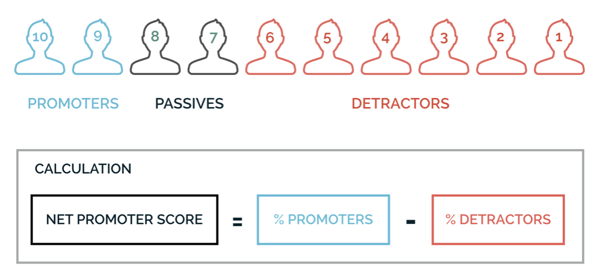 3. Conversion Metrics
Tracking your conversion metrics helps you measure how effective your social media campaigns are.
Conversion rate. This refers to the number of visitors who take a specific action after clicking on a link in your post divided by your total number of visitors. These actions can be subscribing to your newsletter, downloading gated content, or registering to an event. A high conversion rate means your audience finds your social media content compelling and valuable.
Click-Through Rate (CTR). This is how often people click on a call to action in your post. This is usually tied to a link that brings the audience to additional content. Tracking your CTR helps you make sense of how effective your offers are to your target audience. This can be affected by the kind of image you use, keywords, call to action or how well you position your ads. Your CTR also measures the number of time someone clicks on your content, to the number of impressions or how many times your ad was viewed. To measure your CTR for a campaign, divide your total number of impressions by total number of clicks.
Bounce Rate. This is the percentage of visitors who click on a link in your social media post and exits the page without taking any action. If your bounce rate is lower than that of other sources, it confirms that your social media campaigns are effective in attracting the right audience and driving valuable traffic for your brand.
Cost-Per-Click (CPC). In general, this refers to the amount you pay for every individual click on a sponsored post in your social media channels.. Many make the mistake of focusing on their total spend, but tracking your CPC is a more accurate measure of whether or not your investment hits your goals or not. To track it, divide your total ad spend by the total no. of clicks and multiply by 1000.
Cost Per Thousand Impressions (CPM). Your CPM refers to the amount you need to pay every time a thousand people scroll through a sponsored social media post. Unlike your CPC campaign, a CPM doesn't always drives action but creates impressions and views. In other words, your CPM is a faster and less expensive way to test how effective your content is. To track your CPM, check your Ad Manager and divide your total ad spend by your total ad impressions, multiply by 1000.
Social Media Conversion Rate. This is the percentage of the total number of conversions from your social media channels, which helps you measure how effective your posts are in every campaign. To track it, divide your social media conversion by the total number of conversions and multiply by 100.
4. Engagement Metrics
Your engagement metrics focuses on your audience and how they are interacting with your content.
Average Engagement Rate. This refers to the number of engagement such as likes, shares, comments a post gets in relation to your total number of followers. Tracking this is important to check how well your content is being received by your audience. To track your average engagement rate percentage, add your total likes, comments, and shares. Divide this by your total number of followers, and multiply by 100. Some tools you can use to analyse your social media audience: Friends+Me

(Facebook, LinkedIn, Twitter, Pinterest),

Followerwonk

(Twitter), Social media insights, Google Analytics Audience report
Amplification Rate. This measures the ratio of shares per post to your number of overall followers. The higher your amplification rate, the more willing your followers are to associate themselves with your brand. To track your amplification rate percentage, add up the number of times a post was shared (e.g., retweeted, repinned, regrammed) during a reporting period. Divide that number by your total number of followers, and multiply by 100.
5. Awareness Metrics
When we think about brand awareness, many people may focus too much on reach, but that is not all that matters. Your awareness metrics will help shed light on your current audience, your growth, as well as your potential reach.
Audience Growth Rate.

This measures the speed at which your brand gains followers on social media. Brands should not focus on reach alone or how many followers were gained per month but how fast these followers were gained and how this compares to the competition.

Post Reach. This refers to how many people have seen your posts. You can easily track this metric on your publishing platform while checking on timing and the kind of content that may have impacted what your audience finds valuable.
Potential Reach. This tracks the number of people who could see your post during a particular period. Say for example, if one of your followers shared your post with their network, approximately 2% to 5% of their followers would be included in their post's potential reach. Tracking this metric is important because growing your audience should always be one of your core goals especially when you want to track your progress of your campaigns. To track it, use a brand monitoring tool like Hootsuite

, which tracks your total number of brand mentions. Keep track of how many followers saw each mention and multiply those two numbers to get your expected reach. Your potential reach is 2% to 5% of your theoretical reach.
6. Content Metrics
Tracking your content metrics on tools like Buzzsumo and Agorapulse allows you to better understand the content you share on social media such as the type of content you share and if there are any patterns that emerge.
For example, you can analyse the percentage of your posts being images compared to videos and how effective these are in attracting your target audience. This is helpful especially when you share several types of content on your social media channels.
To track the type of content you share on social media, simply create a spreadsheet of the following types of posts on your social media profiles:
Links
Videos
Images
Text-only posts
Original content
Other types of content
Tying It Together
With so much competition and noise distracting your target audience on social media, focusing on actionable metrics to measure the performance of your campaigns are crucial to getting meaningful and lasting results that ensure your time and effort are not wasted.
Focusing too much on metrics that do not correlate with your business goals only serve as a distraction that can take your social media marketing efforts off course.
By tracking the right social media metrics that deliver the results you're looking for, you can adjust your strategy accordingly and drive conversion, boost traffic, and get your brand to where you need to be.