Finding a product, a service, or a niche that delivers results largely depends on understanding exactly what your customer needs. And in a time where the competition is manic and ruthless, it is all the more essential to deliver a high-quality product and service that gets the right traction.
If you're a business aiming for differentiation in the market, it is worth noting that the best opportunities can be found from your customer's unmet needs.
Let's face it. No matter what industry you may find yourself in, no customer will think about buying a product or a service from you unless they actually need it or at least think they need it.
So unless you want to offer a product or service that gets woefully ignored, you need to clearly understand what your customer wants. Or to really stand out, find a way to satisfy their unmet need.
Finding a way for your business to stand out? Download our marketing plan template 2.0 to get started.

Here's are some ways you can identify your customer's unmet needs to help you discover new business opportunities.
1. Map Your Customer Journey
When you're unsure about where to start, it's important to understand your customer's current struggles and identify what their pain points are.
Creating a customer journey map helps you visualise every process that your customer goes through in dealing with your product or service. It takes you through every specific touch point in the process that plays an integral part in converting them from leads to loyal customers.
By mapping your customer's journey, you can spot potential bottlenecks in the process that can mean the difference between an actual conversion or a lost opportunity.
Below is an example of a customer journey map.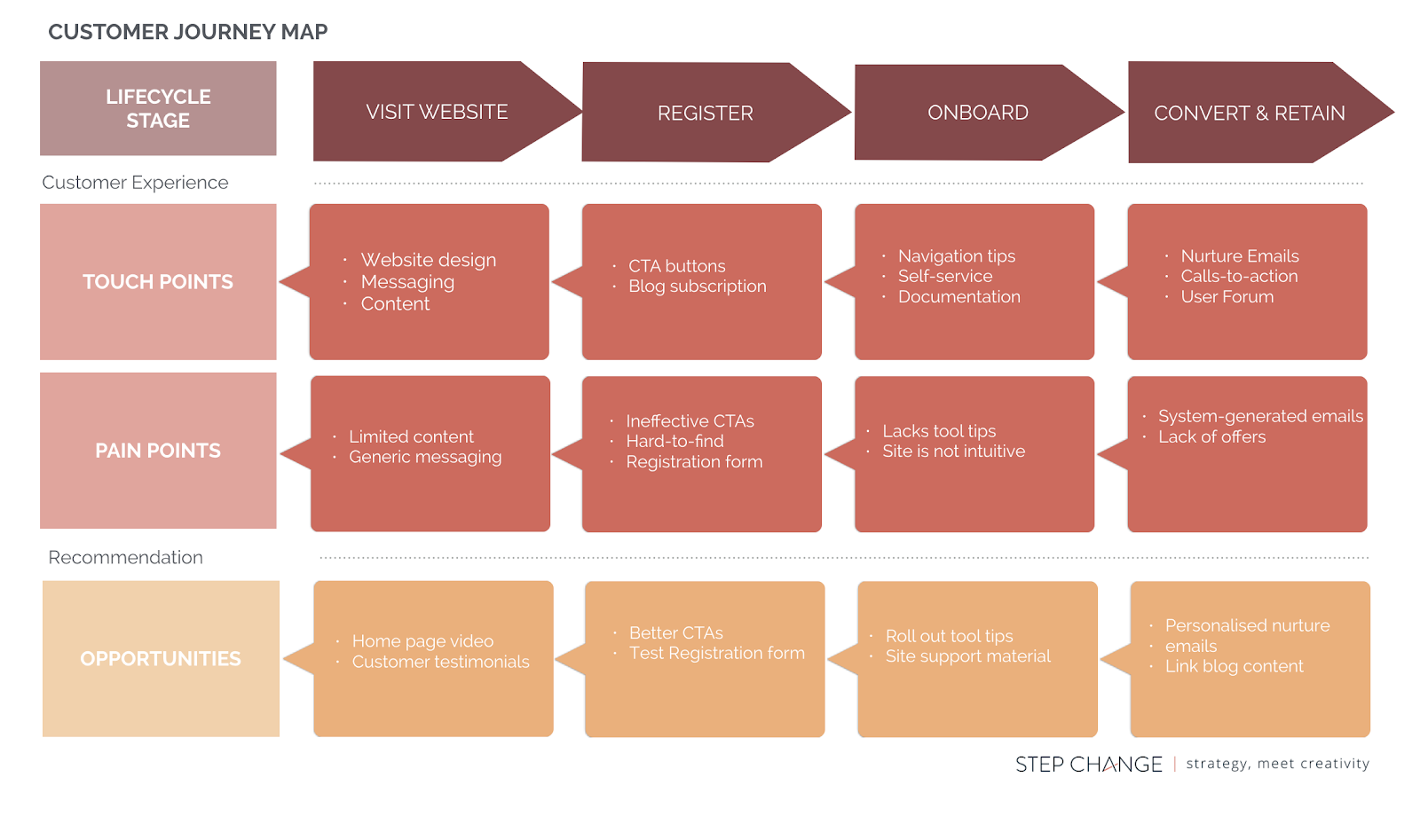 Whether or not your customer is looking for an easy way to navigate through your product offerings or needs to be more engaged, looking into your customer journey map will help you
Once you've identified what stage they are getting stuck at and determined your clear steps to fix it, then the likelihood of them converting is great.
2. Use Existing Customer Data
In reality, you don't need to look very far to pinpoint what your customers are asking for. The easiest way to identify customer pain points, or unmet customer needs, is by checking any data you may already have from common support drivers.
Take a moment to look into common customer questions and concerns for your products and services. Dig into call and chat logs, purchase histories, reviews, surveys, forums, or social media to find out what your customers are saying about you and what features and services they may be asking for.
3. Listen to the Voice of the Customer (VoC)
The best way to find out what your customers need is to get answers straight from the source. Voice of the Customer programs and surveys are popular for getting real-time feedback and insight into what your customer feels about your products and services.
Using real customer opinions, VoC is a great way for you to augment existing services for better customer satisfaction. It empowers you to deliver only the best product and service that your customers need.
Alternatively, VoC gives you useful insights that can be useful when you're thinking about doing some market research into what products and services your customers are looking for and whether or not a product you're developing would be a good market fit. By keeping close track of what your customers are saying, you can grasp new trends quickly, which you can use for better product development.
Ask your users about their own experiences when using your products. Listen to their recommendations.
Here are some questions you need to ask your customers:
What do you think is the biggest issue with product X?

How satisfied are you with our service?

How can we do things differently?

What products would you like to see added to the brand?

What features would you like to have available to you in the future?

Would you recommend us to your friends/colleagues?
4. Perform Competitive Analysis
Getting familiar with your competitors and what products and services they are offering can help you stay relevant to your target audience.
Knowing exactly what the competition is offering and keeping abreast with essential new features that your customers are asking can help you develop and improve your own products that meet these same needs.
It's important to note that your competition is not just businesses that sell the same products or services; your competition can be in the form of new market advancements and trends that can make or break how effective your products can be when launched today.
Businesses go through great lengths to stand out in their market. But we've found that really listening to customers needs and keeping your ears to the ground opens the door to more opportunities than any market research ever will. Today's best innovations have been discovered by simply taking the time to pay attention to a customer's unmet need.
Unmet needs are opportunities that can spell differentiation in a highly dense marketplace. It may take some effort to uncover what these unmet needs are, but as soon as you do, it positions you front and centre and exactly where your customers are looking.
Step up your marketing game. Download our marketing plan template 2.0 to get started.