Every year, industries all around the world look forward to Mary Meeker's internet trends report. The leading venture capital analyst of KPCB revealed her rich data at Recode's Code Conference this year. And here are seven of the most insightful takeaways from her report.
1. New internet users are hard to find
From 35M in 1995 to 3B now, we are now experiencing a flat growth of global internet users. New internet users are going to be harder to find, Meeker pointed out, as the potential new users are going to come from less affluent countries. However, with that being said, this can be a potential market that the internet has yet to drill into.
2. Slow growth + higher debt + aging population = OPPORTUNITIES?
With the seemingly alarming news about slowing global growth and the increasing global debt loads — come opportunities for businesses that can innovate, create jobs, increase efficiency, and lower prices. The vehicle for this opportunity? The internet.
3. A surprising revelation: ads are not meeting consumer standards
We are a stubborn bunch. While consumers spend the majority of their time on smartphones and the internet, businesses are still spending copious amounts of money on print and TV ads. In USA alone, with over $22 billion spent on off-line means of advertisements, imagine the extent of missed opportunity. See the graph below.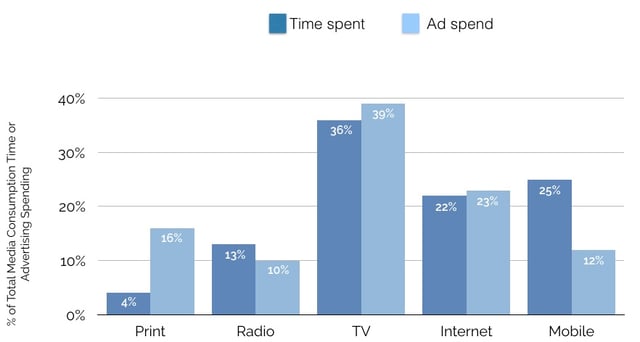 4. Video ads vs ad blocks
Are ads reaching consumers effectively? Data from a US survey conducted by Unruly reveal that a whopping 90% would consider downloading an ad-blocking software on desktop and mobile to filter irrelevant ads.
The challenge for marketers and advertisers? To produce relevant and personalised online content. If businesses don't strive to get their marketing and their ads right, it's going to hurt their online reach in the long run.
5. Consumer-driven and consumer-generated marketing
The Chewbacca-masked mother in the viral video (which made 150 million views in a day), mentioned Kohl's department store twice. This led to making the store's app take the no. 1 spot in the iOS store.
What does this say to us? Raw and genuine consumer testimonials and videos create a massive impact on other consumers — much more than paid ads and campaigns. Consumers are indeed redefining marketing.
6. Communications re-imagined
Consumers and creators are now telling creative stories through videos and photos. Snapchat takes the spot as the leading platform for video viewing, with 10 billion views daily. Facebook follows closely, with 8 billion views daily.
7. Direct-to-consumer (DTC) model is gaining importance
Meekers reported that more consumers are buying products directly from their favourite brands, instead of going through retailers. Consumers expect a seamless experience with their favourite brands, and the DTC model proves capable of doing that.
This is a call to businesses to look into your online domain and consider this model for your websites or online shops in order to build relationship with your customers.
View Mary Meeker's complete Internet Trends slides here.
PS: Find out how you can optimise your website to provide the best experience for your customer. Read all about it here.