A company's success largely rests on the strengths of its people. Step Change would not be what it is now without the amazing team that it has assembled. So we want the whole world to know the talented and quirky individuals that make Step Change who we are. Today, let's get to know Shiela, our Managing Editor.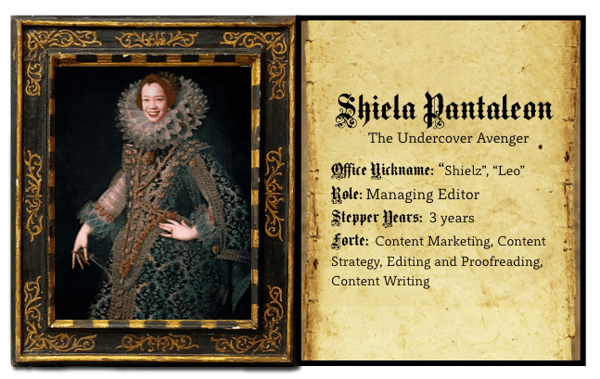 What is a typical day in Step Change like?
They say no day is ever the same when you're working in the world of marketing, and that's oh so true. But there are some constants. Like how I always start my day with coffee. It's the magical concoction that keeps editors and writers alive in the morning.
Then I'd browse through articles from McKinsey, Harvard Business Review, MIT, and Content Marketing Institute so I know what's hot and fresh in the industry.
Then it gets more exciting from there. I could be managing the Step Change editorial calendar or collaborating with the Digital Marketing team with clients' content strategy, or writing website copy or editing strategic articles or scrolling Unsplash for pretty pictures.
What was your best day at work?
There are LOTS of great days, I tell you. But the moments that defined me as an editor were those where someone would come to us saying, "Your articles have really helped me do my job well. Thank you." It's these fulfiling moments where I'd think, I was born to do this. I can do this all day.
W​hat are you most proud of while working for Step Change?
It's not about what I take pride in, but it's more of what I'm grateful for. When I started out in marketing, I knew very little. I didn't even know content marketing is a thing. But these mavericks gave me a chance, and I'm grateful for it.
Three years in, and there are still hard days where I'd go, "Cost per acquisition? What on earth is that?" But there are more epic days where I'd sit back after a productive day at work and think about how I'd just helped Step Change help businesses help people, and I think that's beautiful.
W​hat's the favourite industry you've worked in​​?​ Why?​
It changes from time to time, but I'm currently fascinated with how industries are responding to the shifts in the business landscape. In the wake of the Financial Services and Aged Care Royal Commissions, I think there's no better time than now to bring the focus back to the customer. And I love seeing more and more businesses rising up to that opportunity.
Which part of the Step Change culture do you like the most?​ Why?​
The pursuit of learning. I remember when I first started, the hiring manager told me that I'd be learning things at Step Change for 3 months what I'd learn at uni for 3 years. They. Were. Not. Kidding. Everyone here has an insatiable hunger for learning, it's infectious. I went from zero knowledge of content marketing to trying to be the Ann Handley in my own little way in this tiny corner of the world.
"The hardest choices require the strongest wills," one mad Titan used to say. Every day, we seize every opportunity to learn and raise the bar so we can help our clients make hard but smart choices to be more customer-focused. (I can't believe I just quoted Thanos, but here we are.)
Outside of work, what do you love to do? What are you passionate about?​ ​Do you have a passion project? Tell us about it.
I'm into boxing and Muay Thai these days. If I'm not hustling in the gym, I'm out in search of the best ramen and coffee in the city. Not a great combination for brekky. Or any other meal for that matter.
I also love story (it's what brought me into the blood-red world of editing), and I have great admiration for people who have life-changing stories to tell and are masters at telling it. It's such a complex art. So apart from my main hustle, I sometimes edit books in my free time.
What do​es the future of business​ look like​? ​How can business​es​ have a better impact on the world?
As you take big strides into the future and steer your company towards the path to growth, it will be easy to lose touch with the very people who made you successful: your customers. Don't.
The ones that will be a cut above the rest are those who put the customers at the heart of what they do. Customer-centricity is and will be the name of the game. It's about embedding a customer-centric culture in the very fabric of the organisation.
PS. Virtual high-fives to all who caught all of Shiela's Avengers references.