We like to think our growth as a company speaks volumes into the hard work that every member of our team has done to help us get to where we are now. Every Stepper contributes in their own way, adding their own spice to our cocktail, delivering a unique strength to who we are as an agency.
Today, let's get to know, Kate, our Operations Manager, whom we could not live without, and our resident Queen of Fun.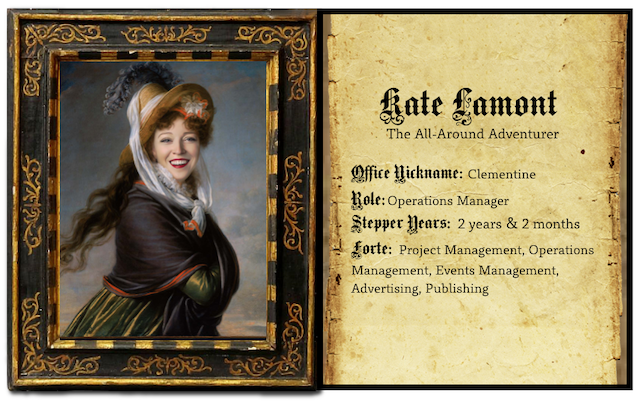 What is a typical day in Step Change like?
There is no typical day for me — aside from emails and stocking the wine fridge, my day is full of 101 different requests and challenges, keeping my days spicy! A mundane routine would likely send me into a coma at this point.
What was your best day at work?
The day it was suggested my new title should be 'Chief Happiness Officer', shortly after being dubbed 'Queen of Fun' by our CEO. Either way, I'll take my responsibilities VERY seriously.
W​hat are you most proud of while working for Step Change?

Bringing a semblance of order and comfort to the inevitable chaos of marketing mavericks. Also, the wine fridge.
W​hat's the favourite industry you've worked in​​?​ Why?​
Children's book publishing. When your job is figuring out how to create a more magical experience for the already limitless imagination of kids, it's a great reason to get out of bed in the morning. (Probably also explains how I ended up Ops Manager of a marketing agency).
Which part of the Step Change culture do you like the most?​ Why?​
That as an agency, we're comrades in arms. Agency life is typically a flurry of high-octane activity, and it makes all the difference to know that trust and fun are a guaranteed part of the mix too.
Outside of work, what do you love to do? What are you passionate about?​ ​Do you have a passion project? Tell us about it.
I've just started my Masters of Publishing to revive a dormant dream of becoming an author. Sadly, writer's block always gives way to my amateur love of interior design and a pricey penchant for accent cushions!
What do​es the future of business​ look like​? ​How can business​es​ have a better impact on the world?
I recently watched a documentary that suggested the next step in closing the gender pay gap is offering maternity and paternity leave in equal measure. If we're not reinforcing the old roles of breadwinner and caregiver, it diminishes the incentive to pay one gender more than the other or hire one versus another. It was an interesting thought.